CELEBRITY WATCH: Barbara Byrd Bennett 'available' -- for a fee -- as a motivational speaker... One month before the meeting that will destroy more than 60 Chicago schools, corporate reporters continue to ignore the corruptions of the most corrupt schools chief in Chicago history
George N. Schmidt - April 21, 2013
The escalating saga of the corruption of Chicago's current "Chief Executive Officer" for public education adds layers of arrogance and deceit by the day. Despite CPS regulations about residency and outside work for top executives (CPS executives are required to live in the city and not to have any outside work), the Chicago Board of Education has apparently waived all rules that apply to everyone else -- at least when it comes to the outside work of CEO Barbara Byrd Bennett.
The latest scandal comes according to a "Celebrity" speakers booking Website. Substance has already documented that Barbara Byrd Bennett has failed to establish residency in Chicago, maintaining instead her permanent residence in a wealthy community outside of Cleveland. Other conflicts of interest on the part of Byrd Bennett, including numerous lucrative corporate affiliations, are still under investigation.
But now it sees that she is also getting bookings for speaking engagements through an outfit called CelebrityTalentPromotions.com. The URL for those curious enough to want to add to their dossier of Chicago Board of Education arrogance is: http://www.celebritytalentpromotions.com/speaker/barbara-byrd-bennett.php
No previous administration in Chicago would have dared to blatantly challenge the law and common decency so much. Apparently (and only a psychiatrist can verify such things), Rahm Emanuel is flaunting the fact that he and those he chooses are above the law. The Inspector General for CPS investigates more than 200 residency violations of students and Board employees every year, but is barred from looking into the facts about Byrd Bennett (and at least one other CPS executive). And since Substance first began breaking this series of stories a growing number of teachers and parents have been asking why the corporate media, long apologists for corporate "school reform", are ignoring the scandals.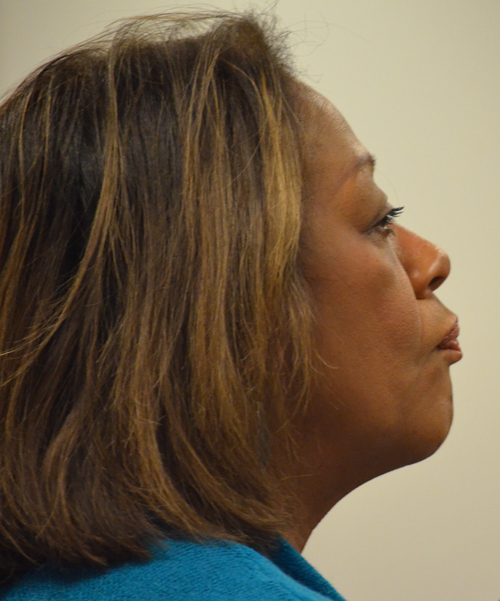 Barbara Byrd Bennett at the April 3, 2013 Board of Education's "March" meeting. Substance photo by Sharon Schmidt.According to the latest edition of the Celebrity Talent Promotions Website:
Barbara Byrd-Benne."tt. Chief Executive Officer for Chicago Public Schools is one of their "Education Speakers." According to her agent, she is "available For: Corporate Appearances, Speaking Engagements, Autograph Signings, Endorsements, Meet & Greets and Keynote Speeches
Travels From: Available Upon Request
Appearance Booking Fee Range (not disclosed).
Call for Booking Fee
Contact Agent to Hire Barbara Byrd-Bennett
Biography
Barbara Byrd-Bennett is the Chief Executive Officer for Chicago Public Schools (CPS). CPS serves approximately 402,000 students in more than 681 schools. It is the nation's third-largest school system. In April 2012, Ms. Byrd-Bennett was appointed as Chief Education Advisor for CPS. Prior to her work in Chicago, she spent more than two decades as a teacher and principal in the New York City Department of Education, the largest system of public schools in the United States. She also served for more than seven years as the CEO of the Cleveland Municipal School District, Ohio's largest school district.
Ms. Byrd-Bennett was a teacher for more than 12 years in New York's public school system, where she taught at both the high school and elementary levels. She spent eight years as the principal of a Harlem school that was recognized by the New York State Department of Education for instructional leadership and featured in a PBS documentary. Ms. Byrd-Bennett went on to become the superintendent of New York's third-largest district, Crown Heights in Brooklyn, for two years, where she helped dramatically raise math and reading scores.
Following her success in Brooklyn, Byrd-Bennett was tapped to serve as the Superintendent of the "Chancellor's District" in New York, a special district composed of about a dozen of the system's lowest-performing schools. Under Ms. Byrd-Bennett's leadership, children in these schools received more one-on-one tutoring, smaller class sizes and specially trained teachers – a strategy that resulted in significantly higher reading scores. Ms. Byrd-Bennett's "high priority" zone approach laid the groundwork for New York's alternative schools programs and the eventual revamp of the city's GED program.
In 1998, Ms. Byrd-Bennett was appointed by Cleveland's mayor as the first Chief Executive Officer under mayor control, a role in which she served for more than seven years. During her time in Cleveland, Ms. Byrd-Bennett helped stabilize the district's finances, ensuring it was removed from the state's fiscal emergency list. Her targeted funding approach and aggressive academic reforms boosted academic achievement in math and reading and increased graduation rates. Ms. Byrd-Bennett increased spending for teacher training and support services, raised per-student expenditures and focused on hiring quality principals. Her dedication to training and supporting educators led the school district to name one of its buildings in her honor: the Barbara Byrd-Bennett Professional Development Center. She also is credited with building a strong relationship with the teachers union based on mutual respect and trust. With an emphasis placed on collaboration and transparency, Ms. Byrd-Bennett established a monthly "Conversations with the CEO" to keep parents and community members informed.
Ms. Byrd-Bennett spent four years as an Executive-in-Residence at Cleveland State University followed by a three-year stint as the Regional Executive Officer of New Leaders for New Schools in Washington, D.C. In 2009, Byrd-Bennett was recruited to serve as the Chief Academic and Accountability Manager for Detroit Public Schools at the request of Emergency Financial Manager Robert Bobb, who was appointed by the State of Michigan to put the district back on sound financial footing. During her two years in this role, Byrd-Bennett is credited with developing the district's academic reform plan, aligning curriculum and programming, developing teacher and principal evaluation instruments to increase professional accountability and improving achievement scores as measured by both the state and National Assessment of Educational Progress (NAEP) tests.
Education Speakers have enlightened audiences for decades on schools, universities and other educational institutions. These highly sought-after speakers take their years of experience in the educational system and motivates attendees at seminars, conferences, and workshops with their incredible stories. Our roster of Education Speakers are available for book signings, corporate appearances, fundraisers, universities, private events, speaking engagements, VIP Meet and Greets, product endorsements and more. For more information about booking a Education Speaker call us at 1.888.752.3532 or fill out our online booking request form today.
Contact Booking Agent to Hire Barbara Byrd-Bennett for a Speaking Engagement or Appearance
Videos of Barbara Byrd-Bennett Speaking Appearances
Recent Blogs About Barbara Byrd-Bennett Appearances & Endorsements
Disclaimer:
Some parts of the celebrities' biography may be used from Wikipedia, which is licensed under the GNU Free Documentation License. CelebrityTalentPromotions.com acts only as an celebrity broker for corporate functions, private events and speaking engagements. CelebrityTalentPromotions.com does not claim or represent itself as Barbara Byrd-Bennett's agent, speakers bureau, manager, publicist, assistant, PR firm or management company. CelebrityTalentPromotions.com is a Celebrity booking agency representing organizations seeking to hire motivational speakers, athletes, celebrities and corporate entertainment for private corporate events, celebrity endorsements, personal celebrity appearances, spokes person campaigns and speaking engagements. Barbara Byrd-Bennett's booking and appearance fees, costs and prices on this website are estimates and are only act as a guideline. Exact booking fees are determined by a number of factors, including location of event, the celebrities schedule, desired duties, supply and demand and other market factors. Bios on this site are for informational purposes only and deemed to be reliable resources, but not guaranteed.