COMMON CORE: Chicago piles up 'bookmarks' for parents while Byrd Bennett gets the days of report card pickup wrong...Chicago 'CEO' can't even get the dates of the report card pickup straight
George N. Schmidt - April 19, 2013
Imagine if the Chief of Police in Chicago stopped moving experienced Chicago officers into the upper ranks -- and began promoting out-of-towners who were in it for the money and then ready to move on? Anyone still remember "Chief Instruction Officer" Jennifer Cheatham (heading to Madison, Wisconsin)? "Chief of Schools" Robert Zrike (heading back to New England)? "Area Instruction Officer" (former Colonel) Rick Mills (now in Florida, via Minneapolis)? Or maybe Bob Runcie ("Chief of Staff"), all smiles and tall, now in Florida?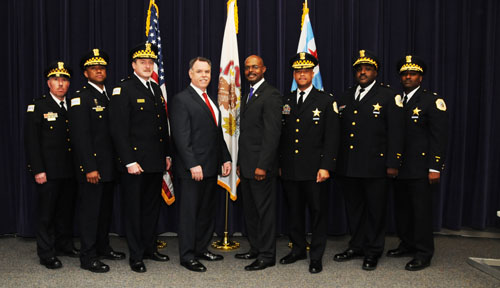 The only person with less than 20 years Chicago police experience in the above photo is the man center left in the red tie: Police Supt. Garry McCarthy. The other seven officers whose promotions were announced on April 18, 2013 were all from inside the department, with vast experience from the streets to the supervisory offices. City of Chicago photo provided by Chicago Police Department. Corporate school reform in Chicago means following a script, and the less you know and care about Chicago and our children, the better for Rahm Emanuel and those dictating the corporate education reform agenda in Chicago.
As Chicago continues to dismantle public education at the hands of a bunch of outside mercenaries vetted by the Broad Foundation, led by Barbara Byrd Bennett, and approved at every point by Mayor Rahm Emanuel, the silliness becomes more droll. The chieftains of Chicago's public schools were trying to provide "bookmarks" touting Common Core to parents. So, because nobody at the top of CPS has any experience in the schools anymore, they even get the days of the report card pickup wrong and nobody reminds them that, once again, they don't know what they are talking about.
Imagine the scandal reported by the Better Government Association or the newspapers is the Chicago Police Department had filled its top ranks with guys and gals from Cincinnati, Rochester, Memphis, and Broad? Even Garry McCarthy knows better than that, but Barbara Byrd Bennett blessed by Rahm thinks she can get away with plundering CPS while putting all command positions into the hands of outsiders.
Anyway, here is the latest from the "CEO Bulletin":
Common Core bookmarks for report card pick up... Schools should have received ½ sheet "bookmarks" that explain in parent friendly language (in English and Spanish) what the major changes are that the Common Core standards will bring to curriculum, instruction and assessment. CPS partnered with the Common Core Coalition to produce these, to help parents prepare for the changes. Included in the bookmarks are links to CPS and Common Core Coalition sites that provided additional resources for parents. Please pass these out during report card pickup tomorrow and Wednesday and make them available for parents as needed. You can also find all versions of the bookmarks here. On this page, you'll also find FAQs about the standards available in English and Spanish. Please add this to your list of resources to help explain the standards to parents!