Chicago Teachers Union challenges CPS claims of savings on school closings... Byrd Bennett's 'repurposing' propaganda talk challenged while the CEO talks and talks and talks
George N. Schmidt - March 23, 2013
No sooner had the Chicago corporate media begun reporting as fact the claims by CPS "Chief Executive Officer" Barbara Byrd Bennett that there will be major savings when CPS closes a large number of public schools than the Chicago Teachers Union challenged the claims. In fact, the broader record of CPS school closings -- especially if reporters go to the sites of schools that have already been shuttered -- is that in most parts of Chicago (see photo here) vacant schools (a) cannot be sold and (b) become threats in the community because CPS does not provide security for those sites.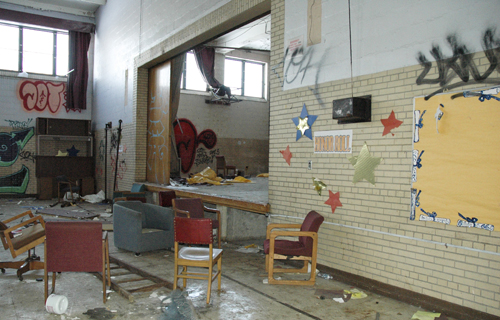 Chicago Public Schools have closed dozens of schools during the past 15 years. While some of them have been given away to charter school operators, many remain vacant. The Crispus Attucks elementary school building (the gym, above in a March 7 photograph) at 39th and Dearborn is more typical. CTU photo.One of the things that reporters ignore is that fact that Barbara Byrd Bennett is the fourth CPS "Chief Executive Officer" in as many years, yet people act as if her understanding of the system has some validity. Although Byrd-Bennett has been making the rounds of TV stations selectively, she has avoided general press conferences answering questions from people who know the system. As late as December 2008, Arne Duncan was still CEO of CPS. Duncan was replaced by January 2009 (when he went to Washington, D.C.) by Ron Huberman. Huberman was replaced in late 2010 by Terry Mazany. Mazany was replaced in June 2011 by Jean-Claude Brizard. And Brizard was replaced after the Chicago Teachers Strike of 2012 by Barbara Byrd Bennett.
Byrd Bennett last year at this time was in Detroit closing Detroit schools. Since the school closing struggle began, she has tried to spin the issues claiming that the previous closings under Arne Duncan and Mayor Richard M. Daley and then afterwards were done wrong, but without sharing specifics. Reporters who first encounter her barrage of talking points forget to delve deeply into what she is claiming about a history that most of them have been in Chicago for (when she has not).
On March 21, 2013, Byrd Bennett appeared -- alone -- with Elizabeth Brackett on WTTW's "Chicago Tonight" show. Talking as quickly as possible about history she is distorting as she speaks, Byrd Bennett shows the city why Rahm Emanuel picked her. The effusions of Orwellian phrasing -- for example, "welcoming schools" is the name given to the schools slated to receive students dumped from the closing schools -- poured out when she spoke. Then she announced that she will be leaving town, just as Rahm Emanuel did during the week the closings were announced.
"Where were all the people who are so angry right now a decade ago, when those schools were beginning to fail..." was one of the repeat talking points that Byrd Bennett repeated over and over, for example, in response to questions on Channel 11. Anyone who wants to hear her round of talking points can go to the more than 20 minutes Byrd Bennett received on Chicago Tonight. The URL is http://video.wttw.com.video/23535623147.
THE CTU STATEMENT:
Citywide School Closings to Cost—Not Save—CPS Nearly $1 Billion
CHICAGO—Mass closings of public schools by Mayor Rahm Emanuel and the Chicago Board of Education will cost Chicago Public Schools (CPS) nearly $1 billion, according to Chicago Teachers Union (CTU) analysis of the CPS FY2013 budget, Capital Improvement Program (CIP) data and Board of Education reports.
CPS has claimed a "utilization crisis" and $1 billion budget deficit to justify adversely affecting 30,000 students and causing massive upheaval at 61 public elementary schools, but that deficit is nearly equal to resources purportedly allocated for school improvement and student safety.
Based on estimates from the CPS budget and the CIP, it will cost the district approximately $750 million—$15 million per school—to provide 50 schools with computer education, counseling and social work, additional safety and security, and renovations. This figure includes $129 million in CIP costs for pre-kindergarten, students living with disabilities, libraries, play lots, air conditioning and computer labs.
Safety and security is an overwhelming concern for the CTU and the thousands of families who will have children uprooted and traversing gang territories en route to receiving schools. CPS has promised an approximately $676,000 per school to bolster safety programs and add additional security guards and Chicago police support, despite concerns from some alderman that police resources are already stretched thin on the city's South and West sides.
CPS held that more than $550 million was needed to repair the buildings that housed the schools on its hit list, which supposedly made the structures too costly to manage. But a question remains of how the district can expect to sell or repurpose the buildings without making hundreds of millions in repairs — expenses that are in addition to the resources it says it will provide for thousands of transferred children.
"CPS is making all of these promises of how it will support these students and their schools, but once again, they're lying just to make families sympathetic to what they're doing," said CTU President Karen GJ Lewis. "They're promising students all of these things which will cost a billion dollars, which is the same amount of money they've claimed not to have."
The CTU contends that it is no coincidence that the $1 billion dollar deficit CPS has claimed is nearly equal to the cost of all closing actions.
"They've had these plans in the works for months, which is extremely insulting and demeaning to all the families and teachers who have been out here fighting for their schools," Lewis said. "The mayor and CPS had sealed their fate from the very beginning."
?