Raise Your Hand and Open Data Institute challenges school 'utilization' claims on eve of CPS announcement of the 2013 Hit List
George N. Schmidt - March 15, 2013
The Raise Your Hand coalition and the Open Data institute have announced the opening of a new web site to provide accurate information for parents, teachers, and the public as CPS moves to publish its 2013 Hit List of schools to be closed. The research and the web site are trying to examine whether the nearby schools to which children from the schools to be closed are transferred are actually an improvement over the schools on what most critics are calling the "2013 Hit List."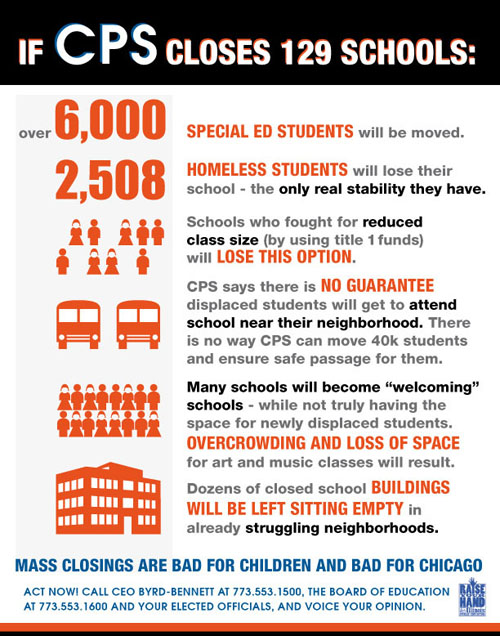 As it becomes clear that the plans of the Emanuel administration are not being diverted by common sense or the actual realities of Chicago and its public schools, groups like the Raise Your Hand Coalition produce more and more research debunking the claims of Barbara Byrd Bennett and the seven members of the Chicago Board of Education. By March 15, CPS officials were confirming, off the record, that CPS was even planning to close three special education schools, including Montefiore and Buckingham, not for the good of the children in them or by law, but because the overriding plan of the CPS administration was to privatize as much as possible as quickly as possible before an elected school board and true education-based changes caught up after 18 years of mayor control tyranny and corporate "reform" in Chicago.On March 14, the groups issued the following press release:
FOR IMMEDIATE RELEASE. Contact: Amy Smolensky, 312-485-0053
NEW SITE – SchoolCuts.org – HELPS CPS PARENTS NAVIGATE SCHOOL CLOSING DECISIONS. Helps communities to advocate for their schools and plan for alternatives
CHICAGO, MARCH 14, 2013 – Apples to Apples and the Open Data Institute today launched their new www.SchoolCuts.org site, designed to put clear and understandable information about closing and potential receiving Chicago Public Schools (CPS) into the hands of parents.
This free site is the first collaboration between the Apples to Apples/IL Raise Your Hand project and the Open Data Institute (opendatainstitute.org), a not-for-profit organization that brings together independent designers and software engineers to make sense of complex problems by analyzing data and producing visualizations that speak for themselves.
The site gives CPS parents and Chicago community members a more comprehensive look into the current performance and historical trends of the schools on CPS' potential closing schools list by offering visualizations and concise explanations of enrollment trends, recent ISAT cohort trends, mobility rates and other measures of school effectiveness. It also produces a customized map for each school on the CPS potential closing list that shows the closest potential "receiving schools" with the number of seats currently available in those schools.
The close work that this team has done with the CPS data has highlighted the importance of taking another look at the performance of other neighborhood schools close to the schools on the potential closing list. The maps generated by this site clearly show that not every school on the list is located within 1 mile of a potential receiving school that is operating at a higher performance level (Level 1 or 2) and also has capacity to receive students from a closing school.
"Parents and students at both potentially closing and receiving schools deserve predictability and reassurance,' said Jeanne Marie Olson, lead investigator for Apples to Apples. "If a school absolutely must close or be consolidated, it is critical to give parents and students the data that they need to plan for the effects of such a potentially emotionally turbulent event. We also want to make sure that every parent and community member has the information that they need to resist unnecessary closures."
"If CPS parents and community members receive data, that data is not necessarily easy to understand or act upon. We're hoping that this site helps parents to be better advocates for their students and their schools," explained Elnaz Moshfeghian, Open Data Institute Fellow.
Features of the School Cuts site (schoolcuts.org) include:
· A visualization of the data that CPS used to classify a school as being eligible to be considered for closure.
· Additional visualizations of data that CPS is not currently considering but which helps to answer the following questions about each school on the list:
o Does student performance improve over time?
o Is this school organized for improvement?
o What is the probation status history of this school?
o How many students have transferred in and out of this school during a school year?
o How has school enrollment at this school changed over time?
· A customized map for each school on the list that shows the closest CPS schools within 1.5 miles.
· Pop-up windows for each school closing to a school on the list that shows a school's current number of empty seats based on ideal vs. current enrollment, as well as information about the current performance of the school.
About Apples to Apples
Apples to Apples is an independent, ongoing investigation that locates and synthesizes publically available data sources including the CPS Performance Policy report, Department of Student Assessment and the Illinois State Board of Education. Apples to Apples was created to engage CPS parents, Chicago citizens, and other CPS stakeholders in thoughtful conversation about the real state of CPS elementary schools through a more multi-faceted look at available data. CPSChecktheMath.org
About Open Data Institute
The Open Data Institute employs open civic data to provide fresh insights into pressing issues. They develop data visualizations, create data tools, and conduct workshops and presentations. Their audiences include citizens, community leaders, students, educators, and researchers. They are a nonprofit incorporated in the State of Illinois. www.opendatainstitute.org
About Raise Your Hand for Illinois Public Education: Raise Your Hand is a growing coalition of Chicago and Illinois public school parents, teachers and concerned citizens advocating for equitable and sustainable education funding, quality programs and instruction for all students and an increased parent voice in policy-making around education. www.ilraiseyourhand.org.