Five hundred North Side residents plan to gather Sunday, March 10, 2013, to demand no more charter schools in 49th Ward, affordable higher education, and closure of Illinois corporate tax loopholes
George N. Schmidt - March 08, 2013
A group of activists -- North Side POWER -- in the 49th Ward on Chicago's far north side plans a meeting on Sunday, March 10, to demands that no charter schools be placed in their communities and that Illinois begin to address its tax loopholes, which help feed the problems of the public schools in most Illinois districts.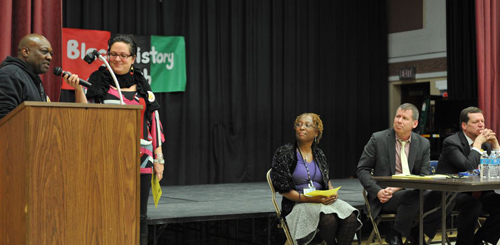 Pictured left to right, Anthony Boatman and Rev. Marilyn Pagan-Banks with Northside P.O.W.E.R. saying "no more charter schools in the 49th Ward". The crowd responded with cheers. Seated: Gale School Principal Cassandra Washington, Craig Benes (Chief of Schools for Ravenswood-Ridge Elementary Network) and Alderman Joe Moore (49th Ward). P.O.W.E.R. photo."With the State of Illinois unable to pay its bills, Chicago Public Schools claiming a $1 billion deficit, and college students facing rising costs, ballooning debt and grim job prospects, five hundred (500) North Side and North Shore residents will gather to demand public policy changes," a press release stated. "The meeting will be a Northside P.O.W.E.R. Public Meeting: Common Sense, Common Good, Sunday, March 10, 6:30-8 p.m., Willye White Field House, 1610 W. Howard St., Chicago."
The group has been working to get Alderman Joe Moore, 49th Ward, to fight more clearly agains the education policies of Mayor Rahm Emanuel. Despite the fact that Moore claims to be a "progressive", last summer he deliberately tricked progressive aldermen and blocked the possibility of a citywide referendum on getting Chicago an elected school board. Moore, in the opinion of many teachers and other observers of the Chicago political situation, has betrayed them and sold out to Mayor Rahm Emanuel.
"Even though no Rogers Park schools are on the CPS school closure list," the press release continued, "neighborhood schools are threatened by the expansion of charter schools. With fierce competition for funding often based on test scores, charter schools are incentivized to attract and admit only the best students. An investigation by Reuters revealed that many charter schools require lengthy application forms, student and parent essays, mandatory family interviews, entrance exams, and even illegally demand Social Security cards and birth certificates. Charter schools often require parents to cover additional educational costs, an obstacle for poor parents. Northside P.O.W.E.R. has invited Ald. Joe Moore to attend to answer questions about charter school expansion in the 49th Ward."
The group has also begun a campaign to make higher education more affordable for the average middle class, working class and poor young people. The main reason why a large number of CPS high school graduates are unable to continue and complete college is simple economics, many critics have pointed out. The un-affordability of higher education -- not "failing schools" or "bad teachers", as corporate reformers have claimed -- is also the main reason for much of this problem.
"The struggles for those already overburdened continue at institutes of higher learning," the press release continued. "Loyola University will increase the cost of its freshman and sophomore meal plans. All undergraduate resident students are required to have a meal plan, yet the cheapest freshman year plan will increased 12%, and the sophomore plan by more than 150% in the 2013-2014 academic year. More than 100 Loyola students will attend" [Sunday's meeting].
State Representatives Robin Gabel and Kelly Cassidy will attend. Northside P.O.W.E.R. will ask them to make a public commitment to support corporate tax transparency and to close corporate tax loopholes.
The group also demanded tax reform, citing one of the main problems in Illinois -- corporate tax dodgers. "Two-thirds of corporations in Illinois pay no state income tax," the press release continued, "and a meager 8% of state revenue comes from corporate income taxes. Eighty-one (81%) of state revenue comes from personal income and sales taxes. Statistics from the Public Policy Polling, a non-partisan polling firm found that nearly 80% of Illinois voters say legislation to require publicly-traded corporations to disclose how much they pay in Illinois corporate tax income is a good idea. By closing three corporate tax loopholes, Illinois could raise $1.5 billion over 3 years to help solve its budget crisis."
Northside P.O.W.E.R. (People Organized to Work, Educate and Restore) is an institution-based people's power organization whose members are located in the North Side of the City of Chicago and North Shore Communities. Northside P.O.W.E.R. is the community organizing arm of A Just Harvest.
