SUBSCRIPT: 'Change-oriented leaders' change locations faster than Lili St. Cyr changed feathers... Zrike adds name to list of CPS mercenaries seeking jobs elsewhere... Rahm's mercs dumping Chicago faster than they can cash their last checks, while Rahm prattles 'OMG! Billion dollar deficit!'
George N. Schmidt - February 16, 2013
No sooner had Chicago learned that Jennifer Cheatham was moving to Madison, Wisconsin, where she will become superintendent there, than the news began trickling out that other CPS administrators were also on the run -- or at least looking for jobs in other climates. Cheatham had briefly (five years) hung around the nation's third largest school system in various top dog jobs (most recently as our "Chief Instruction Officer") doing quick change acts and perfecting a Power Point dance. Her last turn on stage was at the January 23, 2013, meeting of the Chicago Board of Education, where she schooled the seven members of the Board (only six were there) about how the "school calendar" had been finalized after lots of listening and all that other good stuff CPS has trained its fancy dancers to do when on the Big Stage.
Then we heard about Steve Zrike, who'd barely unpacked his bags in Chicago when he was pirouetting back towards the Bay State. There is something poetic to those of us who taught U.S. Literature in Chicago about New Bedford, Massachusetts, and I couldn't help but think of the Pequod when a friend sent us the tip (below, from the New Bedford local news service) that recent Chicago acquisition Steve Zrike was trying to get back to Massachusetts, after less than three years here.
But Zrike isn't the only Chicago administrator heading for the lifeboats.
Harrison Peters, the Chief of Schools out in the Lake Calumet "Network," is sending around his You Tube resume, trying to get back to warmer climates (he's applying for jobs in Nevada; he came to Chicago, with no Chicago teaching experience, from Florida). And there are others heading off Jean-Claude Brizard's sinking ship (ooopppsss... that's so 2012; this month it's Barbara Byrd Bennett's sinking ship).
Of course, Chicago has been pulling off these stunts for more than a decade, since the corporate school reform jobs agency foisted Paul Vallas on Philadelphia after Vallas crashed and burned here in 2001 and 2002. No sooner had Vallas gotten caught in various predations in the City of Brotherly Love than Hurricane Katrina saved him and gave him the change to destroy another big city school system, charterizing New Orleans and busting the largest mostly African American labor union in the Deep South. Vallas dragged along an entourage with him, as fans remember, although of late the Paul Vallas Model has beeb having trouble finding new customers (even Lili got older....).
Of recent Chicago departure have been Pedro Martinez, who never taught in Chicago but ascended to the rank of Chief Financial Officer before his incompetences caught up with him and her was hired by a Nevada school district.
Then there was Bob Runcie, another smiling non-entity who punched his ticket (without ever teaching in Chicago) and then decamped to Browrd County Florida.
And recently we got a call from another Florida county that Rick Mills, who did his part in the militarization of Chicago's public schools, was trying to leave Minneapolis for warmer climates.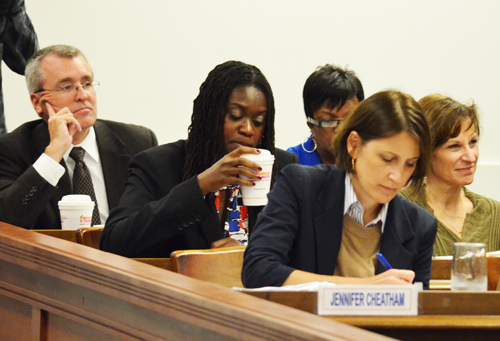 Surrounded by other out-of-town mercenaries, CPS "Chief Instruction Officer" Jennifer Cheatham took notes at the October 25, 2012 meeting of the Chicago Board of Education, a few weeks before she began looking for jobs elsewhere as part of the Emanuel administration's Rodents Depart The Vessel policy. In the above photograph, Steve Gering (still at CPS in charge of making super principals) came to CPS from Kansas City, while Beth Macati-Miller (currently trying to learn about the vast CPS special services programs and special education children) arrived from Rochester New York just before Jean-Claude Brizard, also from Rochester, departed the Emanuel administration's mercenary program in Chicago Public Schools. Substance photo by George N. Schmidt. Before you could say WAIT A MINUTE! WTF!!! Madison had failed to read the label and had hired Cheatham. And the others are as fully employed as the teachers and other school workers their purges screwed are not. But at some point you'd think that someone out there in the land of American school districts would put one of those skull and crossbones warning labels on anything "reform" marked "MADE IN CHICAGO." Next thing you know, Jean-Claude Brizard is going to pop up in San Franccisco or Portland...
HERE IS THE ZRIKE STORY:
By NATALIE SHERMAN, nsherman@s-t.com, February 14, 2013 12:00 AM
NEW BEDFORD — The superintendent search committee announced three finalists in the search for a new superintendent Wednesday night, naming candidates from Memphis, Tenn., Chicago and Attleboro.
The three finalists are change-oriented leaders with experience in urban districts, said Bridgewater State University President Dana Mohler-Faria, who chaired the committee.
"Their perspective on New Bedford and the district is very accurate. They have a clear sense of what the district needs," Mohler-Faria said. "They're "» folks that are up for that kind of challenge."
"Each one of them could be our next superintendent and lead New Bedford," said Kathryn Rezendes, a housemaster at New Bedford High School and another member of the search committee.
The finalists are: Kriner Cash, outgoing Memphis City Schools superintendent; Pia Durkin, outgoing superintendent in Attleboro, and Steve Zrike, chief of schools for Pilsen-Little Village Elementary Network in Chicago
The search committee selected the finalists from a pool of 36 applicants and interviewed six semifinalists last week.
No New Bedford residents applied for the job, Moher-Faria said. One person from the district was an applicant, he said.
The search is now in the hands of the School Committee, which will interview each of the candidates publicly the nights of Feb. 25, 26 and 27. Future Management Systems, the district's search firm, will conduct a thorough reference check before the committee makes a final decision at its March 11 meeting.
"You never move systems without somebody being unhappy, so we need to find out if (it involves) reasonable problems or issues or unreasonable ones," said consultant Bill Garr.
Cash resigned in January from the Memphis City Schools. The district is in the process of merging with the Shelby County Schools and the board voted in June not to renew his contract, according to Memphis news reports. He was in charge of the district when it won a seven-year, $90 million grant from the Bill and Melinda Gates Foundation. The graduation rates climbed to 72.6 percent during his tenure, according to his biography.
Prior to moving to Memphis in 2008, he served as chief of accountability and system-wide performance in Miami-Dade County, Fla. and as superintendent of Martha's Vineyard Public Schools from 1995 to 2004, according to the Memphis Commercial Appeal. He has degrees from Princeton, Stanford and the University of Massachusetts.
Pia Durkin has served as Attleboro superintendent since 2006 and her contract expires in June. Under Durkin, the city's MCAS scores improved steadily.
She previously worked as superintendent in Narragansett, R.I.; assistant superintendent in Boston Public Schools for five years; director of special education for six years in Providence; and as a teacher, professional development coordinator, and supervisor over 19 years with the New York City Board of Education. She holds a master's degree and Ph.D. from New York University.
Zrike started working in Chicago in 2011, overseeing a network of 26 schools.
He previously served as principal of three schools in Boston, where he won praise for his leadership. In 2010, Superintendent Carol Johnson named him principal of one of the district's turnaround schools, where he instituted a series of reforms, but left for the Chicago position within six months.
He received a master's degree in education and a doctorate in graduate training from the Harvard School of Education. Zrike is also a candidate in a superintendent search in Wakefield, Garr said.