MEDIA WATCH: New York Times features Chicago gang killings three days in a row as politicians try to abstract the issue to 'gun control' or 'violence' (again) so they can ignore the largest drug gang problems in the USA
George N. Schmidt - January 31, 2013
For three days in a tow at the end of January 2013, The New York Times, which generally sets a media agenda for the corporate media version of reality in the USA, has featured stories on "gun violence" in Chicago. The most dramatic story, which ran on the front page of the national edition on January 30, 2013 (first in the queue below here) noted that Chicago has the most strict gun control laws in the USA, yet Chicago's murder rate is highest among major cities.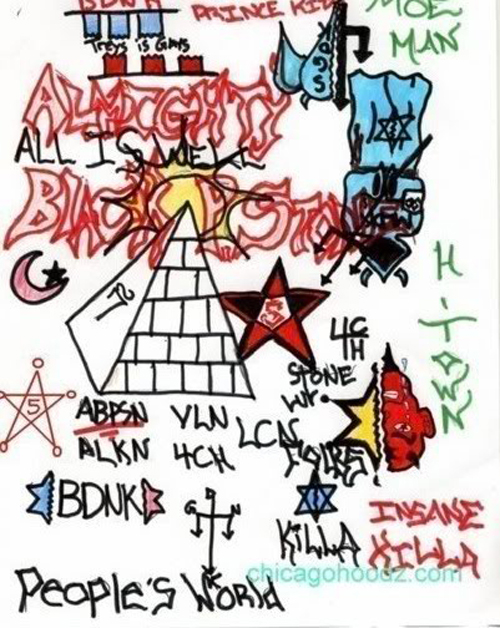 Thousands of Chicago Public Schools children could explain each of the meanings on the collage above (from "chicagohoodz.com") from the Black P. Stone "Nation." Chicago's street gangs have been divided into two large "nations" for more than 35 years. The "People" (represented above by the five pointed stars) are arrayed against the "Folks" (six pointed stars). In the graffiti above, "People's World" represents the People, while various threats include BDNK (which means "Black Disciple Nation Killer) and "Folks Killer" (directed at all gangs affiliated with the Folks). For a quarter century, the gangs have controlled both Cook County Jail and the Illinois prisons, with the problems growing worse each year as budget cuts reduce the number of staff at prisons, as well as educational and training opportunities for prisoners.An earlier story (second in the queue) featured the Whitney Young versus Simeon basketball game, which featured two of the top high school basketball players in the USA. But the Times angle for the story, which ran in the Sport section, was that every car arriving for the game and every person had to be searched for weapons in the city currently being run by the former White House Chief of Staff, Rahm Emanuel.
On the final day of the month the Times gave its readers the story of the murder, two days earlier, of a King High School student who had two weeks before her death attended the inauguration of President Barack Obama. What was not mentioned was that Obama's Chicago home is less than a mile from the school the child attended -- and the park where she was shot to death.
By January 30, 2013, the right wing pundits at Fox News were using those facts to attack proposals for increased gun control. In the typical "framing" of this bunch of events, questions revolved around "gun control" versus less of it; others around "youth violence" or "violence."
Lurking in the background for everyone who watched to see is that fact that the hometown of the President of the United States has the largest, best organized, and most vicious drug gangs in the USA, and that the political leaders of the State of Illinois and the City of Chicago have allowed those gangs to grow more powerful for more than 50 years.
Any brief Google search of Chicago street gangs will reveal the breadth and depth of the gang problem in the city. But as long as the problem of the drug gangs -- and the refusal of the city's economic and political leaders to confront the gangs -- is abstracted from the reality that almost all school children know (any high school student could analyze the graffiti in the graphics with this article), the problem will continue into the next generation, and the body count ten and 20 years from now will include dead children who are still in the cradle today. (Disclosure: this reporter was "Coordinator of Gang Security" as well as an English teacher at Chicago's Bowen High School from 1994 through 1999, when he was fired for anti-testing heresy by Paul Vallas; from 2002 - 2004 he was Director of Security and Safety for the Chicago Teachers Union).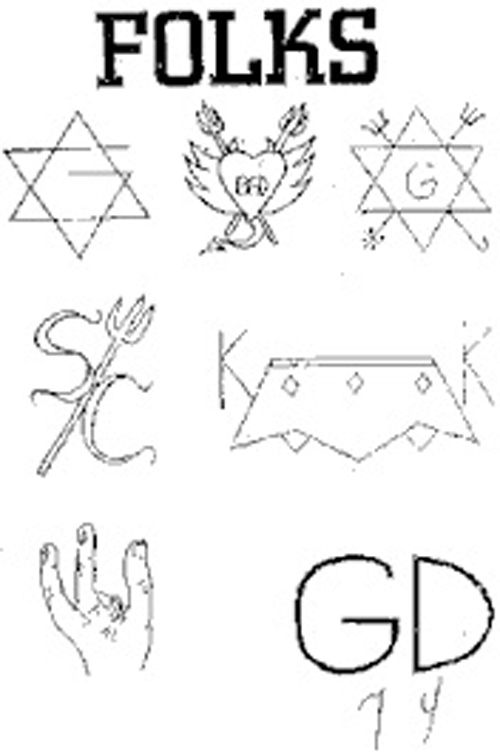 Even a five-minute Google tour "Gangs of Chicago" can bring reporters to the fact that the two great gang "Nations" in Chicago are -- and have been since the 1970s -- the "People" (led by the Latin Kings and Black P. Stones) and the "Folks" (led by the Gangster Disciples and various Latin Disciples and Dragons). The "Folks" above are showing their colors as well as declaring their intentions to kill Latin Kings (KK in the above graffiti). Substance will add more to the discussion of gangs in Chicago but for this morning, here are the articles that will set the agenda for public discussion, all three from The New York Times:
NEW YORK TIMES FRONT PAGE NATIONAL EDITION JANUARY 30, 2013.
Strict Gun Laws in Chicago Can't Stem Fatal Shots
By MONICA DAVEY
The New York Times. Published: January 29, 2013 on line, January 30, 2013 page one national edition
CHICAGO — Not a single gun shop can be found in this city because they are outlawed. Handguns were banned in Chicago for decades, too, until 2010, when the United States Supreme Court ruled that was going too far, leading city leaders to settle for restrictions some describe as the closest they could get legally to a ban without a ban. Despite a continuing legal fight, Illinois remains the only state in the nation with no provision to let private citizens carry guns in public.
And yet Chicago, a city with no civilian gun ranges and bans on both assault weapons and high-capacity magazines, finds itself laboring to stem a flood of gun violence that contributed to more than 500 homicides last year and at least 40 killings already in 2013, including a fatal shooting of a 15-year-old girl on Tuesday.
To gun rights advocates, the city provides stark evidence that even some of the toughest restrictions fail to make places safer. "The gun laws in Chicago only restrict the law-abiding citizens and they've essentially made the citizens prey," said Richard A. Pearson, executive director of the Illinois State Rifle Association. To gun control proponents, the struggles here underscore the opposite — a need for strict, uniform national gun laws to eliminate the current patchwork of state and local rules that allow guns to flow into this city from outside.
"Chicago is like a house with two parents that may try to have good rules and do what they can, but it's like you've got this single house sitting on a whole block where there's anarchy," said the Rev. Ira J. Acree, one among a group of pastors here who have marched and gathered signatures for an end to so much shooting. "Chicago is an argument for laws that are statewide or, better yet, national."
Chicago's experience reveals the complications inherent in carrying out local gun laws around the nation. Less restrictive laws in neighboring communities and states not only make guns easy to obtain nearby, but layers of differing laws — local and state — make it difficult to police violations. And though many describe the local and state gun laws here as relatively stringent, penalties for violating them — from jail time to fines — have not proven as severe as they are in some other places, reducing the incentive to comply.
Lately, the police say they are discovering far more guns on the streets of Chicago than in the nation's two more populous cities, Los Angeles and New York. They seized 7,400 guns here in crimes or unpermitted uses last year (compared with 3,285 in New York City), and have confiscated 574 guns just since Jan. 1 — 124 of them last week alone.
More than a quarter of the firearms seized on the streets here by the Chicago Police Department over the past five years were bought just outside city limits in Cook County suburbs, according to an analysis by the University of Chicago Crime Lab. Others came from stores around Illinois and from other states, like Indiana, less than an hour's drive away. Since 2008, more than 1,300 of the confiscated guns, the analysis showed, were bought from just one store, Chuck's Gun Shop in Riverdale, Ill., within a few miles of Chicago's city limits.
Efforts to compare the strictness of gun laws and the level of violence across major American cities are fraught with contradiction and complication, not least because of varying degrees of coordination between local and state laws and differing levels of enforcement. In New York City, where homicides and shootings have decreased, the gun laws are generally seen as at least as strict as Chicago's, and the state laws in New York and many of its neighboring states are viewed as still tougher than those in and around Illinois. Philadelphia, like cities in many states, is limited in writing gun measures that go beyond those set by Pennsylvania law. Some city officials there have chafed under what they see as relatively lax state controls.
In Chicago, the rules for owning a handgun — rewritten after the outright ban was deemed too restrictive in 2010 — sound arduous. Owners must seek a Chicago firearms permit, which requires firearms training, a background check and a state-mandated firearm owner's identification card, which requires a different background review for felonies and mental illness. To prevent straw buyers from selling or giving their weapons to people who would not meet the restrictions — girlfriends buying guns for gang members is a common problem, the police here say — the city requires permitted gun owners to report their weapons lost, sold or stolen.
Still, for all the regulations, the reality here looks different. Some 7,640 people currently hold a firearms permit, but nearly that many illicit weapons were confiscated from the city's streets during last year alone. Chicago officials say Illinois has no requirement, comparable to Chicago's, that gun owners immediately report their lost or stolen weapons to deter straw buyers. Consequently those outside the city can, in the words of one city official, carry guns to gang members in the city with "zero accountability."
And a relatively common sentence in state court for gun possession for offenders without other felonies is one year in prison, which really may mean a penalty of six months, said Anita Alvarez, the Cook County state's attorney, who said such punishments failed to serve as a significant enough deterrent for seasoned criminals who may see a modest prison stint as the price of doing business.
"The way the laws are structured facilitates the flow of those guns to hit our streets," Garry F. McCarthy, the Chicago police superintendent, said in an interview, later adding, "Chicago may have comprehensive gun laws, but they are not strict because the sanctions don't exist."
In the weeks since the mass shooting in Newtown, Conn., Toni Preckwinkle, the Cook County Board president, has introduced a countywide provision requiring gun owners beyond the city limits to report lost or stolen guns, though a first offense would result simply in a $1,000 fine. In the city, Mayor Rahm Emanuel has pressed for increased penalties for those who violate the city's gun ordinance by failing to report their guns missing or possessing an assault weapon.
"Our gun strategy is only as strong as it is comprehensive, and it is constantly being undermined by events and occurrences happening outside the city — gun shows in surrounding counties, weak gun laws in neighboring states like Indiana and the inability to track purchasing," Mr. Emanuel said. "This must change."
State lawmakers, too, are soon expected to weigh new state provisions like an assault weapons ban, as Chicago already has. But the fate of the proposals is uncertain in a state with wide-open farming and hunting territory downstate.
"It's going to be a fight," said State Representative Jack D. Franks, a Democrat from Marengo, 60 miles outside Chicago. Complicating matters, an appellate court in December struck down the state's ban on carrying guns in public, saying that a complete ban on concealed carry is unconstitutional. Illinois is seeking a review of the ruling, even as state lawmakers have been given a matter of months to contemplate conditions under which guns could be allowed in public.
Many here say that even the strictest, most punitive gun laws would not alone be an answer to this city's violence. "Poverty, race, guns and drugs — you've got to deal with all these issues, but you've got to start somewhere" said the Rev. Jesse L. Jackson, who was arrested in 2007 while protesting outside Chuck's Gun Shop, the suburban store long known as a supplier of weapons that make their way to Chicago.
At the store, a clerk said the business followed all pertinent federal, state and local laws, then declined to be interviewed further. Among seized guns that had moved from purchase to the streets of Chicago in a year's time or less, nearly 20 percent came from Chuck's, the analysis found. Other guns arrived here that rapidly from gun shops in other parts of this state, Indiana, Wisconsin, Kentucky, Mississippi, Georgia, Iowa and more.
"Chicago is not an island," said David Spielfogel, senior adviser to Mr. Emanuel. "We're only as strong as the weakest gun law in surrounding states."
NEW YORK TIMES SPORTS PAGES, JANUARY 28, 2013:
Security Shares Spotlight at High School Game
New York Times, By BEN STRAUSS, Published: January 28, 2013 on line. January 29, 2013 print edition (national)
CHICAGO — The cars were screened in the parking lots of the stadium on Chicago State University's South Side campus. The fans walked through metal detectors; their bags were scanned, too. Police lined the arena's entrance. The teams of teenage boys wore T-shirts during the pregame warm-ups bearing a simple, yet stark message: Shoot Hoops, Not Guns.
Such was the backdrop for a highly anticipated high school basketball game in Chicago on Saturday between Simeon Career Academy and Whitney M. Young Magnet High School, where a pall cast by violence threatened to overshadow an athletic showcase. On Jan. 16, after a game involving Simeon at Chicago State, a skirmish between players and coaches broke out on the court. A shooting outside the arena later left a 17-year-old boy dead — another homicide in a city where 506 were reported in 2012.
The game pitted two of the country's top programs and players, with both teams in USA Today's top 10 national rankings. According to Rivals.com, Whitney Young boasts the top junior in the nation in Jahlil Okafor, a powerful but lithe center with soft hands and quick feet. Simeon has Jabari Parker, the third-ranked senior. Parker is a 6-foot-8 do-it-all swingman who committed to Duke last month and has been featured on the cover of Sports Illustrated.
"You could make a case these are the two best high school players in the country," said Joe Henricksen, a longtime Chicago high school basketball observer and the publisher of a local recruiting newsletter.
The hype surrounding the clash, which was televised nationally on ESPNU, was matched by the questions of safety and security. Fans erupted during the game after acrobatic dunks, while the Chicago police superintendent, Garry F. McCarthy, sat with his arms folded, wearing a tight-lipped expression.
McCarthy described the security as threefold, a perimeter enforced by the Chicago police, the campus patrolled by state officers and the university police, and Chicago Public Schools security monitoring the gym.
He stressed that the Jan. 16 shooting was not related to basketball.
"The fact is it had nothing to do with what happened at the game," McCarthy said. "That was about a gang member seeing another gang member, relaying the information, and somebody showed up and wanted to shoot somebody."
Still, Chicago Public Schools suspended Simeon Coach Robert Smith for four games because of his role in the pushing and shoving after the game, and the security presence inside and outside the arena Saturday was noticeably increased and tightened. One fan said police officers with flashlights peered through his car window and asked him to open his glove compartment when he entered the parking lot.
"I'm always concerned about our kids' safety," said the Chicago schools chief executive, Barbara Byrd-Bennett, who was also at Saturday's game.
She added: "I think they know we've put together a plan to keep them safe."
In Chicago, high school basketball is a way of life. The term March Madness was used to describe the high school basketball postseason tournament in Illinois in 1939, long before the N.C.A.A. adopted it, and Illinois was also among the first states to televise its tournament.
More recently, Chicago produced the N.B.A.'s first overall draft picks when Derrick Rose, a Simeon graduate, was selected by the Bulls in 2008, and last year when the New Orleans Hornets chose Anthony Davis. Many in the city hope its latest prodigies follow suit.
"Basketball is just what we do in Chicago," Whitney Young Coach Tyrone Slaughter said.
The remarkable run of talent here has brought comparisons to the late 1970s, when Isiah Thomas and Doc Rivers headlined high school tournaments in the area. But as rich as the basketball culture is locally, the sport has also been affected by the reverberations from violent crime. Outside their gym each day they go to practice, Parker and his teammates see Rose's jersey hanging next to that of Ben Wilson, who was ranked among the top high school basketball stars in the country when he was killed in a shooting outside Simeon in 1984.
A report by The Chicago Sun-Times last week highlighted several violent episodes involving public school athletics in the city over the past 10 years, including fights, shootings and an attack on a team bus.
"That's never on my mind, any of the violence," the Whitney Young center Okafor said. "I feel safe."
The game, as it turned out, matched the hype, despite ordinary efforts from Parker (7 points) and Okafor (8 points). Simeon sprinted to a lead before holding off Whitney Young, 44-41, in an action-packed finish.
Afterward, Parker said just playing the game was an important message.
"We could have played it somewhere else outside the city, but we didn't," he said. "Those T-shirts we wore were good for kids to see."
Fans filing out of the arena were instructed to exit through the side of the building, directly into the parking lot. Police cars sat at the entrance to the arena and in the surrounding lots, their blue lights flashing in the night. No problems were reported.
A version of this article appeared in print on January 29, 2013, on page B11 of the New York edition with the headline: Security Shares Spotlight at High School Game.
NATIONAL EDITION JANUARY 31, 2013:
Chicago Girl's Shooting Death Jolts City and Touches Capital
By STEVEN YACCINO and CATRIN EINHORN
Published: January 30, 2013
CHICAGO — When students filled the halls of King College Prep here on Wednesday, there was a sea of purple and red.
Purple was the favorite color of Hadiya Pendleton, 15, a classmate and member of the school's majorette team, which had just returned from Washington after performing at an event celebrating the inauguration of President Obama.
Red symbolized gun violence, because Ms. Pendleton was killed on Tuesday by a gunshot to her back while hanging out with friends in a park not far from Mr. Obama's family home.
The details of her death shook Chicago and gave fuel to gun-control advocates in the running debate over firearms. The story traveled back to Washington on Wednesday, where Senator Richard J. Durbin, Democrat of Illinois, mentioned Ms. Pendleton during a Senate Judiciary Committee hearing about gun violence, and the White House press secretary, Jay Carney, called it "another example of the problem that we need to deal with."
The shooting was not unfamiliar for some in Chicago, where gun violence has contributed to at least 40 deaths this year and more than 500 homicides in 2012.
"But you don't think at 2 in the afternoon at a park you're going to lose the one you love and care about," said Klyn Jones, a friend who was with Ms. Pendleton on the day she died.
Friends described Ms. Pendleton as a girl with an easy smile and generous nature. She loved Latin class and had worked hard on her overhand serve for the school volleyball team.
The inauguration trip was an inspiration, Ms. Jones said. "He was an African-American from Chicago, and she is too," Ms. Jones said. "It goes to show that as long as you put your mind to something, you can do it and affect the world."
But on Tuesday, Ms. Pendleton and about 12 friends were at a park on the city's South Side, not far from the University of Chicago campus. When it started to rain, they all took shelter under a canopy. Ms. Jones said she looked up from her phone and saw a man jumping a fence.
He ran toward the group and started shooting, then jumped into a vehicle, which drove away, according to the police.
"It is believed that the offender mistook the group for gang members and fired at them," said Joshua Purkiss, an officer with the Chicago Police Department.
Another boy was shot once in the leg, but is in good condition. A third victim had a graze wound.
Ms. Jones said a friend cradled Ms. Pendleton's head in her lap as they waited for the ambulance. Ms. Jones held her hand. They thought she would pull through. At the hospital, they received the news.
Steven Yaccino reported from Chicago, and Catrin Einhorn from New York.
A version of this article appeared in print on January 31, 2013, on page A13 of the New York edition with the headline: Chicago Girl's Shooting Death Jolts City and Touches Capital.