Costly coverups and churnings... CPS organization in chaos as Rahm Emanuel's second year as CPS overlord moves towards its end... Sicat departure continues churning of ridiculous CPS leadership cadre and organizational structure
George N. Schmidt - January 06, 2013
Management Musical Chairs at Chicago Public Schools will continue into 2013, as the latest round of appointees by Mayor Rahm Emanuel takes over from the initial round of appointees by Mayor Rahm, Emanuel. But thin news reports only depict the tip of a chaotic bureaucratic iceberg, which since May 2011 has featured a continual churn of officials and job titles -- at unprecedented salaries and with new perks such as "relocation expenses -- with most of the choices of the mayor coming from outside Chicago Public Schools, often with little or no teaching or administrative experience.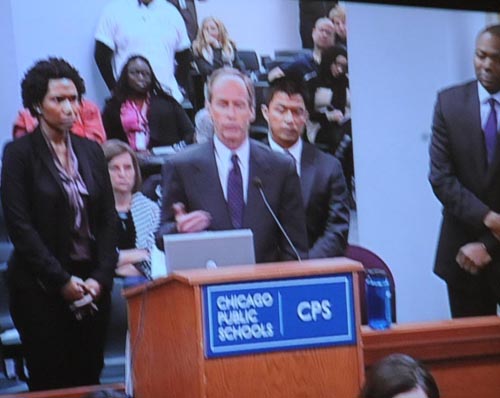 While the official reality being presented as a Power Point by Chicago Public Schools "Chief Administrative Officer" Tim Cawley (above at podium) during the February 22, 2012 meeting of the Chicago Board of Education, the photograph might have been captioned befitting a popular Zombie movie. Surrounding Cawley above were "Chief FACE Officer" Jamiko Rose, "Chief Portfolio Officer" Oliver Sicat, and "Chief Executive Officer" Jean-Claude Brizard. By eleven months later, all but Cawley could have been identified during the Power Point as among the living dead. Rose was gone from CPS by March 2012. Brizard was dumped by the Emanuel administration (with a golden parachute) in October 2012, and in January 2013 Sicat was announced to be leaving effective March 2013. Sicat's "Portfolio" department is apparently being replaced by something about "Incubation." Like all those in the photo above, the new Incubation chieftain comes to Chicago with no experience in Chicago as a classroom teacher or principal. The latest to go will be one of the most prolific Power Point presenters in CPS history, Oliver Sicat, the former charter school principal who became the CPS "Chief Officer for Portfolio Management" for less than two years. Sicat has been preceded out the crowded exit door by Emanuel's first "Chief Executive Officer" (Jean-Claude Brizard), by Emanuel's initial "Chief Education Officer" (Noemi Donoso), by Emanuel's First "Chief Officer for FACE, Family and Community Engagement" (Jamiko Rose) and a half dozen others. Not one of the massive churnings and changes at the top of the administrative hierarchy in that nation's third largest school system has been discussed at a public meeting of the seven-member Board of Eduction, and the Board is now voting routinely to keep secret the minutes of its closed sessions. Like the former "Chief Executive Officer" Jean-Claude Brizard and the current "Chief Executive Officer" Barbara Byrd Bennett, the seven members of the Board were appointed by Emanuel.
The January 3 report by WBEZ that Oliver Sicat, who had served less than two years at CPS as "Chief Officer, Portfolio Management," was leaving adds additional confirmation to the growing body of evidence that Rahm Emanuel's Chicago Board of Education is following a policy of destabilization, not furthering public education. At the same time other media are reporting the latest churning of the CPS leadership bureaucracy, the Board of Education is refusing, for the first time in history, to release its annual audited financial statement report (the CAFR) in January as required by law and tradition.
It's a sad facts that Chicago reporting has declined this far since the days when Kurt Vonnegut and Mike Royko, fresh from reality in World War II and Korea, learned to report and respect facts at the old City New Bureau. Never, in those days, would even the right-wing Tribune have thought it OK to simply recycle the propaganda of the powerful into "news" stories.
And yet that's where we are today.
Instead of tracking the degeneration of the bureaucracy and leadership of the nation's third largest school system into a bizarre scriptology for the latest revisions of the Rituals of Rahm, we get a bit of hyperventilation about the demise of the latest iteration of Oliver Sicat, whose talents were mainly for self-promotion from the day he finished his undergraduate work at USC through last week. One year ago, Sicat was rivaled only by Tim Cawley in feeding Power Point gibberish -- budget, "portfolio," school closings and tranformatioins, the eubject didn't matter -- to the seven members of the Chicago Board of Education appointed by Rahm. and the Board members in their turn asked carefully pre-scripted questions to the Power Pointers, as if that constituted review of policy and praxis.
So now Sicat is "news." As if "Portfolio" was not last year's iteration of the bizarre management theories promoted by the disciples churned out by the Broad Leadership Academy. Oh, but "Portfolio" is so 2012. Like "Longer School Day"?
So now CPS imports another outsider (Oliver, remember, never taught a month in a real Chicago public school, but was imported to the CPS hierarchy from those frauds at the "Noble Network of Charter Schools)". And this time, instead of "Portfolio," CPS has morphed to "Incubation."
And Sicat is no more at CPS. For those who care about the future of opportunism, someone who has been as attentive to self-promotion and the winds of corporate fashion as Sicat will land on his highly publicized feet. But this story is not about the soap operas of the formerly rich and powerful. It's about the crazy manic and dysfunctional governance of the nation's third largest school system in the second year of the Reign of Rahm.
Last year, in a fit of pique (something that has been increasing), Rahm spoke, as usual falsely, to the Tribune about how he had "executive" experience -- and the reporters interviewing him didn't. Rahm's fantasies brought CPS "Portfolio" a year ago, then erased that iteration of fantasy as if this whole thing -- managing Chicago's public schools -- could be erased and re-done by changing story boards. That Hollywood nonsense should be left to one of the other Emanuels. Trouble is, Rahm's Board of Education continues with a straight face voting for each of the latest of the manic iterations of Rahm's fantasy life. Less than one year ago, as the seven dwarfs might recall, they sat and listened to a Power Point presentation on why a bunch of schools should be screwed and closed. Standing before them at that time were four very well paid executives, not one of which had a minute's teaching experience in Chicago's public schools:
Tim Cawley.
Jean-Claude Brizard.
Jamiko Rose.
Oliver Sicat.
And the Board then voted to close and screw those schools, along with their thousands of students and hundreds of teachers and other staff.
Well, that was so 2012. So, February 2012 Board meeting.
Now, the only survivor of that carnage from the CPS bureaucracy is Tim Cawley. Brizard, Rose and Sicat are gone. And yet the reporting on this reality reads as if "CPS" was some crazy reality show, a "survivor." And we're supposed to take our versions of reality seriously. At least, when that "reality" is the first rough draft of history as spread on us, sort of like organic fertilizer on a locovore field, by this year's so-called "reporters."
WBEZ REPORT BELOW HERE:
Top CPS official leaves school system, reorganization continues. Chief Portfolio Officer Oliver Sicat resigns, will leave in March. WBEZ, January 3, 2013 By: Becky Vevea
A top Chicago Public Schools official is resigning amid another reorganization of the system's leadership.
Chief Portfolio Officer Oliver Sicat submitted his resignation yesterday, but will stay with the district through March, said CPS spokeswoman Becky Carroll. The former principal and teacher will pursue other career opportunities, Carroll said.
Sicat was tapped by former schools chief Jean-Claude Brizard to run the Office of Portfolio, which oversaw the creation of new charter and magnet schools and managed the enrollment process. That office will now be absorbed into the new Office of Innovation and Incubation, run by Jack Elsey.
The departure and overall reorganization comes at a time when confidence in CPS is strikingly low.
After his election Mayor Rahm Emanuel cleaned house at CPS, claiming he needed to "hit the reset button on education." Alicia Winkler and General Counsel Pat Rocks were the only two holdovers from the Daley era. Rocks retired last summer.
But today, just three of the eight people initially appointed by Emanuel remain. One of those three is Winkler. The other two are Carroll and Chief Administrative Officer Tim Cawley.
A shake-up in school leadership is not uncommon when a new Chief Executive Officer is appointed. In 1995, when then-Mayor Richard M. Daley took control of the city's public schools, his first CEO Paul Vallas restructured the system. Arne Duncan did the same in 2001, when Daley appointed him to succeed Vallas.
But rapid change in school leadership over the past three years has meant much more frequent, and costly, reorganizations. Principals, teachers and other stakeholders have grown more confused and frustrated as faces change and offices are renamed.
The departures come with hefty price tags for the cash-strapped school system.
Emanuel's initial top two picks, Brizard and Chief Education Officer Noemi Donoso both left with substantial severance packages. Donoso left in late April, just shy of a year in office, and got half a year's salary, or $134,000, and did not have to repay the $21,000 in relocation expenses, although her contract said she would. She also stayed on payroll for a month after her resignation.
Brizard's high-profile exit is costing the district more than $300,000. He remained an employee through the end of December 2012 and gets a year's salary, or $250,000, beyond that.
Carroll said current CPS CEO Barbara Byrd-Bennett, who took over for Brizard after he left in the wake of the first teachers strike since 1987, is still organizing her team.
Last month, the Board of Education approved the appointment of five new cabinet members. Two were promotions from within CPS.
Annette Gurley will take over many of the duties of the Chief Education Office, long considered the second in command at CPS. Her title will now be Chief of Teaching and Learning and she'll oversee curriculum and instruction and other education-related services.
John Barker will be the Chief Accountability Officer overseeing testing, assessment and data. That position was previously empty.
Denise Little will be Chief of Networks, overseeing middle-management which deals directly with regional groups of schools.
Jack Elsey will run the Office of Innovation and Incubation, formerly Sicat's Office of Portfolio. The office oversees the creation of new schools, the school enrollment process and other specialty and military programs.
The Office of Talent will continue to be run by Alicia Winckler; the Chief Administrative Office will continue to operate under Tim Cawley; Phil Hampton will remain in his post as Chief of Family and Community Engagement and Carroll will continue to run Communications.
An updated organizational chart outlining what other departments fall under these is not yet available, Carroll said.
