Clarification of proposal -- alderman wants to move the 'Marine Academy' into Ames... Alderman Maldonado goes public with support for changing Ames into a 'military academy'
George N. Schmidt - November 16, 2012
After weeks of rumors and some half truths, 26th Ward Alderman Roberto Maldonado went public on November 15, 2012, with his plans to support converting Ames Middle School into a "Military Academy." The plan, which indicates that prominent Latino politicians in addition to Senator Iris Martinez and Rep. Cynthia Soto are already colluding with CPS administrators to develop the 2013 Hit List, would destroy the current Ames school (which Maldonado claims is "failing") and replace it with the military school (which despite its "Level 2" rating Maldonado claims is a big success).
In an email sent to his constituents on November 15, 2012, Maldonado stated:
Dear Constintuent,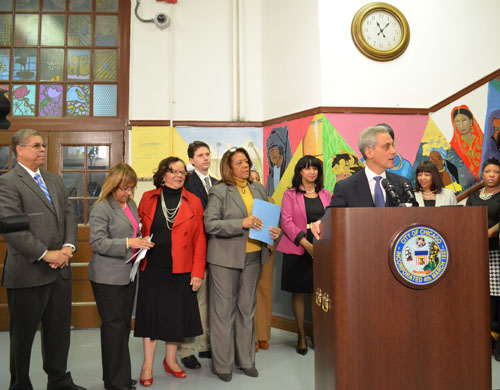 Alderman Roberto Maldonado (26th Ward) was prominent at the publicity stunt staged by Mayor Rahm Emanuel at Lowell Elementary School on October 29, 2012 to distribute privately funded merit pay checks to teachers. Above, Maldonado (far left) looks on while Emanuel speaks. Substance photo by George N. Schmidt.As the Alderman and a parent, I feel it is my duty to provide our children with a viable option to get a quality education in the 26th Ward. That is why I have been strongly lobbying to relocate Marine Math & Science Academy into the building that currently houses Ames Middle School.
Marine Math & Science is a level 2 school that has seen significant growth in graduation rates. But a high school diploma is no longer sufficient to reach the American Dream. Our parents deserve high school in the ward that sends the majority of their graduates to college.
Marine Math & Science, with 92% of their graduates accepted into four year colleges, has delivered both academic and programmatic support that families need to make college a reality. In 2012, Marine's graduates received approximately $4 million dollars in scholarship awards. As part of their college counseling program, Seniors are required to have 3 admissions letters in their file.
Marine Math & Science students are over 60% Latino and many of these students come from the 26th Ward. Relocating or expanding this school will not only benefit the current students but give the 26th Ward its first high school that provides a safe learning environment.
Potential of Ames Has Yet to be Realized
Ames is a new, state-of-the-art facility built to house 1,100 students. Yet only 500 students currently attend Ames. I am deeply concerned that enrollment at Ames is shrinking and concerned that this educational loss is impacting the children of our community. It has seen chronic under-performance, under-enrollment, and instability with its leadership team since its inception in 1997.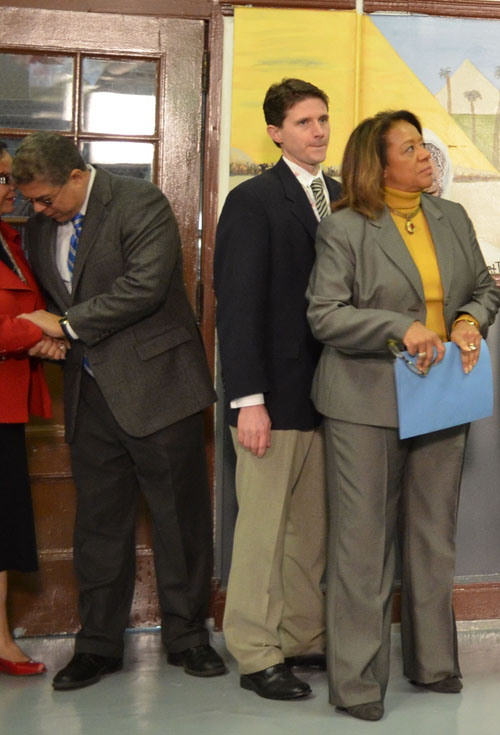 Above, Roberto Maldonado confers with Chicago Board of Education member Mahalia Hines during the merit pay event at Lowell Elementary School on October 29, 2012. CPS's latest "Chief Executive Officer," Barbara Byrd-Bennett, is at the right. Substance photo by George N. Schmidt.Ames parents have expressed interest in the concept of a 7th through 12th grade school; I concur.
My recommendation allows for open enrollment of the current 7th and 8th grade students at Ames who are willing to embrace this academic model by wearing a school uniform and adhering to the high expectations of Marine Math & Science Academy. This educational opportunity would allow families to reliably plan their children's educational futures and remain invested in the 26th Ward to meet their educational needs. It is my recommendation that Chicago Public Schools and the Board of Education seriously consider having a 7th to 12th grade Marine Math and Science School at Ames that will make the residents of the 26th Ward proud.
Sincerely,
Roberto Maldonado, Alderman
26th Ward