RAHMWATCH November 3, 2012. Rahm out of town until after Tuesday?
George N. Schmidt - November 03, 2012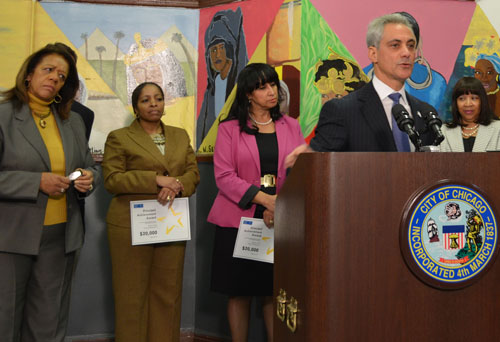 Even though she is completely the servant of her patron, Chicago Mayor Rahm Emanuel, the latest Chief Executive Officer of Chicago's public schools, Barbara Byrd Bennett (above left) has already begun expressing skepticism about the viability of the mayor's programs to privatize another one hundred Chicago public schools, giving away many of their buildings for charter schools. Substance photo by George N. Schmidt.Since his CPS publicity stunts earlier in the final week of October 2012, Rahm Emanuel has been out of town, with his public schedule showing no activities. The week was devoted to several events pertaining to CPS schools. On Monday the mayor was at Lowell to announce merit pay; later the same day at Kenwood to announce University of Chicago deals; Tuesday at Field to announce the Walgreens insult to Chicago parents... But for some reason, when protesters arrived at City Hall to oppose school closings and charter expansion on Friday, Rahm had disappeared. Nor was he available for comment on the proposal by his hand-picked schools CEO, Barbara Byrd Bennett about the latest plan to expand school closings while reducing accountability of CPS officials (and the revolving door at the top that Rahm's Reign has pioneered).