Moratorium on charter expansion and school closings demanded... LEAD dinner largest in 75-year history of the revitalized Chicago Teachers Union
George N. Schmidt - October 27, 2012
The Chicago Teachers Union hosted the largest LEAD dinner in its 75-year history at Plumbers Hall on Friday night, October 26, 2012, with more than 1,000 people, including dozens of local and state political leaders, attending. Tables for the annual corned beef and cabbage dinner filled the main floor of the hall, the balcony, and even the hallway outside as the crowd became larger than anyone had ever seen.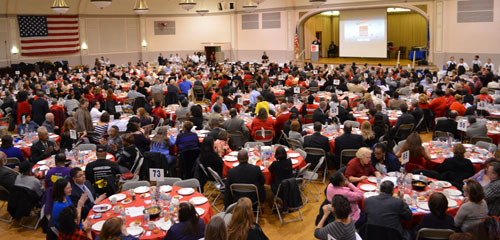 Barely visible at the podium on the stage, Chicago Teachers Union President Karen Lewis outlined for the largest LEAD dinner in the union's 75-year history a political program that included getting Chicago an elected school board and an end to school closings and charter expansions. Substance photo by George N. Schmidt.A video presentation about the union's recent history greeted the teachers, families and political leaders as they entered the hall, and the food was served while a number of honors were presented by union president Karen Lewis to both union leaders and political leaders.
During the annual LEAD gala, CTU leaders released the union's legislative and action platforms. CTU President Karen Lewis used her speech to draw attention to many issues, focusing on the issue of school closings and the proliferation of charter schools and "campuses" across Chicago's inner city African American and Latino communities — at the expense of funding neighborhood schools. Labor leaders also discussed the attack on teachers' pensions and the grassroots campaign to secure an elected school board in Chicago.
The intense warm up for the speeches was given by CTU organizer Brandon Johnson, who told the group that while the union president he was introducing was the daughter of teachers, he was the son of preachers, and it showed.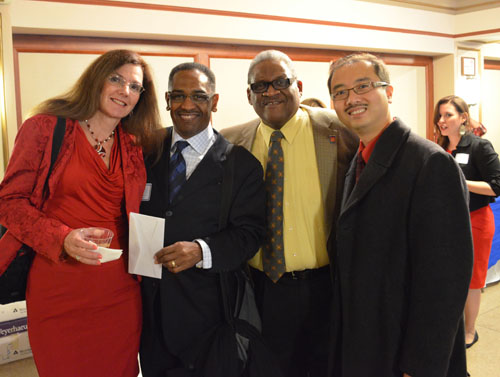 The LEAD dinner is not only a chance for political leaders and teachers to interact, but for school mates to gather. Above, Kati Gilson and Kristine Mayle flank three of Lane Tech's finest, Howard Heath, a retired teacher who taught math at Lane, John Lewis, retired physical education teacher, and Quang Tho, who studied in Heath's classes and went on to be the computer tech at the Chicago Teachers Union during the administration of President Deborah Lynch and Vice President Howard Heath. Substance photo by George N. Schmidt.In her speech, Lewis directly confronted the racism and class inequalities that have been the main feature of the attack on schools using school closings that the Board of Education has pushed since the 21st Century began. "More than 42,000 students have been directly impacted by CPS School Actions since 2001," she said. "Schools that are over 99 percent students of color have been the primary target of CPS school actions — representing over 80 percent of all affected schools. Black communities have been hit the hardest – 3 out of every 4 affected schools were economically poor and intensely segregated African American schools. We are calling on a moratorium on these actions and we intend to take our message to local and state leaders."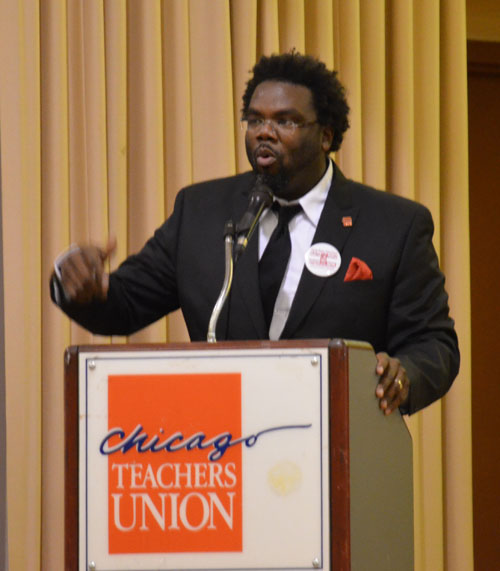 CTU organizer Brandon Johnson warmed up the crowd for Karen Lewis's speech and also served as master of ceremonies. Substance photo by George N. Schmidt.Among those receiving the "Legislative Leader Award," were City Council members Robert Fioretti, Pat Dowell, Leslie Hairston, Roderick Sawyer, Toni Foulkes, Ricardo Munoz, Scott Waguespack, Nick Sposato, Tim Cullerton, and John Arena; as well as IL General Assembly member LaShawn K. Ford. Organizing as the City Council "Progressive Caucus" the aldermen have begun challenging the administrative policies of Rahm Emanuel. Rep. Ford has been holding community meetings on the elected school board.
Community organizations that were instrumental in CTU's fair contract fight will be given the "Twilight Award." Recipients include 19th Ward Parents, Albany Park Neighborhood Council, Arise Chicago, Brighton Park Neighborhood Council, Chicago Teacher Solidarity Campaign, Blocks Together, Enlance Chicago, Kenwood Oakwood Community Organization, Chicago PEACE, Parents 4 Teachers, Logan Square Neighborhood Association, Stand Chicago, Raise Your Hand, Pilsen Alliance and Teachers For Social Justice.
Three Chicago educators received the "Anchor Award" for their successful advocacy campaigns including high school educator Jennifer Johnson, fifth-grade teacher John Cusick, and retired certified school nurse Helen Ramirez Odell.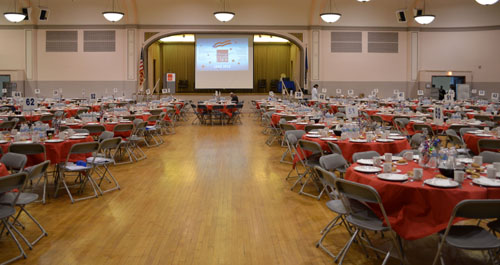 An enormous amount of preparation went into the successful LEAD dinner before the first Harrington's corned beef platters arrived at the tables. One feature of the night was the video prepared by CTU communications specialist Kenzo Shibata (who wasn't there because his family's first baby is due now) and Nate Goldbaum (who can barely be seen under the screen above as he makes sure the materials are ready for the entry of the crowd. Substance photo by George N. Schmidt.Retired educators — some of whom have been union activists for more than half a century — who have been devoted to unionism their entire careers received the "Pioneer Award." Recipients include Carlene Blumenthal, teacher and CTU member since 1962; Bobbi Jo King Donelson, teacher and member since 1984, Howard Heath, teacher and member since 1973, Louverta Hurt, teacher and member since 1972; John Keating, teacher and member since 1962, John O'Brill, teacher and member since 1961, and Roberta Wilson paraprofessional and a CTU member since 1961.
