MEDIA WATCH: Broad Foundation mercenary Jean-Claude Brizard cons Second City out of a million dollars and gets praised by Chi-Town's sophisticated media mavens and mavettes for leaving his mess behind...
George N. Schmidt - October 14, 2012
By the time he completes his packing and blows town, Jean-Claude Brizard, the undercompetent and overpaid (we said it a long time ago here, but it's worth repeating) will have taken Chicago for a million dollars himself for less than 18 months of servitude to Rahm Emanuel's scripted dog-and-pony shows and left behind about $10 million in patronage flunkies (also, mercenaries) now perched atop the nation's third largest school system. Yet to read the Chicago newspapers on October 14, 2012, you'd think that Chicago has just gone from one triumph to another, thanks to the Miracle Man at City Hall, Rahm Emanuel.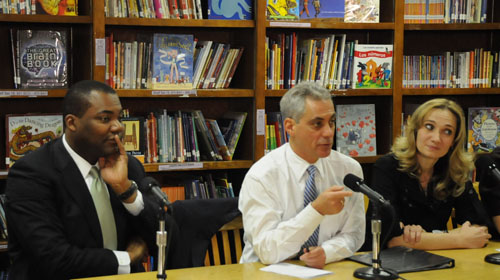 Between June 2011 and July 2012, Chicago schools "Chief Executive Officer" Jean-Claude Brizard (above left) appeared and read his carefully scripted lines for the TV cameras at publicity stunts featuring Mayor Rahm Emanuel (center) and a rotating case of dozens (sometimes hundreds). Above, on November 14, 2011, Rahm and the man he called "J.C." did a publicity stunt at Perez Elementary School in Chicago with the school's principal to promote the newest on line attack on the city's public schools, a "report card" developed to show that most of the city's real public schools were bad or worse. The publicity stunt above was photographed in a school library that was not in use because the school, like 159 others in the inner city, did not have a librarian (or did not even have a library). During the 18 months he spent in Chicago as head of the nation's third largest school system, Brizard slavishly followed the scripts handed to him by the Mayor's scriptwriters. His reward as close to a million dollars for lest than a year and a half's work. Substance photo by George N. Schmidt.Actually, the only miracles coming out of City Hall for the past 18 months have been cynical spin and a level of "journalistic" corruption that could have made it into the fifth season of "The Wire." Chicago gets conned by a fatuous African American outsider guy — courtesy of Rahm's script writers — and is now celebrating how Chicago will get conned next by a glib and fatuous African American outsider gal, also courtesy of Rahm's script writers.
First, let's take a close look at Brizard's million dollar take home. As careful readers of Substance know, Brizard arrived in town with a contract promising him a salary of a quarter million dollars a year, plus bonuses and merit pay deals. He was also paid $30,000 for "relocation" expenses, starting a trend that has already cost the city another quarter million dollars. (Every six-figure bureaucrat brought in from outside now requires a "relocation" fee; even some Chicago bureaucrats who were simply changing jobs, like Jen Cheatham, required a fee, but since they weren't moving to town, it was for "transition" or "retention".). For all the prattle from City Hall about "transparency," nobody has yet to find Brizard's contract on line. Or that of any of the other out-of-town mercenaries CPS has hired since April 2011, when Brizard posed for pictures flanked by billionaire Penny Pritzker and multi-millionaire Rahm Emanuel, who announced that Chicago had just secured the most talented guy in the USA to run the schools.
Right.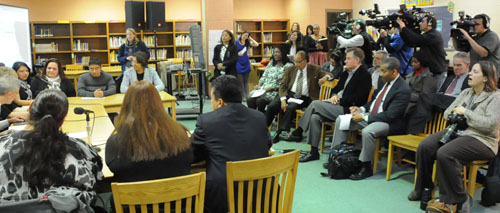 Chicago's dwindling press corps, shown above taking dictation from Mayor Rahm Emanuel (grey hair and bald spot visible in the far left above) has been complicit in the lotting of the schools system's treasury by Jean-Claude Brizard and his appointees, and by the massive privatization schemes that are continuing in the city on orders from Emanuel. Substance photo by George N. Schmidt.Before Jean-Claude Brizard arrived in Chicago, teachers, parents and students in Rochester New York warned that Brizard was a con man who couldn't be trusted. By the time he left Rochester to accept the job offer from Chicago Mayor Rahm Emanuel, Brizard was being run out of town there, trailed by a number of lawsuits that promised to cost the city even more than what Brizard himself had cost.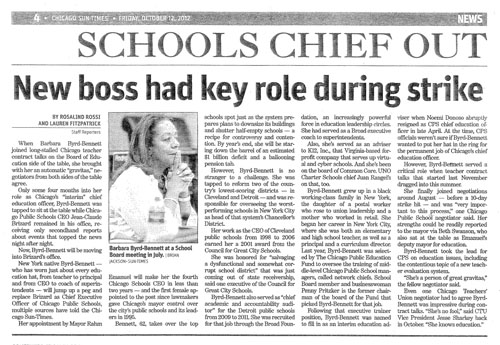 Almost as soon as Rahm Emanuel announced that Brizard was leaving, the Chicago Sun-Times began a blitz of hagiography telling its readers, in both "news" and opinion columns, that the outsider from Cleveland and Detroit in a few short months had become the best person to lead the nation's third largest school system. Most of the articles fail to mention that Byrd-Bennett has long been a tool of corporate school reform and the Broad Foundation.