A new 'Chicago Symphony' is born on every street in the Second City... Massive support for teachers as the Chicago Teachers Strike of 2012 begins
George N. Schmidt - September 10, 2012
If one of the great symbols of America — cars, trucks, and other vehicles operated on internal combustion engines — could make music that became a symphony of democracy, on September 10, 2012, that was what took place in Chicago. The third largest city in the USA was the noisiest in its history on September 10, 2012, as cars, trucks, buses and other vehicles honked their horns and blared their air horns from Howard St. near the Evanston border to 135th St. on Chicago's far south side. As the Chicago teachers strike began, the new Chicago Symphony was making music across the city and drowning out the noise of the rich, powerful, and dishonest many are hoping forever.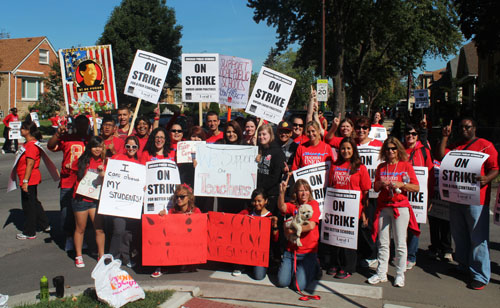 Teachers from Steinmetz High School on Chicago's far northwest side stand along Naragansett Ave. near the school with Ald. Nick Sposato (36). On every major street in Chicago and on many side streets, the majority of motorists, from the drivers of huge semi-trailers and firefighters to small car owners were honking their horns in support of the Chicago Teachers Union on the first day of their strike against the policies of the Board of Education appointed by Mayor Rahm Emanuel. Many students joined their teachers. Steinmetz student signs read: "We care, we love, we support the teachers" and "Disrespect our teachers, you're disrespecting us." Substance photo by Claudio Mendrano.The reason for the music? Across Chicago, people were showing their support for the city's teachers and for the Chicago Teachers Union as picket lines stood outside the city's 675 real public schools and a strike the nation's rulers said was impossible began.
"Noise, hell. That's our music..." teachers were saying as they slowly understood what was unfolding before their eyes and ears.
The first pickets showed up at the headquarters of the Chicago Public Schools at midnight, and were singing "Solidarity Forever" without a song sheet (and with a little help from this reporter). By dawn, thanks to more than two years of organizing by the CTU leadership, the teachers and other school workers with their signs were arriving at their duties across the vast city. From O'Hare Airport to the Indiana border, by 7:00 a.m. the "CTU red" lines were along every main street in the city, and the "Honk if you support the teachers" symphony had begun. It couldn't be drowned out, no matter how craven the lies of the men and women who, by 2012, were known generally as the "one percent." Every truck driver, firefighter, cab driver, police officer and citizen knew that this was THE beginning of the fight to take back the USA from the plutocracy, and the teachers of Chicago were leading it and knew why they were doing what we were doing.