STRIKE NEWS: CTU schedules ten p.m. press conference on night before scheduled strike
George N. Schmidt - September 09, 2012
The Chicago Teachers Union, at about eight p.m. on September 9, 2012, announced that it will be holding a press conference at ten p.m. at the union's Merchandise Mart headquarters in Chicago. The union's negotiating team has been in negotiations all day with the Board of Education's team. As of eight p.m. neither side had made any public statement about the status of the negotiations.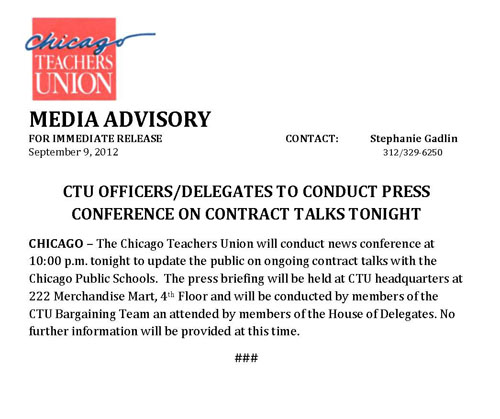 CTU press release announcing the late night press conference on the eve of the strike of 2012.The union's press release follows:
MEDIA ADVISORY FOR IMMEDIATE RELEASE, September 9, 2012 CONTACT: Stephanie Gadlin 312/329-6250 CTU OFFICERS/DELEGATES TO CONDUCT PRESS CONFERENCE ON CONTRACT TALKS TONIGHT
CHICAGO – The Chicago Teachers Union will conduct news conference at 10:00 p.m. tonight to update the public on ongoing contract talks with the Chicago Public Schools. The press briefing will be held at CTU headquarters at 222 Merchandise Mart, 4th Floor and will be conducted by members of the CTU Bargaining Team an attended by members of the House of Delegates. No further information will be provided at this time.