CORE VIDEO: Labor history for Chicago reaches more than 600 hits in less than one week
George N. Schmidt - September 05, 2012
The CORE - Labor Beat video "CTU Strikes 1969 - 1987" reached a small milestone as the CTU House of Delegates met on September 5, 2012. Despite the routine illegal and unconstitutional blockage of substancenews.net by Chicago Public Schools officials and other attacks on the rights of teachers, students and parents by those who rule Chicago, more than 600 people have already viewed the video on line, dozens of others took part in the summer CORE forums "Successful Chicago Strikes", and the number is expected to grow as CORE begins distributing DVDs of the video that has so far only been available on line via a You Tube link.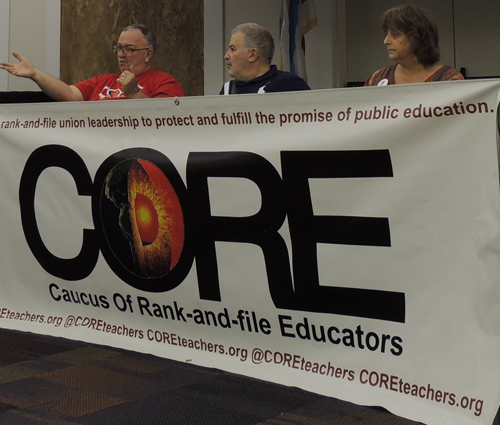 Retired Chicago teachers (and CTU delegates) George N. Schmidt, Jack Silver, and Miriam Socoloff at the August 28 CORE strike history forum at Chicago's Sulzer library. Substance photo by Nate Goldbaum.The video produced by CORE (the Caucus of Rank and File Educators of the Chicago Teachers Union) and Chicago's Labor Beat during the summer of 2012 in conjunction with the four CORE "Successful Chicago Strikes" forums is now available on You Tube for the public to view. It is — called "CTU Strikes: 1969 - 1987" and is a half hour long. By Labor Day 2012 is was up and available on You Tube. The URL is: http://youtu.be/B1qO4IBhGEw
The video features six veteran Chicago Teachers Union members (including this reporter) who discuss the history of the strikes between 1968 (the famous FTB strike against racism and segregation) and 1987 (the 19-day strike) that made the Chicago Teachers Union the most famous militant union in the USA. As the video points out for historical accuracy, CTU continued to strike successfully even after "PATCO" supposedly made the labor movement afraid to strike.