Behind the happy talk about 'No Strike' CTU forced to file a lengthy Unfair Labor Practice complaint about recent CPS union busting nonsense
George N. Schmidt - September 06, 2012
Even before they become adults, children learn whom to trust and not trust. And as adults, just about everyone learns that you can't have a contract with a liar and a thief. Part of the challenge facing Chicago in September 2012 is that the city's teachers (perhaps not all; just the vast majority) know they can't have an honest contract with Mayor Rahm Emanuel because he and his appointees have already broken their contracts several times. And on September 5 — five days before the biggest strike in a quarter century is to begin — the teachers got more examples of why they can't trust the mayor: The Chicago Teachers Union was forced to file an "Unfair Labor Practice" charge against Chicago Public Schools for illegal activities taken since August 1.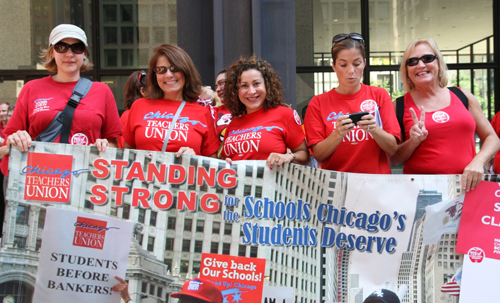 Some of the more than 18,000 Chicago teachers and supporters at the Labor Day 2012 rally and march in Chicago give the message the CTU has been delivering all year. Substance photo by David Vance.The city's major media are only making things more confused, especially via TV "news." Most informed citizens who are trying to make sense out of the current standoff between the Chicago Teachers Union and the Chicago Public Schools (with a sense that Mayor Rahm Emanuel is lurching around in the background) had to be doubled up in confusion on September 5, 2012. That evening, as more than 700 union delegates were leaving the Operating Engineers union hall to complete the last-minute preparations for the strike that will begin Monday (September 10), some of the city's TV talking heads were reporting that things had been settled. CTU President Karen Lewis had been warning the union's delegates, other leaders, and members for months that there would be major disinformation when the strike began, but many were still surprised at how wide was the gap between the official version of reality and what was about to happen. Many of the ore scholarly types were citing George Orwell.
Since the city's "Track E" schools opened, CPS officials have taken a number of steps to insult and antagonize the union — and continue the campaign of official lies that began on June 15, 2011 when the Board of Education voted that it was broke (it wasn't) and reneged on the four-percent raise for what would have been the final year of the five-year contract. If anyone wants a story about why contracts are so dicey in the face of Rahm Emanuel, that would be a good place to begin; most teachers don't want any contract longer than two years because they know that as soon as the ink is dry Rahm will ignore the deal he just made and his Board and propaganda people will squirt inky lies around like squids behind it...
UNFAIR LABOR PRACTICE COMPLAINT FILED BY CTU ON SEPTEMBER 5, 2012. CTU Press Release:
NEWS RELEASE
FOR IMMEDIATE RELEASE CONTACT: Stephanie Gadlin, September 5, 2012 312/329-6250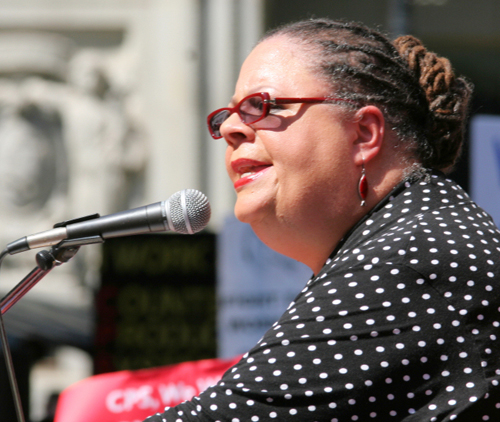 CTU President Karen Lewis delivering her message to the Labor Day rally in Chicago's Daley Plaza. Substance photo by David Vance.CPS hit with unfair labor practice charges for unlawfully imposing changes in working conditions
CHICAGO - The Chicago Teachers Union (CTU) today filed unfair labor practice charges against the Chicago Public Schools with the Illinois Educational Labor Relations Board (IELRB). The charges arose because CPS unlawfully imposed changes in working conditions — including canceling annual longevity pay increases (known as Step increases), discontinuing a longevity sick leave benefit, and imposing new teacher evaluation procedures beyond what is required by the new state teacher evaluation law known as PERA.
State law prohibits employers from making changes in employment conditions while bargaining is ongoing, unless and until the parties reach impasse or a new agreement.
The charges come five days before more than 29,000 CTU members are schedule to walk off the job in demand of a fair labor contract. If contract negotiations have not settled by midnight September 9th, all teachers, counselors, school nurses and other education professionals will go on the strike.
CPS has imposed these changes because its contract proposals call for the elimination of Step increases and the longevity sick benefit, and imposing onerous teacher evaluation procedures. CPS is attempting to force these terms on teachers despite the fact that negotiations have not concluded and the CTU has not agreed to them.
Due to the seriousness of today's charges, the CTU has requested the IELRB to seek a preliminary injunction ordering CPS to rescind these changes and restore to teachers the benefits that it unilaterally took away. Injunctive relief was previously granted by the IELRB on October 20, 2011, when CPS impermissibly tried to impose the longer school day on teachers without bargaining with the Union.
The Union's charges also allege that CPS is refusing to arbitrate grievances, give the Union relevant information, and it has intimidated teachers who engaged in informational picketing at James Monroe Elementary School.
On August 29th, the CTU filed a strike notice and, unless there is an agreement on a new contract, the CTU has announced that it will commence the strike on September 10th. Due to CPS's unlawful conduct, any strike that occurs will be converted to an unfair labor practice strike.
