Brizard purging certain principals from 'Children First' leadership team
George N. Schmidt - September 01, 2012
Within hours after more than 700 members of the House of Delegates of the Chicago Teachers Union voted unanimously to strike on September 10, 2012, if an acceptable contract was not reached, Chicago Public Schools "Chief Executive Officer" Jean-Claude Brizard met with 145 to 150 of the school system's principals (and some other leaders) to outline what he called the plans for the "Children First" program to open schools during the strike. The union meeting took place on August 30, 2012. But before the evening was out, principals had learned that not all of them were fit to operate the "Children First" activities in the buildings where they were working and that the so-called "plan" was dangerously sketchy.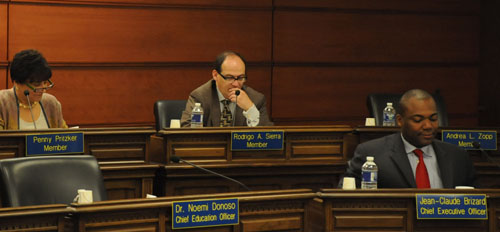 From the first meeting of Rahm Emanuel's Board of Education on June 15, 2011 (above), Jean-Claude Brizard and the members of the Board (above rear, two of the seven, Penny Pritzker and Rudolfo Sierra) have lied. At the June 15, 2011 meeting, Brizard told the Board that there was a "fiscal emergency" that justified the Board's reneging on the promised four percent raise due in the fifth year of the CTU contract. The Board's willingness to refuse to honor legal contracts has set one of the tones leading to the forthcoming September 10, 2012 strike, and may delay to resolution of any strike because teachers know that the Board's word of honor is not honorable. One of the features of the Emanuel administration is that it is churning personnel at the very top. Above, the seat for the "Chief Education Officer" Noemi Donoso is empty (she arrived later). Like others, Donoso did not last one year in CPS (she had come from Colorado). Substance photo by George N. Schmidt.Brizard continued to elaborate on the so-called plan as questions grew.
The message Brizard sent to principals (and others he calls "leaders") on August 31, 2012 read as follows:
Dear CPS Leader,
Following yesterday's webinar broadcast, the CTU House of Delegates set a strike date for Monday, September 10th. Despite this development we continue to negotiate in good faith and are working diligently to reach a fair agreement. While we hope that a strike does not occur, we must plan for the possibility. The setting of a strike date means that we have to continue to focus on our Children First Plan.
Yesterday afternoon, 145 of your colleagues received a call from their Chief of Schools informing them that they have been chosen as a Children First site leader. As such, the selected principals met at the district office to learn about the role of site leader and plan for implementation at their school site. The principals were positive about the task at hand and were confident that they would be able to effectively open the Children First sites, if necessary. Specifics of the plan include:
Opening 145 Children First sites from 8:30 a.m. to 12:30 p.m. Monday – Friday.
Staffing open sites with Central Office staff and other non-CTU employees as well as organizations who will be invited to submit a RFP to help staff schools and provide programming. Student-to-staff ratio would be capped at 25 to 1.
Providing daily nutrition services to all students attending a site, including breakfast and lunch.
In addition, CPS will collaborate with community and faith organizations, as well as our partners, including the Chicago Park District, Chicago Public Library, Chicago Transit Authority, Chicago Fire and Police Departments, the Office of Emergency Management and others in providing kids with the food, a safe environment and positive activities they need and deserve.
While this plan is merely a precaution, we must be prepared. Negotiations are continuing and we are hopeful that an agreement will be reached and a strike averted.
Regardless, we know that next Tuesday is the first week of school for Track R and the continuation of school for Track E.
As a principal leader, we know this is an extremely busy time for you, but it's also important for us to keep you informed. To that end, we will be scheduling a 2nd webinar next week to provide you an update on negotiations and the district's Children First Plan. Look for a note early next week giving the date and time of the webinar. In the meantime, if you have questions please reach out to your Chief of Schools.
In addition, many of you may have heard news this morning regarding my tenure as CEO of Chicago Public Schools. I want you to know that the Board of Education and the Mayor have expressed confidence in my leadership and I will not allow for any distractions at a time when our focus needs to be on our kids and reaching a fair contract for teachers.
Enjoy your holiday weekend, get some rest, and keep an eye out for e-mail updates.