Chicago Teachers Union files notice of intent to strike... Earliest strike could begin is Monday September 10
George N. Schmidt - August 29, 2012
On August 29, 2012, the Chicago Teachers Union completed the second-to-last legal requirement prior to beginning the first Chicago teachers strike in a quarter century when the union filed the "Notice of Intent to Strike" with the Chicago Public Schools administration. At a packed press conference held at the CTU offices in Chicago's downtown Merchandise Mart, CTU President Karen Lewis explained what was taking place to more than 40 reporters assembled from virtually all of the Chicago news media (and possibly some of the right-wing bloggers and provocateurs who have been trying to slander the union).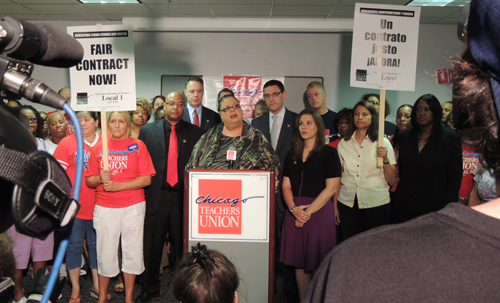 Chicago Teachers Union President Karen Lewis takes reporters' questions during the packed news conference held at CTU headquarters on August 29, 2012, following the union's filing of the legally required ten-day "Notice of Intent to Strike." Lewis reminded the reporters that the union had been engaged in negotiations since November 2011 and had met 48 times with the Board's negotiators (which have never included the Board's quarter million dollar per year "Chief Executive Officer" Jean-Claude Brizard) and that the negotiations remained (as described by the fact finder in July) "toxic" because of the Board's attempt to break the union. Substance photo by George N. Schmidt. The CTU stated in a prepared statement that was distributed to the press:
"Chicago Headed Toward First Teachers Strike in 25 Years... CTU files 10-day strike notice with labor board; strike date has not been set
"CHICAGO - Today, the Chicago Teachers Union (CTU) filed a 10-day notice with the Illinois Education Labor Relations Board indicating more than 26,000 public school teachers, clinicians and paraprofessionals may go on strike in coming days. The notice is a legal requirement defined by state law. No date for a strike has been set by Union leaders. The House of Delegates will meet Thursday at 4:30 p.m. to talk next steps.
"Should CTU members call for a work stoppage, this will be the first "teachers' strike" in Chicago since 1987. "This is a difficult decision for all of us to make," said union President Karen Lewis. "But this is the only way to get the Board's attention and show them we are serious about getting a fair contract which will give our students the resources they deserve."
""CPS seems determined to have a toxic relationship with its employees," Lewis said. "They denied us our 4 percent raises when there was money in the budget to honor our agreement; they attempted to ram a poorly thought out longer school day down our throats; and, on top of that they want us to teach a new curriculum and be ready to be evaluated based on how well our students do on a standardized test. It has been insult after insult after insult. Enough is enough."
"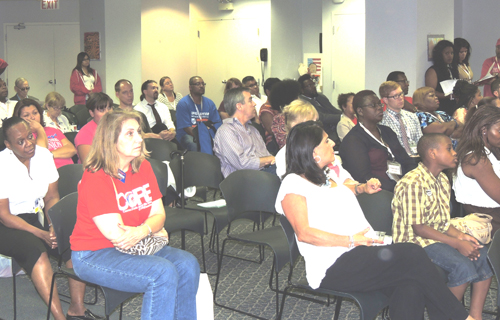 The CTU press conference on August 29, 2012, was attended by more than 50 people from the CTU staff, executive board, bargaining team, and community supporters. Substance photo by George N. Schmidt.CTU has been in contract negotiations with the Chicago Public Schools (CPS) since November 2011. Teachers have been without a contract since June of this year after its five-year agreement with the District expired without a new agreement in place. Labor leaders have said they are negotiating for a "better day, job security and fair compensation for employees."
"Labor talks have been productive on some fronts such as winning provisions for nursing mothers, ensuring textbooks will be available on day one, teachers will have access to functioning computers and counselors and social workers will have appropriate, private workspaces to serve students. But the bigger issues such as wages, job security and evaluations are on the table and the two sides remain far apart. "We will have a contract," Lewis said, "and it will come the easy way or the hard way. If our members are on the picket-line, we will still be at the negotiating table trying to hammer out an equitable agreement. There's a larger picture here."
"Teachers, paraprofessionals and school clinicians have been vocal in their opposition to CPS' draconian policies. In May, nearly 10,000 of them marched in downtown in preparation for a strike authorization vote which drew a 98 percent approval from CTU membership. Only 1.82 percent of CTU members voted against authorizing a strike. Member angst was driven by CPS' overly aggressive push for a longer school day without indicating how the District would staff and pay for the program. Educators were angry that the Board made no commitments to offering students the much needed art, music, physical education and world language classes they needed.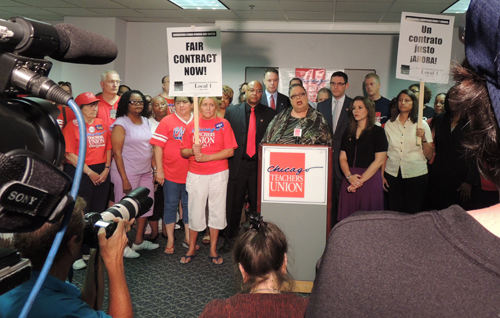 Another photographs of CTU President Karen Lewis answering reporters' questions during the August 29 press conference. Substance photo by George N. Schmidt."In July, and much to CPS' chagrin, a much anticipated "Fact Finder's Report" recommended, in part, that CPS's longer school day amounts to a 19.4% increase on average that teachers will have to work, and he determined that CPS cannot expect its employees to work nearly 20% more for free or without fair compensation. Accordingly, the Fact-Finder's report recommends both a general wage increase and an additional increase due to the length of the school day: A general wage increase of 2.25% for School Year 2012 -- essentially a cost of living increase -- without any changes to existing steps and lanes. He also recommends an additional increase of 12.6% to compensate teachers for working a longer school day and year representing a combined first-year increase of 14.85%, plus existing step and lane adjustments. Both the CTU and the Board rejected the findings.
""We have chronic underfunding and misplaced priorities in the system," said high school teacher Jen Johnson. "CPS would rather shut down schools rather than give them the resources they need. Thousands of students have been displaced by CPS' school actions. Teachers are losing their jobs and parents have no choice but to keep their child in an under-resourced neighborhood school or ship them off to a poor-performing charter operation."
"Lewis said members are also concerned about the Board's plan to close over 100 neighborhood schools and create a half public-half charter school district. "This education crisis is real especially if you are Black or Brown in Chicago," she explained. "Whenever our students perform well on tests, CPS moves the bar higher, tells them they are failures and blames their teachers. Now they want to privatize public education and further disrupt our neighborhoods. We've seen public housing shut down, public health clinics, public libraries and now public schools. There is an attack on public institutions, many of which serve, low-income and working-class families.""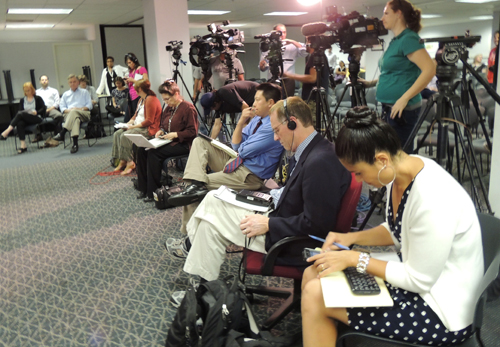 Among the reporters and other journalists at the August 29 CTU press conference were a report, and editorial writer, and a pundit from the Chicago Sun-Times, the daily Chicago tabloid that has devoted its front page in 2012 to photographs and puff pieces about Mayor Rahm Emanuel. The new owners of the Sun-Times (which has gone through a half dozen owners in the past two decades) are buddies with Chicago's mayor, but some of the Sun-Times pundits have been writing uncritical puff pieces about the various twists and turns of Chicago's corporate "school reform" since the passage of the Amendatory Act of 1995 and the beginning of the regime of the first CPS "Chief Executive Officer", former City Hall budget director Paul G. Vallas. Substance photo by George N. Schmidt.During the press conference, Karen Lewis and other CTU officers answered questions from dozens of reporters who were assembled for the press conference. CTU communications staff were also watching the members of the press, since in the past groups of right wing Astroturf espionage agents have utilized the ploy of "press" to film and later distort the union's work. Since one year earlier, in August 2011, CTU and others have identified various mercenary groups and individuals that have been paid by the Emanuel administration and its agents to protest against the union. In January 2012, the rest of the corporate media in Chicago exposed the "rent a protest" groups that Substance had exposed as early as August and September 2011.
NOTICE OF INTENT TO STRIKE:
CHICAGO TEACHERS UNION
SENT VIA OVERNIGHT MAIL and FACSIMILIE
David Vitale, President, Chicago Board of Education
125 S. Clark St., 5th Floor
Chicago, IL 60603
Fax: 773-553-1601
RE: NOTICE OF INTENT TO STRIKE
The Chicago Teachers Union gives notice of its intent to strike after at least ten calendar days following the service of this notice.
Pursuant to the Illinois Administrative Code, Title 80, Section 1130.40, the following additional information is provided: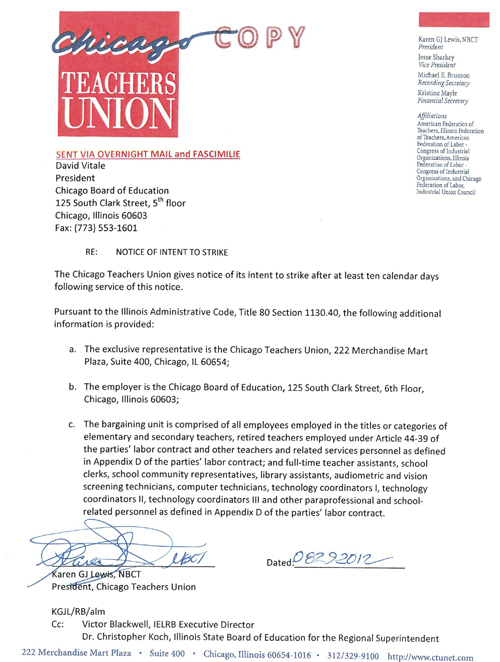 The copy of the CTU Letter of Intent to Strike that was delivered to the Chicago Board of Education, to the Illinois Education Labor Relations Board (LELRB), and to the Illinois State Board of Education (ISBE) on August 29, 2012. The letter was delivered in the morning, but in a live radio show on WBEZ radio aired in the middle of the afternoon, Jean-Claude Brizard told Steve Edwards that CPS had not yet received it, just a small example of Brizard's fatuous mendacity. a. The exclusive representative is the Chicago Teachers Union, 222 Merchandise Mart Plaza, Suite 400, Chicago, IL 60654.
b. The employer is the Chicago Board of Education, 125 S. Clark Street, 6th Floor, Chicago, Illinois 60603.
c. The bargaining unit is comprised of all employees employed in the titles or categories of elementary and secondary teachers, retired teachers employed under Article 44-9 of the parties' labor contract and other teachers and related services personnel as defined in Appendix D of the parties' labor contract; and full-time teacher assistants, school clerks, school community representatives, library assistants, audiometric and vision screening technicians, computer technicians, technology coordinators I, technology coordinators II, technology coordinators III, and other paraprofessional and school-related personnel as Defined in Appendix D of the parties' labor contract.
Karen GJ Lewis, NBCT, President, Chicago Teachers Union
Dated: 082912
CC: Victor Blackwell, IELRD Executive Director
Dr. Christopher Koch, Illinois State Board of Education for Regional Superintendent
