MEDIA WATCH: WTF??!! Sun-Times gives great reasons for an elected school board — then continues sucking up to their buddy, Mayor Rahm Emanuel
George N. Schmidt - August 01, 2012
While most of the leaders of the Chicago Teachers Union were in Detroit for the annual convention of the American Federation of Teachers (AFT), the Chicago Sun-Times on Monday, July 30, 2012 provided its readers with several reasons why Chicago should have an elected school board — and then claimed that the elected school board was not a good idea!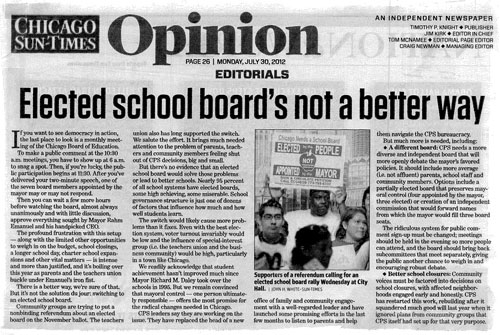 After reading the Sun-Times editorial showing why Chicago needs an elected school board and an end for mayoral control, any average reader would be perplexed. The case for an elected school board was clear, but the newspaper then did an about-face and claimed Chicago needs to continue the dictatorship of Mayor Rahm Emanuel. Did the Sun-Times owners (hedge fund guys who are friends of Rahm) dictate the final position, even though the facts point in the opposite direction?Let's repeat that. After proving the need for an elected school board for Chicago — But — said the paper that once called itself "The Bright One!" — those facts proved that the status quo of a school board appointed by the mayor should continue.
More than one parent, teacher, or concerned citizen was emailing WTF?! after that one.
The stresses at the Sun-Times to spin news and editorials are probably higher than ever. One of the more droll recurrences in the current Sun-Times era (does anyone know how many owners the Sun-Times has had since Rupert Murdoch sold it?) is that the Sun-Times seems to be trying to garner a Pulitzer Prize in toadyism: for putting a color picture of Chicago's mayor on the front page at least twice a week. Some wags have suggested the name change to the Chicago Rahm's Times.
SUN TIMES EDITORIAL BELOW HERE COMPLETE
If you want to see democracy in action, the last place to look is a monthly meeting of the Chicago Board of Education.
To make a public comment at the 10:30 a.m. meetings, you have to show up at 6 a.m. to snag a spot. Then, if you're lucky, the public participation begins at 11:30. After you've delivered your two-minute speech, one of the seven board members appointed by the mayor may or may not respond.
Then you can wait a few more hours before watching the board, almost always unanimously and with little discussion, approve everything sought by Mayor Rahm Emanuel and his handpicked CEO.
The profound frustration with this setup — along with the limited other opportunities to weigh in on the budget, school closings, a longer school day, charter school expansions and other vital matters — is intense and more than justified, and it's boiling over this year as parents and the teachers union buckle under Emanuel's iron fist.
There is a better way, we're sure of that. But it's not the solution du jour: switching to an elected school board.
Community groups are trying to put a nonbinding referendum about an elected board on the November ballot. The teachers union also has long supported the switch. We salute the effort. It brings much needed attention to the problem of parents, teachers and community members feeling shut out of CPS decisions, big and small.
But there's no evidence that an elected school board would solve those problems or lead to better schools. Nearly 95 percent of all school systems have elected boards, some high achieving, some miserable. School governance structure is just one of dozens of factors that influence how much and how well students learn.
The switch would likely cause more problems than it fixes. Even with the best election system, voter turnout invariably would be low and the influence of special-interest group (i.e. the teachers union and the business community) would be high, particularly in a town like Chicago.
We readily acknowledge that student achievement hasn't improved much since Mayor Richard M. Daley took over the schools in 1995. But we remain convinced that mayoral control — one person ultimately responsible — offers the most promise for the radical changes needed in Chicago.
CPS leaders say they are working on the issue. They have replaced the head of a new office of family and community engagement with a well-regarded leader and have launched some promising efforts in the last few months to listen to parents and help them navigate the CPS bureaucracy.
But much more is needed, including:
° A different board: CPS needs a more diverse and independent board that will more openly debate the mayor's favored policies. It should include more average (i.e. not affluent) parents, school staff and community members. Options include a partially elected board that preserves mayoral control (four appointed by the mayor, three elected) or creation of an independent commission that would forward names from which the mayor would fill three board seats.
° The ridiculous system for public comment sign-up must be changed; meetings should be held in the evening so more people can attend, and the board should bring back subcommittees that meet separately, giving the public another chance to weigh in and encouraging robust debate.
° Better school closures: Community voices must be factored into decisions on school closures, with affected neighborhoods engaged early and honestly. CPS has restarted this work, rebuilding after it squandered much good will last year when it ignored plans from community groups that CPS itself had set up for that very purpose.
