SUBSCRIPT: All these 'Beckies' — some of them named 'Sarah' and 'Joel' — prove Brizard's investment in the Ministry of Propaganda was worth it (at least form a mendacity viewpoint)
George N. Schmidt - July 25, 2012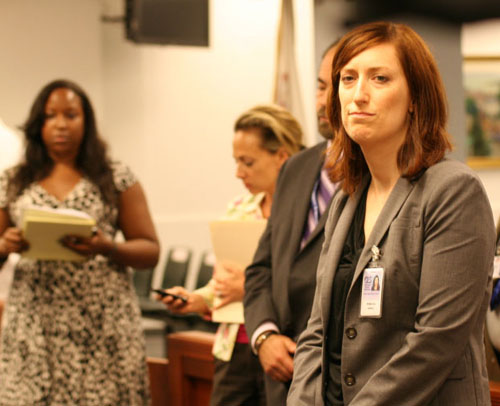 Since Becky Carroll (above right, at the press briefing featuring David Vitale following the Board vote to reject the Fact-Finder's report on July 18, 2012) caused a stir when she was hired by Rahm Emanuel's Board of Education in June 2011 at a salary of $165,000 per year and rapidly expanded the propaganda department on the sixth floor of CPS headquarters. But some fans have been noting that Carroll's success in directing the remaining reporters in town to her talking points, no matter how inaccurate or bizarre, mean that she's worth her unprecedented pay, at least in the eyes of the plutocrats who put her in power. Substance photo by David Vance.Why hold press conferences and provide the public with actual facts, when you can just issue media statements and feed your talking points into the mouths of waiting reporters like a Mama Bird dropping pre-digested food into the mouths of Baby Birds? Good question, and relevant as news from Chicago's public schools becomes more and more important, while facts become less and less available, at least from officials of the nation's third largest school system in the summer before the Big Strike.
While regular readers of Substance know that we have been critical of CPS since it hired Becky Carroll at the unprecedented salary of $165,000 per year and doubled (at least) or tripled (more likely, transparency is hard to find nowadays) the size and cost of the so-called "Office of Communications" at CPS. After all, how could a youngish lady who admits to being mathematically challenged (and who devoted a good deal of her career as a publicist to the administration of Rod Blagojevich) manage to provide the public with information about the nation's third largest school system.
Silly us. Becky Carroll was not hired to provide the public with information, but to manage the most successful spin cycle since the invention of the non-ringer clothes washer. Immediately after Rahm Emanuel hired Jean-Claude Brizard to be Mr. Mouthpiece for the scripts of the plutocracy and put the latest iteration of the Seven Dwarfs into the seats at the Chicago Board of Education, it became clear that Chicago's corporate media was no longer going to make any real demands for news or information on CPS.
Instead, Carroll was able to get away with spin, then more spin, then most spin. By July 2012, half the quotes coming out of CPS were not from Brizard or the Board, but from Becky Carroll. Clearly, whatever her numerological limitations, this Lane Tech alum is earning her pay pushing out there and sustaining every talking point — no matter how bizarre or inaccurate — Rahm wants to put into play in the city's media cycle.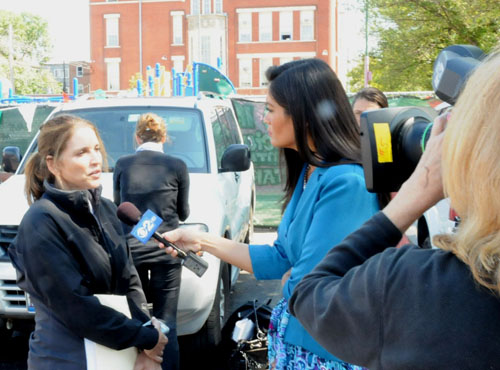 Less than two years ago, when Ron Huberman was CEO of CPS and Richard M. Daley was mayor, some critics asked why CPS communications chief Monique Bond (above left, during the confrontation at Whittier Elementary on September 17, 2012, the beginning of the "La Casita" story) was being paid $140,000 per year (more than $20,000 to $40,000 more than her two predecessors, Michael Vaughn and Peter Cunningham). Bond's salary seemed small by the time Rahm Emanuel installed his new Board of Education in May and June 2012 and ordered the hriing of Becky Carroll to be Communications chief at CPS at an annual salary of $165,000 per year (plus a "performance bonus"). Substance photo by George N. Schmidt. Of course, without the bankruptcy of the plutocracy's press, that wouldn't have worked. Even Monique Bond (who was paid "only" $140,000 per year as Becky Carroll's immediate predecessor) had to host some press conferences and provide reporters with some facts. And the two top guys in "Communications" before Monique went to work for fellow "ex-cop" Ron Huberman were paid even less, while providing more facts and more press conference to the public and reporters. Mike Vaughn actually answered his own phone most of the time and made Arne Duncan available to reporters, even if Duncan often proved less than candid. And Peter Cunningham, now with Duncan in D.C. at the U.S. Department of Education, actually enjoyed the games that came about when reporters got to ask questions of Arne Duncan, Michael Scott, and the numerous other CPS officials who were regularly available at press conferences in that theater CPS keeps on the sixth floor at Clark St. And the taxpayers didn't pay either Cunningham or Vaughn more than $120,000 per year, and with about half the staff Rahm's team now has ozzing out of CPS alone.
So what we're really seeing is a kind of invasion of the clones.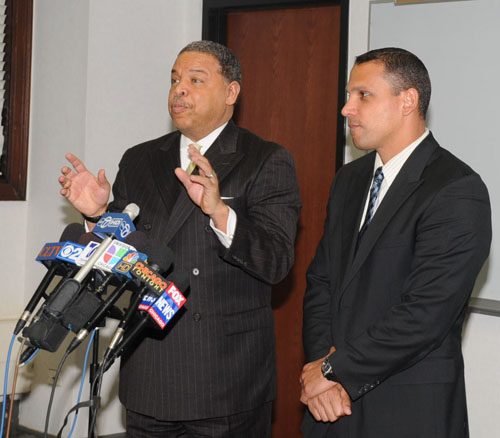 On February 25, 2009, the Chicago Board of Education held its first press conference following Mayor Richard M. Daley's appointment of Ron Huberman (above right) to be the successor to "Chief Executive Officer" Arne Duncan (who had just taken the job of U.S. Secretary of Education following his appointment by President Barack Obama). Throughout the Duncan, Huberman and Mazany administrations, CPS officials regularly answered reporters' questions during press conferences. With the election of Rahm Emanuel and the appointment of Jean-Claude Brizard as CEO of CPS, public transparency — and press conferences — ended, while the price of "Communications" inside the CPS bureaucracy (which Emanuel continues to say has been "cut") increases. Substance photo by George N. Schmidt.Becky Carroll's job was to clone herself and the scripted words from Rahm, and she's succeeded. It would be droll for the bylines to be more accurately written about town: Becky Rossi at the Sun-Times; Becky Ahmen Ullah and Becky Hood at the Tribune; Becky Karp at Catalyst, and of course all the Beckies at the TV news operations. Listening to how they simply repeat whatever Becky feeds them out of her beak, it sounds that way. So maybe Rahm's investment paid off, and all these little birds eating out of Becky's hands are the dramatic result.