SUBSCRIPT: Mayor Macho Makes War on Teachers While Drug Gangs Manufacture More Menace
George N. Schmidt - May 30, 2012
Rahm may be letting Chicago's massive drug gangs get away with murder, but he's sure going to win his little war against the remaining public school teachers in Chicago, that's for sure. And in the process he'll have the support of every preacher in town who has cashed in for the last 20, 30 or 40 years leading those heart warming marches against "violence" while looking the other way as the Disciples, Black Stones or Latin Kings across the street from that "church" put a little extra in the preacher's mailbox to keep God happy.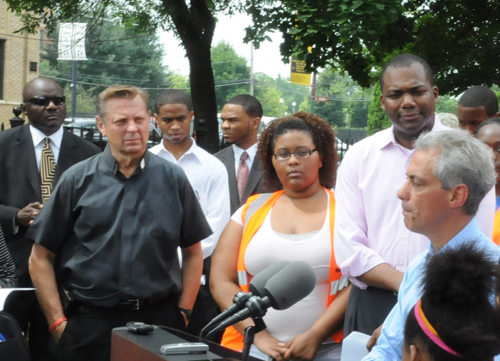 Flanked by his usual phalanx of security (above left), patronage preachers (second from left), and media touts, Chicago Mayor Rahm Emanuel (above right) announced on August 2, 2011 that kids should get to school on the first day of the "Track E" schools. Not one reporter asked the heavily scripted mayor why this particular publicity stunt (one of hundreds during the first year of the Reign of Rahm) was held at a Catholic school (St. Sabina's) when the whole gig was supposedly to announce that kids should be sure to get to their local public schools. Since his attacks on Calumet High School and his kind words for charter schools more than ten years ago, Pfleger, like dozens of other Chicago preachers, has profited from the privatization scams and anti-violence programs that have proliferated across Chicago. Substance photo by George N. Schmidt.That's certainly how it looked as the last week of May ended. Rahm's police state had defeated the anti-NATO forces of evil. Rahm the Magnificent was preparing, like a scene from one of those superhero action movies, to go up against the EMPIRE OF THE TEACHERS! The trouble with Government By Publicity Stunt is that it often collides with reality, whether in Iraq (remember "Mission Accomplished"?), Afghanistan (Osama is dead; where are all those bodies coming from?) or the vast ghettos and barrios of the Second City.
But forget about the reality that posted eight murders over the weekend after NATO and three or four dozen people shot (not yet dead). Rahm's riding to the rescue — from the unions of teachers, cops and firefighters.
We're sure before this is over, Rahm will be hosting a half dozen playlets against violence (and our unions) standing alongside the likes of Michael Pfleger and a dozen or so less-er publicity hounds of the cloth. As long as the cameras are rolling and the cash is rolling in, these guys are ready for the next 20 or 30 years of "Culture of Calm" or whatever the lat-est scam will be. They have been cashing in on the "anti-violence" Chicago scams since long before Derrion Albert briefly became a worldwide household name. And with the People and Folks cunningly realizing how to profit from the cash nexus of capitalism that Rahm adores and at the altar of which his preacher buddies worship, the fix, as they say, will stay in. 