CTU President cites 'one of the proudest days of my life,' while Astroturf groups try to regain footing
George N. Schmidt - May 24, 2012
By the end of the day on May 24, 2012, Chicago Teachers Union President Karen Lewis had sent an email message to the membership, thanking them and also urging them to mobilize against the latest attack on Chicago's real public schools by charter schools. At the same time, the city's Astrotuf "school reform" groups like "Stand for Children" and "Advance Illinois" were trying to regain their footing by attacking the united teachers and the union's leaders.
Lewis's email is here: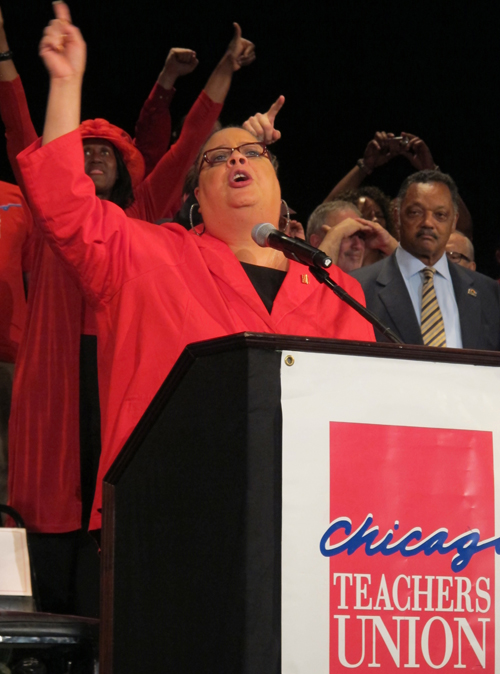 CTU President Karen Lewis ended her inspiring speech to the more than 4,000 teachers inside the Auditorium Theater on May 23, 2012 by asking the crowd what do we have to do now and the answer echoed back: "Fight! Fight! Strike! Strike!" as the great hall emptied and the largest teacher protest march in Chicago history began on the streets outside. Substance photo by Sharon Schmidt.Yesterday was one of the proudest days of my life. As I gazed upon a sea of red, our union members' unity and determination inspired me both in the Auditorium Theatre and on the streets of our city. I hope you were one of the thousands of CTU members who took part in yesterday's show of strength and that you took that sense of power back to your school today to share it with those who could not join us.
Many members share responsibility for yesterday's accomplishment through their hard work and dedication to our union. Another group of people also bears responsibility for educators' determination to fight, but they should not feel any pride in that role.
The Chicago Board of Education and CEO Brizard have made a series of unjust and degrading decisions over the past year, about which our members consistently express to me their outrage. From canceling our raises, to jacking up our workload, to injecting student test scores into our proposed evaluation and pay formulas, to closing and privatizing our schools, it is no wonder Chicago's teachers, clinicians, and PSRPs are determined to fight. The Board's contract proposals simply add insult to injury.
We know that we'll need unity to win our just due and to fight for the Schools Chicago's Students Deserve. We'll also need to be active on all fronts. Right now, legislators need to hear from you about HB4277, which would divert neighborhood school resources to charters.
Yesterday was the beginning of a historic struggle for the soul of public education. We have proven we are up to the challenge that faces us. Now we must each do our part to meet that challenge.
In Solidarity,
Karen GJ Lewis, NBCT
CTU President