CTU marks anniversary of Brown v. Board of Education by challenging racism of CPS school closing policies
George N. Schmidt - May 19, 2012
The Chicago Teachers Union marked the most recent anniversary of the landmark Supreme Court decision in Brown v. Board of Education by noting that Chicago is still the most segregated large city in the USA and that the most recent policies of the Chicago Board of Education on school closings, charterizations and so-called turnarounds are undermining the city's African American communities and destroying the careers of thousands of teachers in those communities.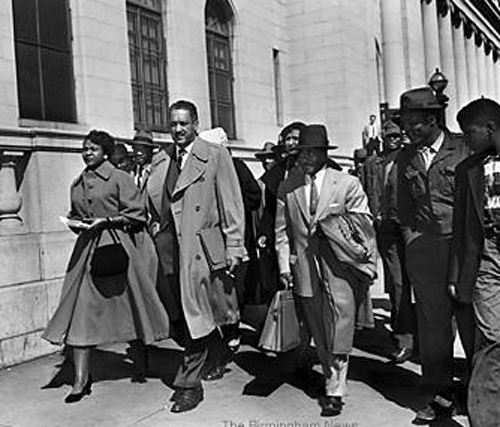 Thurgood Marshall (second from left) arriving at the U.S. Supreme Court during the time he was still general counsel for the NAACP Legal Defense and Education Fund, which brought the Brown case before the court.In a May 17, 2012 press release ignored by the city's corporate media, CTU provided the following information:
NEWS RELEASE FOR IMMEDIATE RELEASE CONTACT: Stephanie Gadlin, May 17, 2012 312/329-6250, StephanieGadlin@ctulocal1.com
BROWN v. BOARD – 2012. Five decades later, Chicago Public Schools remain segregated and unequal
CHICAGO - On the 58th anniversary of Brown v. Board of Education, the president of the Chicago Teachers Union (CTU) said the promise of an integrated school system remains elusive for Chicago's children. Even 32 years after the United States sued the Chicago Board of Education for maintaining a dual school system segregating students on the basis of race, and three years after the end of the consent decree that resulted, a "separate but equal" system remains in Chicago.
This morning, another Brown v. Board was heard in the Circuit Court of Cook County. In that case, plaintiffs led by Jitu Brown brought a civil rights claim on the basis that the Chicago Board of Education is disparately affecting African American students in the manner in which it conducts school closings, phase outs and "turnarounds."
On February 22nd, despite hundreds of protests by parents, community leaders, educators and students, the Board of Education voted unanimously to uphold the plan to disrupt 17 schools targeted for closure, phase-out, or turnaround – including five closures, two phase-outs, and ten turnarounds. The students attending the schools selected by schools' CEO Jean-Claude Brizard are overwhelmingly African American — approximately 87 percent of the affected students are African Americans. By comparison, less than half of the students in the Chicago public schools are African American.
A recent CTU poll showed the majority of Chicago voters oppose closing, consolidating, and phasing out chronically underperforming schools. Neighborhood schools serve as anchors in the communities where they are located. They've outperformed both charter and current turnaround schools, and yet they're under attack from those who stand to profit from the conversion of neighborhood schools. Instead of treating public schools like parking meters that can be privatized and sold off for no public gain, CPS should treat them with respect.
"Chicago's school system is built on broken promises," said CTU President Karen GJ Lewis, NBCT. "This city has never lived up to the ideal of an integrated, well-resourced school system. Our public schools today are in a similar situation as they were almost a century ago. Although public schools are free and welcoming to all students, the politics and social conditions within the community often perpetuate "separate but equal" conditions that must be challenged.
"We're asking for the Board to rescind their hurtful decisions and to discontinue these harmful policies," she said, referring to the Feb. 22nd Board vote.
Lewis also noted students and their families recognize the "apartheid-like system" managed by CPS. "It denies resources to the neediest schools, uses discipline polices that disproportionately harm students of color, and enacts policies that increase the concentrations of students in high poverty and racially segregated schools," she said.
While the CPS student body as a whole is about 45 percent African American, at these schools the student population is more than 80 percent African American, and at ten of the schools, enrollment is virtually 100 percent African American. While the law may have changed in 1955, segregation and racial inequality did not. "Whatever the reason for this disparity, it is clear that CPS has a long way to go in securing equal education for its students, regardless of their race," said Attorney Mike Persoon.
