Poll of more than 25,000 Chicago teachers and other CTU members shows overwhelming support for a strike if necessary, constitutes another 'no confidence' vote in administration of Jean-Claude Brizard
George N. Schmidt - May 11, 2012
The Chicago Teachers Union has completed and compiled the results of an unprecedented polling of the union's more than 25,000 active duty members (the union also has retiree member who do not participate in voting on strikes or collective bargaining agreements) conducted in more than 600 Chicago public schools and other locations on May 10, 2012. The information from the polling was compiled by the union's staff and union member volunteers working at the union offices until late that night.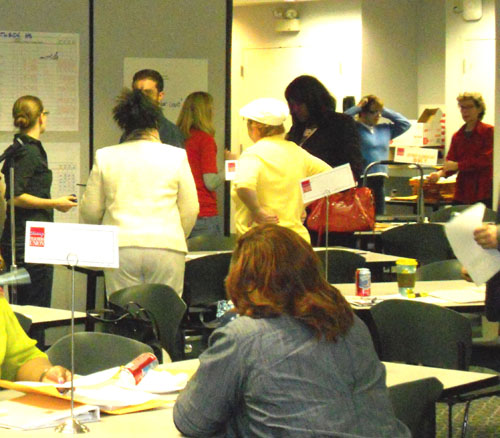 More than 50 Chicago Teachers Union members and staff workers worked late into the night on May 10, 2012 compiling and verifying the results of the unprecedented polling done by the union at all of the more than 600 real public schools. Substance photo by George N. Schmidt.Although reported by some to be a "strike poll," the May 10 polling, as the union has now publicly stated, consisted of four questions asking all of the union's 25,000 active duty teachers and other members regarding the conduct of the Board of Education and the Brizard administration in the running of the city's real public schools.
The Chicago Teachers Union's members work in the city's real public schools, while the city's charter schools, which have been expanding again since Brizard was appointed CEO of CPS in May 2011, have been expanded at an unprecedented rate, with no transparency or accountability. The charter schools have been allowed by the Emanuel administration to continue to spend nearly $400 million per year of CPS education funds with virtually no transparency and no accountability. The charter schools are also allowed by the administration to be established and expanded as anti-union schools, known in union circles as "yellow dog" schools.
The results of the union members' overwhelming response to the May 10 polling shows that once again, Jean-Claude Brizard has received an overwhelming vote of "no confidence" from the teachers in a city where he is the boss of the school system. Previously, Brizard worked in Rochester New York at Schools Superintendent.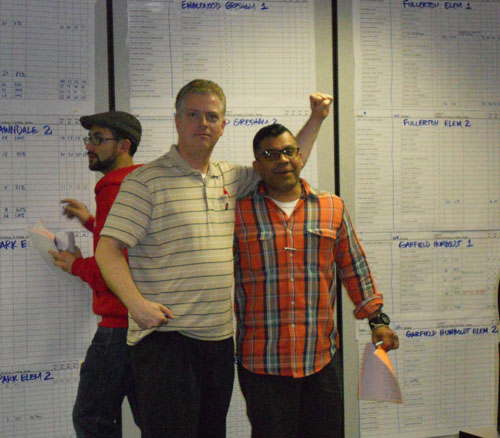 Matt Luskin (CTU organizing department) double checks some of the information on the wall while Jim Cavallero (Chicago Academy) and Jay Jiminez (Wells HS) take a break for the camera. By the end of 2010, Rochester teachers had voted more than 90 percent in a "no confidence vote" against him. Parents and community leaders also spoke out against the autocratic, erratic, and often financially corrupt practices of the school district under Brizard. Brizard was in serious trouble in Rochester when he was selected by Rahm Emanuel to become CPS CEO.
The poll results also came as angry teachers responded to what the majority who spoke to Substance considered the insulting approach to "Teacher Appreciation Day" by Chicago Mayor Rahm Emanuel and Chief Executive Officer Jean-Claude Brizard.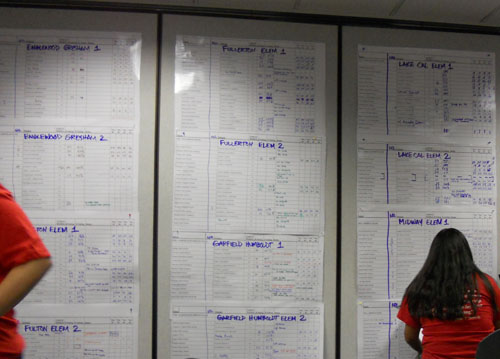 The results of the polling were compiled first on wall charters listing every school in Chicago where union members work. Substance photo by George N. Schmidt.Since June 2011, when Emanuel's school board first took over the system and Brizard took over as "Chief Executive Officer", teachers have compiled a dozen major attacks on the city's teachers and the union by Brizard and the mayor, and hundreds of daily insults and attacks. Chicago is the only school district in Illinois whose top executive is a "Chief Executive Officer" instead of a state certified superintendent. Chicago is also the only district where top administrative jobs are allowed to go to individuals with no teaching or administrative experience in Chicago or Illinois.
This form of deregulation began with the passage of the Amendatory Act of 1995 by the then Republican Illinois General Assembly and signed by the then Republican Governor Jim Edgar (supported by then Chicago Mayor Richard M. Daley and a handful of Democrat Party leaders and school reformers). It also included the mayoral control model of urban school governance, which has since been expanded by the plutocracy to most of the major urban school districts in the USA. Chicago's mayor appoints the CEO of the school system and the seven members of the Board of Education, and is not required to even submit his appointments to public review. The CTU issued an official press release on May 11, 2012 in the afternoon.
FOR IMMEDIATE RELEASE CONTACT: Stephanie Gadlin. May 11, 2012 312/329-6250
CTU school-by-school poll shows 90% of members believe Board's contract proposals will harm students and schools
Thousands of teachers, paraprofessionals and school clinicians to rally May 23rd at historic Auditorium Theater
CHICAGO - According to a school-by-school poll of members of the Chicago Teachers Union (CTU), over 90 percent of teachers, paraprofessionals, instructional coaches and school clinicians say they believe the Board of Education's current contract proposals will harm students and lower the education quality of their schools.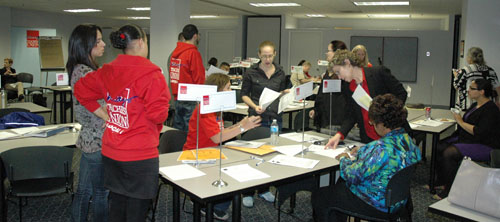 More than 50 Chicago Teachers Union members, most of them teachers who had worked in classrooms all day, worked into the night on May 10 to compile, doublecheck, and report the results of the polling. The activity was also seen as a "dry run" for an upcoming vote on strike authorization.The Board's current five-year contract proposals include a one-time 2 percent raise; dramatic increases in the costs for family health care; and, slashing the collective bargaining agreement to the bone by removing dozens of provisions that protect students such as class size limits.
CTU proposes smaller class sizes, increased instruction in art, music, world languages, and other areas, as well as fair compensation and protections against school closings. Many of CTU's contract proposals were outlined in The Schools Chicago's Students Deserve, a report issued by the Union earlier this year. (http://www.ctunet.com/quest-center/research/the-schools-chicagos-students-deserve)
The May 10th internal polling was conducted by Union delegates and concluded today. All of the Union's 25,000 voting members were eligible to participate in the four-question survey which required them to mark 'yes' or 'no' in a secret balloting process. Questions included: "Do you believe the Board of Education's proposals are disrespectful to teachers, clinicians and paraprofessionals; do you believe that the Board's proposals would harm students and lower the educational quality of your school; do you believe the Board's proposals should be rejected by the Union; and, do you think CEO (Jean-Claude) Brizard should resign?"
"This exercise was not only a way for us to gauge what our members think about the Board's current contract proposals but to show the public that CPS is trying to mislead taxpayers and destroy quality public schools," explained CTU President Karen GJ Lewis, NBCT. "We are being very transparent as we all prepare for the worst. None of us want a strike — it isn't good for anyone, not our members and certainly not our students. However, if the Board insists on destroying the love and joy of teaching and learning our members will be left with no other option; they will take a stand against this escalating disrespect and school sabotage."
EDUCATORS PLAN MAJOR RALLY
Public school educators across the nation face a coordinated attack on their profession and the students and families they serve. In cities such as Boston, Philadelphia, Washington, D.C., and Detroit, school districts are imposing longer school days, shifts to merit pay, teacher evaluations based on standardized test scores and an aggressive push for charter schools. While Chicago is not alone in the attack on public education, many people believe the local fight has been one of the most malicious.
"Last year when the law was reformed to put several restrictions on teachers unions in Illinois we had no idea the school administration would then initiate an aggressive, brazen and profound assault on our classrooms," Lewis said. "First they took our contractual four percent raises, and although teachers could have gone on strike then, we did not. Next, they took illegal waiver votes in 13 schools to implement a haphazard 'longer school day program' this year, rather than make this a planning year so that lengthening the school day could be done correctly.
"This was followed by introducing a flawed teacher evaluation policy, the closure and turnarounds of several of our schools infuriating thousands of CPS parents. Now there is an attack on our pensions," she explained. "Hardworking teachers, paraprofessionals, instructional coaches and clinicians have been badgered, bullied and belittled by this administration and there appears to be no end in sight. When people feel their backs are against a wall they have no choice but to organize and stand up for themselves. Many of our members have children who attend CPS schools. They have families to support."
Thousands of CTU members are expected to present a unified front on May 23rd when they rally at the historic Auditorium Theater, 50 E. Congress Parkway. In addition to hearing speeches from Union leaders, people will listen to testimonies from parents, community leaders, students and other labor leaders. The 4:30 p.m. event will be followed by a march to the Board of Education headquarters.
The Chicago Teachers Union is the collective bargaining agent for more than 30,000 Chicago Public School employees. For more information, please visit the Union's website at www.ctunet.com.