Does the sign over CPS read 'Chicago teachers, principals, and dogs need not apply'?... Donoso purge shows push to purge all remaining teachers from top ranks of Chicago Public Schools administration... Rahm's minions add to the ranks of outsiders at CPS vetted by the Broad Foundation
George N. Schmidt - May 01, 2012
One of the brittle memories of every immigrant or minority group member who ever suffered discrimination in the USA is how that discrimination was expressed. The most notorious examples from the history of the USA, of course, are the "White Only" and "Coloreds" washrooms and fountains (and hundreds of other things) that prompted, finally, the civil rights marches and sit-ins of the 1950s, 1960s, and 1970s. Less widely known, but etched into the memory of every Irish family in the USA still to this day, were the famous signs in New York want ads in the 1850s and 1860s "Irish and dogs need not apply."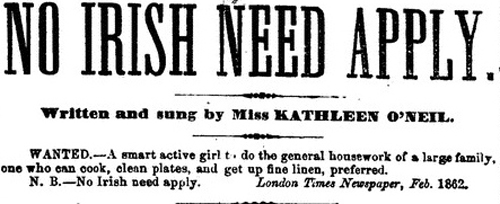 The original ad from the London Times (February 1862) was treated to a song written in the USA in 1862. Discrimination against Irish-Americans, along with a great deal of racism in the community, led to the deadly "Draft Riots" of 1863 in New York City. Virtually every immigrant group coming to the USA has faced discrimination, but rarely have veteran teachers and principals been excluded from leadership roles in their own home towns, as the administration of Rahm Emanuel and Jean-Claude Brizard are now doing in Chicago in 2012.Under the administration of Chicago Mayor Rahm Emanuel and his hand picked hand puppet Jean-Claude Brizard, there is now a sign over the headquarters of the Chicago Public Schools that might as well read: "Veteran Chicago teachers, principals and dogs need not apply..." As April ended and May 2012 began, Chicago's public schools "Chief Executive Officer" Jean-Claude Brizard (who, one year ago, was still the controversial lame duck superintendent in Rochester New York), Brizard once again showed his bias against Chicago's veteran teachers and principals.
Chicago Teachers, Principals, and Dogs Need Not Apply...
Despite the claim by Broad Foundation protegé Jean-Claude Brizard that he is really a "teacher," the continued purge of the top ranks of Chicago public schools' administration of anyone who has any idea (even, as was the case with Donoso, most as a result of charter schools experience) of what the reality of a Chicago classroom is like. The struggles creating the "chaos" (as described by Chicago Teachers Union President Karen Lewis) at the top of the nation's third largest school system is the direct result of the decision by Chicago Mayor Rahm Emanuel to replace teachers and other educators with hundreds of people whose qualifications to lead the schools come as a result of the fact that their families could afford to pay for their education long enough for them to get MBA degrees from the nation's most expensive colleges and universities.
The Broad Foundation, bankrolled by California billionaire Eli Broad (easy to find through Google) has been running a training program for school superintendents and an internship program for underemployed overeducated MBAs for more than a decade. Most of the recent administrative appointees in Chicago have no Illinois teaching or administrative credentials or experience, but have been vetted by Eli Broad himself or his protegés, in the person locally of Jean-Claude Brizard.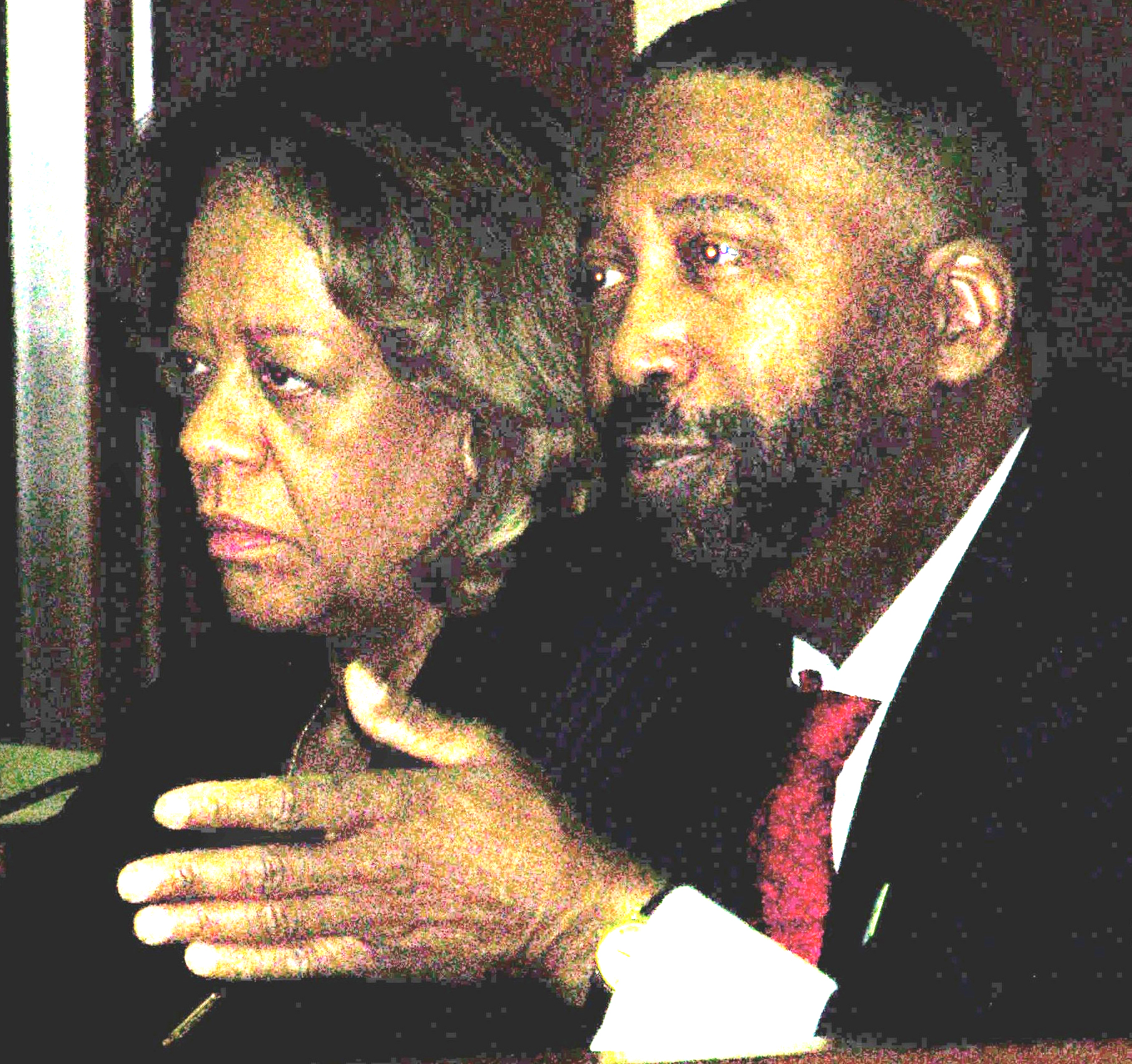 Barbara Byrd Bennett (above left) testified before the Michigan legislature with Robert Bobb in February 2011 (above) during the process of dismantling the remaining public schools in Detroit. Both Byrd Bennett and Bobb were brought into Detroit from outside to provide the proper diversity for the job of privatizing and charterizing as much of what was left of Detroit as possible, while completing the job of busting the Detroit Federation of Teachers.While Chicago's teachers and principals were busy with the challenges of educating the real children of Chicago in the real classrooms of the second decade of the 21st Century — facing the daily tragedies of a world created by ruthless "Race To The Top" monopoly capitalism — those who rule the schools were replacing everything left about education with bizarre models and expensive gimmicks designed to enable the maximum profit of those who are in 2012 called "edupreneurs."
After criticism of the CPS leadership over the recent departure of Noemi Donoso (who had served as Chief Education Officer) and Barbara Bowman (who had served as Chief Early Childhood Officer), CPS officials moved quickly to appoint two people to replace them.
To the surprise of few who are carefully watching the school system as it moves away from Chicago's realities, both of the new appointees are heading into town from outside Chicago.
The following press release was issued by CPS late in the day on April 30, 2012:
Chicago Public Schools Names Two Key District Leadership Posts. CEO Brizard Taps Experienced Educators as Interim Chief Education Officer and Early Childhood Officer
CHICAGO – Chicago Public Schools (CPS) today [April 30, 2012] announced two new appointments to key education posts. CPS CEO Jean-Claude Brizard named Barbara Byrd Bennett as Chief Education Advisor and Elizabeth (Beth) Mascitti-Miller as new Early Childhood Officer.
Following the May 31st resignation of the District's current Chief Education Officer, Bennett will assume the role of Interim Officer overseeing the day-to-day operations of the Chief Education Office (CEdO) and provide support to the CEdO leadership team during this transition. Bennett is an experienced educator who has served in multiple leadership roles at national, state and district levels across the country from district superintendent and CEO, to executive coach for school superintendents, and as a teacher for 12 years.
"Barbara Byrd Bennett is a seasoned and respected leader with depth and expertise across a broad spectrum of education issues," Brizard said. "She has the experience to step in on day one and provide the leadership required to support critical reform initiatives designed to drive student achievement across the District."
Bennett served as the Chief Executive Officer for the Cleveland Municipal School District and as Supervising Superintendent for the Chancellor's District in New York City in the late 1990s. She also has served as Chief Academic and Accountability Auditor for Detroit Public Schools' Emergency Financial Manager and was an Executive Officer for New Leaders for New Schools. She is a national education consultant and has served as an executive coach for the Broad Superintendents' Academy, a highly competitive professional academy that offers administrative training and managerial preparation for prospective superintendents of large urban school districts.
Bennett received her bachelor's degree from Long Island University, her master's from New York University, and a second master's from Pace University. She has received honorary doctorates from Cleveland State University, Baldwin-Wallace College, John Carroll University and Notre Dame.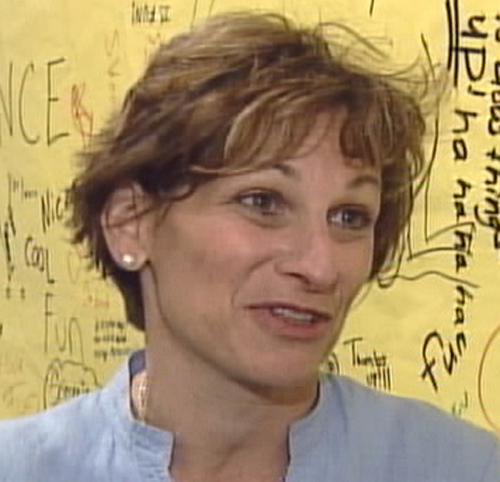 Beth Mascitti Miller had just been appointed deputy superintendent of schools in Rochester New York when Jean-Claude Brizard got the call from Eli Broad and Rahm Emanuel to continue the corporate agenda in Chicago's public schools. On April 30, 2012, Brizard announced that he was bringing her to Chicago to replace long-time Chicagoan Barbara Bowman as head of Chicago's early childhood programs. Once again, anyone from outside Chicago with a Broad pedigree is more "qualified" to lead in Chicago's public schools under the mayoral control regime of Rahm Emanuel.The new Early Childhood Officer, Beth Mascitti-Miller, is currently deputy superintendent of teaching and learning in Rochester, N.Y. Brizard said she brings a wealth of experience to CPS drawn from her work as teacher, principal and administrator.
"Beth will provide outstanding leadership to the Office of Early Childhood Education," Brizard said. "With Early Childhood as one of our top District priorities, we will look to Beth for guidance in developing programs and initiatives that will allow our youngest students to grow and thrive at this critical stage of development."
Mascitti-Miller began her teaching career at a school for students with severe disabilities in Rochester, and later became the school's preschool education director. Over the years Mascitti-Miller has held a variety of administrative positions at the elementary and middle school level. Two years ago, she assumed the role of Deputy Superintendent of Teaching and Learning in the Rochester City School District and is responsible for the city's zone school chiefs and instructional directors.
Under her direction, teaching and learning reform initiatives have included continued development of an on- line district-wide curriculum framework, including the Common Core State Standards.
Mascitti-Miller received her undergraduate degree from Syracuse University and her master's degree from Nazareth College. She earned an administrative degree from State University of New York at Brockport and is currently a doctoral candidate at St. John Fisher College.
Last Friday, the District's Chief Education Officer, Dr. Noemi Donoso, announced her resignation, effective May 31st, to pursue national projects that will support the next generation of leaders in urban education. Barbara Bowman, Chief Early Childhood Officer, also announced that she is leaving the District after more than eight years under contract in that role to return to the Erickson Institute, which she co-founded.
The Chicago Public Schools serves approximately 405,000 students in more than 675 schools. It is the nation's third-largest school system.