the ATF under Barack Obama "purposely allowed licensed firearms dealers to sell weapons to illegal straw buyers, hoping to track the guns to Mexican drug cartel leaders and arrest them"
https://en.wikipedia.org/wiki/ATF_gunwalking_scandal - September 22, 2022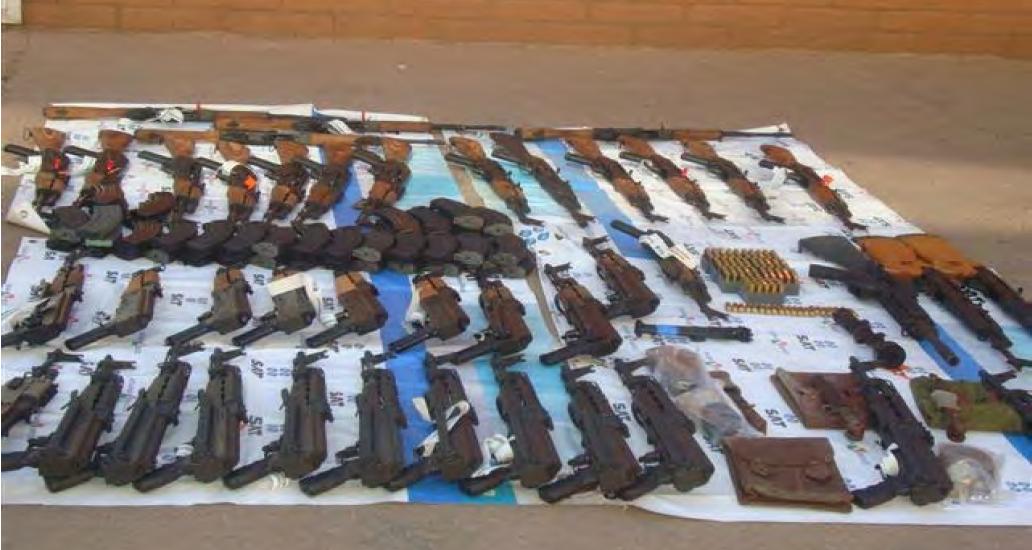 Weapons recovered by the Mexican military in Naco, Sonora, Mexico on November 20, 2009. They include weapons bought two weeks earlier by Operation Fast and Furious suspect Uriel Patino, who bought 723 guns during the operation.

Source
DOJ OIG Report 19 Sep 2012 http://www.justice.gov/oig/reports/2012/s1209.pdfGunwalking, or "letting guns walk", was a tactic used by the Arizona U.S. Attorney's Office and the Arizona Field Office of the United States Bureau of Alcohol, Tobacco, Firearms and Explosives (ATF), which ran a series of sting operations[2][3] between 2006[4] and 2011[2][5] in the Tucson and Phoenix area where the ATF "purposely allowed licensed firearms dealers to sell weapons to illegal straw buyers, hoping to track the guns to Mexican drug cartel leaders and arrest them".[6] These operations were done under the umbrella of Project Gunrunner, a project intended to stem the flow of firearms into Mexico by interdicting straw purchasers and gun traffickers within the United States.[7] The Jacob Chambers Case began in October 2009 and eventually became known in February 2010 as Operation Fast and Furious after agents discovered Chambers and the other suspects under investigation belonged to a car club.[1]
The stated goal of allowing these purchases was to continue to track the firearms as they were transferred to higher-level traffickers and key figures in Mexican cartels, with the expectation that this would lead to their arrests and the dismantling of the cartels.[6][8][9] While federal prosecutor Emory Hurley allegedly told agents they had no choice but to let guns "walk" because agents lacked probable cause to arrest buyers, the tactic of allowing obvious straw purchasers to give guns to criminal organizations was questioned during the operations by ATF field agents and cooperating licensed gun dealers.[10][11][12][13][14] During Operation Fast and Furious, the largest gunwalking probe, the ATF monitored the sale of about 2,000[1]: 203 [15] firearms, of which only 710 were recovered as of February 2012.[1]: 203 A number of straw purchasers have been arrested and indicted; however, as of October 2011, none of the targeted high-level cartel figures had been arrested.[6]
Guns tracked by the ATF have been found at crime scenes on both sides of the Mexico–United States border, and the scene where United States Border Patrol Agent Brian Terry was killed in December 2010. The gunwalking operations became public in the aftermath of Terry's murder.[2] Dissenting ATF agents came forward to Congress in response.[16] According to Humberto Benítez Treviño, former Mexican Attorney General and chair of the justice committee in the Chamber of Deputies, related firearms have been found at numerous crime scenes in Mexico where at least 150 Mexican civilians were maimed or killed.[17] Revelations of gunwalking led to controversy in both countries, and diplomatic relations were damaged.[2]
As a result of a dispute over the release of Justice Department documents related to the scandal, on June 28, 2012, in a vote largely along party lines in a Republican-controlled House, Attorney General Eric Holder became the first sitting member of the Cabinet of the United States to be held in contempt of Congress.[18][19] At Holder's request, President Barack Obama had invoked executive privilege for the first time in his presidency in order to withhold documents that "were not generated in the course of the conduct of Fast and Furious."[20][21] In 2016, a federal court ruled that the records in question were not covered by privilege;[22] a House lawsuit to try to recover the records was settled and the matter dropped in April 2019, after control of the House had shifted to Democrats.[23]
https://en.wikipedia.org/wiki/ATF_gunwalking_scandal
-------------------------------
A Review of ATF's Operation Fast and Furious and Related Matters
https://oig.justice.gov/reports/2012/s1209.pdf
On October 31, 2009, special agents working in the Phoenix office of the Bureau of Alcohol, Tobacco, Firearms and Explosives (ATF) received information from a local gun store about the recent purchases of multiple AK- 47 style rifles by four individuals. Agents began investigating the purchases and soon came to believe that the men were so-called "straw purchasers" involved in a large-scale gun trafficking organization responsible for buying guns for transport to violent Mexican drug trafficking organizations. This investigation was later named "Operation Fast and Furious."1
By the time ATF and the U.S. Attorney's Office for the District of Arizona (U.S. Attorney's Office) publicly announced the indictment in the case on January 25, 2011, agents had identified more than 40 subjects believed to be connected to a trafficking conspiracy responsible for purchasing over 2,000 firearms for approximately $1.5 million in cash. The vast majority of the firearms purchased by Operation Fast and Furious subjects were AK-47 style rifles and FN Herstal 5.7 caliber pistols. During the course of the investigation, ATF agents seized only about 100 of the firearms purchased, the result of a strategy jointly pursued by ATF and the U.S. Attorney's Office that deferred taking overt enforcement action against the individual straw purchasers while seeking to build a case against the leaders of the organization.
Numerous firearms bought by straw purchasers were later recovered by law enforcement officials at crime scenes in Mexico and the United States. One such recovery occurred in connection with the tragic shooting death of a federal law enforcement agent, U.S. Customs and Border Protection Agent Brian Terry. On January 16, 2010, one of the straw purchasers, Jaime Avila, purchased three AK-47 style rifles from a Phoenix-area gun store. ATF agents learned about that purchase 3 days later and, consistent with the investigative strategy in the case, made no effort to locate Avila or seize the rifles although ATF had identified Avila as a suspect in November 2009. Two of the three rifles purchased by Avila on January 16 were recovered 11 months later at the scene of the murder of Agent Terry, who was shot and killed on December 14, 2010, as he tried to arrest persons believed to be illegally entering the United States.
The day after and in response to Agent Terry's murder, ATF agents arrested Avila. Several weeks later, on January 19, 2011, the U.S. Attorney's Office indicted 20 Operation Fast and Furious straw purchasers and gun traffickers. As of August 1, 2012, 14 defendants, including Avila, have entered guilty pleas to one or more counts of the indictment.
Although the Federal Bureau of Investigation (FBI) was assigned to investigate the murder of Agent Terry, the senior leadership of ATF and the Department of Justice (Department or DOJ) took little action in the immediate aftermath of Agent Terry's death to learn more about an ATF investigation that involved the trafficking of approximately 2,000 weapons over many months, and how guns purchased by a previously-identified subject of that investigation ended up being recovered at the scene of Agent Terry's murder. Shortly after Agent Terry's death, stories began appearing on the Internet alleging that ATF had allowed firearms to "walk" to Mexico, and that one of those firearms may have been linked to the death of a federal law enforcement officer.
The flaws in Operation Fast and Furious became widely publicized as a result of the willingness of a few ATF agents to publicly report what they knew about it, and the conduct of the investigation became the subject of a Congressional inquiry. On January 27, 2011, Senator Charles E. Grassley wrote to ATF Acting Director Kenneth Melson that the Senate Judiciary Committee had received allegations that ATF had "sanctioned the sale of hundreds of assault weapons to suspected straw purchasers," who then transported the firearms throughout the southwest border area and into Mexico. On February 4, 2011, the Department responded in writing by denying the allegations and asserting that "ATF makes every effort to interdict weapons that have been purchased illegally and prevent their transportation to Mexico." However, after examining how Operation Fast and Furious and other ATF firearms trafficking investigations were conducted, the Department withdrew the February 4 letter on December 2, 2011, because it contained inaccuracies.
Also on January 27, 2011, Senator Grassley's staff brought the allegations of one ATF agent to the attention of the Office of the Inspector General (OIG). We interviewed the agent and began a preliminary inquiry into the matter. On February 28, 2011, Attorney General Eric Holder requested the OIG to conduct a review of Operation Fast and Furious, and we agreed to conduct the review. This report describes the results of the OIG's review.
During the course of our review we received information about other ATF firearms trafficking investigations that raised questions about how those investigations were conducted. This report describes one of them, Operation Wide Receiver. We plan to issue a separate report on at least one other ATF investigation that involves an individual suspected of transporting grenade components into Mexico, converting them into live grenades, and then supplying them to drug cartels. The OIG also is completing its investigation of an allegation that one or more Department employees provided to a member of the media a copy of a May 2010 undercover operation proposal drafted by one of the ATF agents who publicly testified about his concerns with the conduct of Operation Fast and Furious. Additionally, we are reviewing allegations that two ATF agents who publicly testified about their concerns regarding Operation Fast and Furious were reassigned to positions within ATF that could have subjected them to retaliation. We also will continue to review information that has been provided to us to determine whether other reports are warranted on additional topics related to Operation Fast and Furious, such as information sharing among ATF, the Drug Enforcement Administration (DEA), and the FBI regarding key figures in parallel investigations.
[Redactions in this report are based on the Department's identification of grand jury, Title III electronic surveillance, sealed court, and law enforcement sensitive information, the unauthorized disclosure of which is prohibited by law or could adversely affect an ongoing investigation. At the Inspector General's request, the Department has agreed to seek a court order authorizing the unsealing of portions of the redacted electronic surveillance information that do not reveal the content of intercepted communications or law enforcement sensitive information, and that do not otherwise affect individual privacy interests. If the court authorizes unsealing, the OIG will publish a revised report with pertinent redactions removed to show the unsealed information. The identities of Mexican government employees and Mexican nationals employed by the ATF in Mexico have also been redacted.]
-------------------------------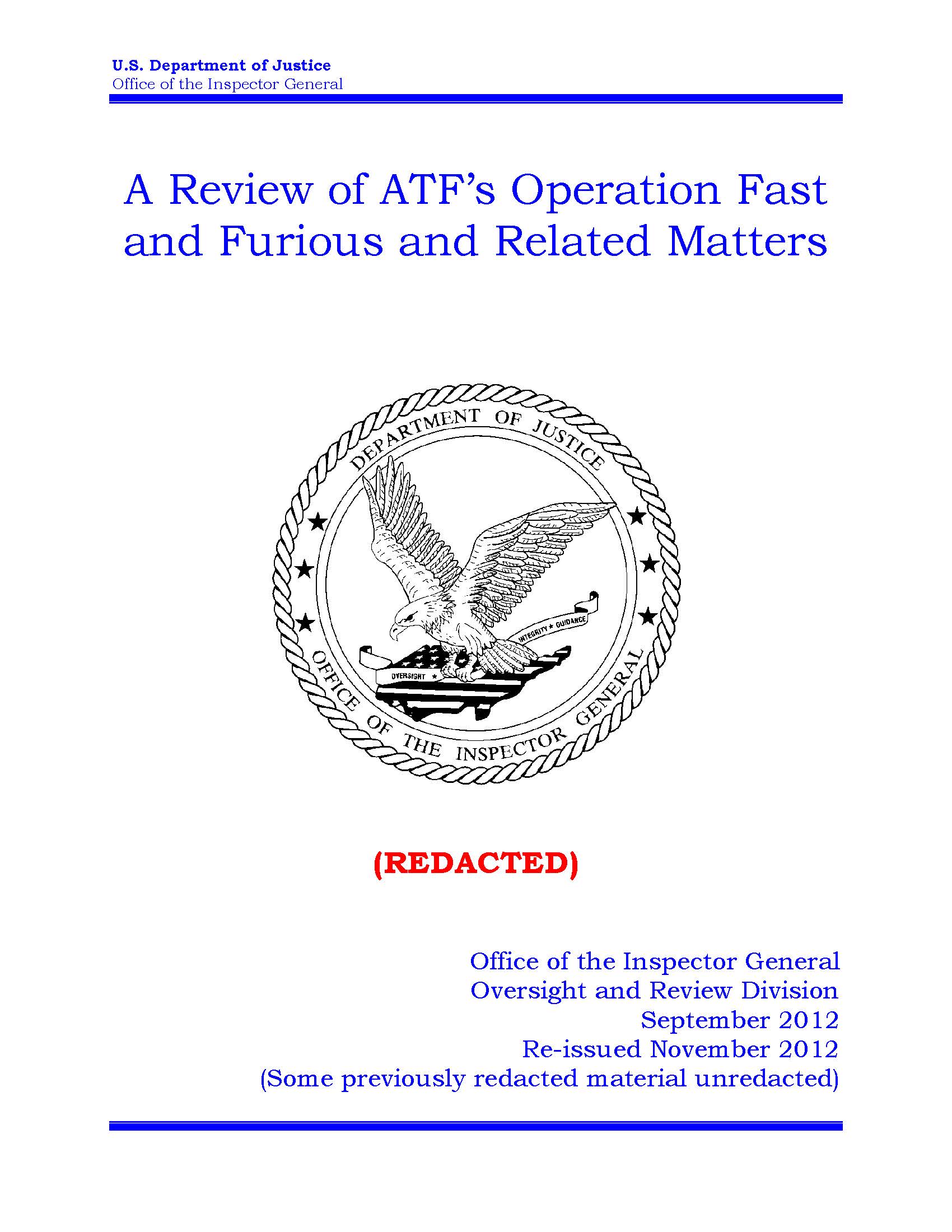 A Review of ATF's Operation Fast and Furious and Related Matters

Office of the Inspector General
Oversight and Review Division
September 2012
Re-issued November 2012
(Some previously redacted material unredacted)

https://oig.justice.gov/reports/2012/s1209.pdf