[ Kim Foxx Domestic Police Report ] ... dispatch informed us the domestic was physical and there were no injuries "yet."
John Kugler - June 13, 2022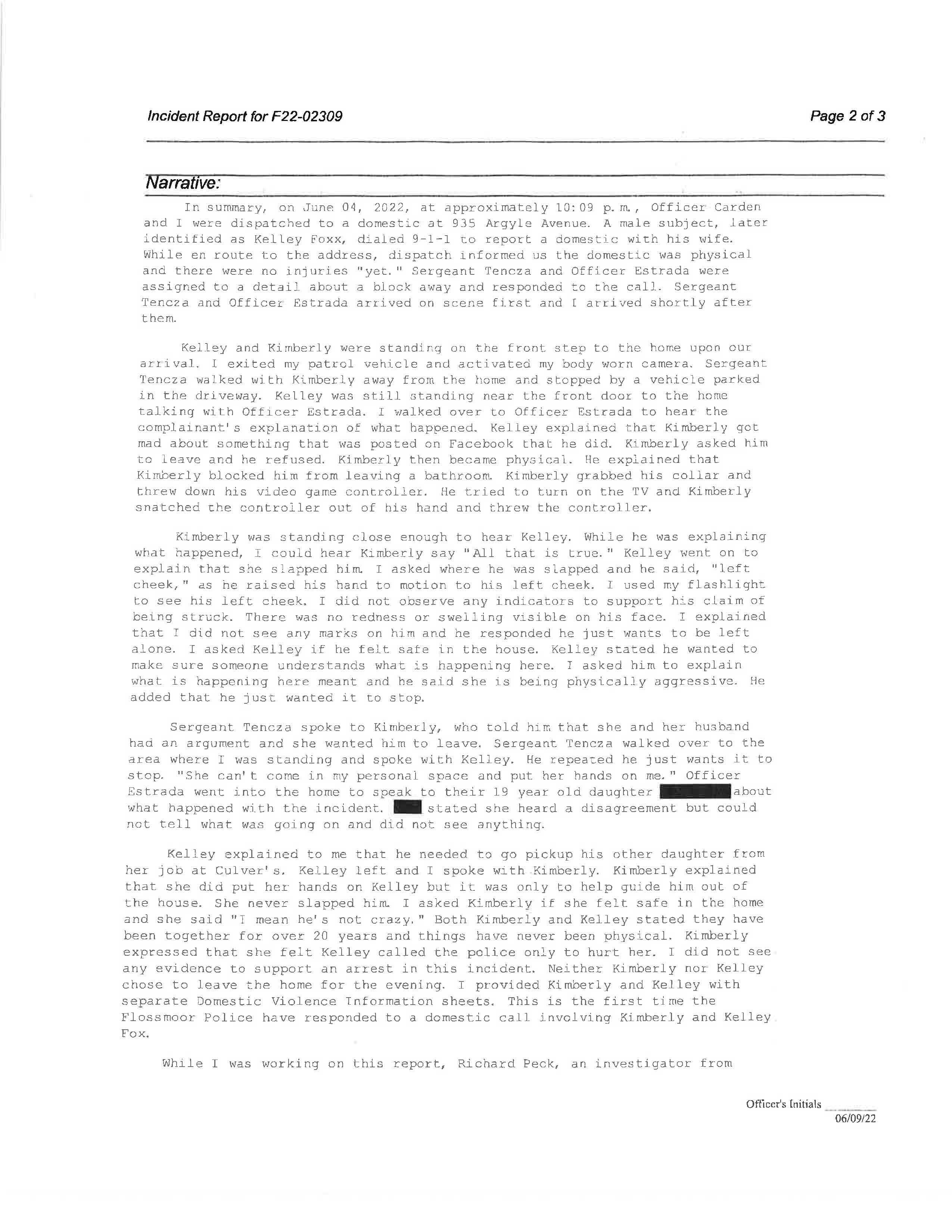 Kim Foxx Domestic Trouble Flossmoor Police Department Report for F22-02309 7350 at 935 Argyle Ave Flossmoor, IL 60422 Reported on 22:09:12 06/04/22
(Flossomoor Police denied our request for the body camera footage of the event both at the scence and at the station)
In summary, on June 04, 2022, at approximately 10: 09 p. m., Officer Carden and I were dispatched to a domestic at 935 Arqyle Avenue. A male subject, later identified as Kelley Foxx, dialed 9-1-1 toreport a domestic with his wife. While en route to the address, dispatch informed us the domestic was physical and there were no injuries "yet." Sergeant Tencza and Officer Estrada were assigned to a detail about a block away and responded to the call. Sergeant Tencza and Officer Estrada arrived on scene first and arrived shortly after them.
Kelley and Kimberly were standing on the front step to the home upon our arrival. I exited my patrol vehicle and activated my body worn camera. Sergeant Tencza walked with Kimberly away from the home and stopped by a vehicle parked in the driveway. Kelley was still standing near the front door to the home talking with Officer Estrada. I walked over to Officer Estrada to hear the complainant's explanation of what happened. Kelley explained that Kimberly got mad about something that was posted on Facebook that he did. Kimberly asked him to leave and he refused. Kimberly then became physical. He explained that Kimberly blocked him from leaving a bathroom Kimberly grabbed his collar and threw down his video game controller. He tried to turn on the TV and Kimberly snatched the controller out of his hand and threw the controller.
Kimberly was standing close enough to hear Kelley. While he was explaining what happened, I could hear Kimberly say "All that is true." Kelley went on to explain that she slapped him. I asked where he was slapped and he said, "left cheek," as he raised his hand to motion to his left cheek. I used my flashlight to see his left cheek. I did not observe any indicators to support his claim of being struck. There was no redness or swelling visible on his face. I explained that I did not see any marks on him and he responded he just wants to be left alone. I asked Kelley if he felt sate in the house. Kelley stated he wanted to make sure someone understands what is happening here. I asked him to explain what is happening here meant and he said she is being physically aggressive. He added that he just wanted it to stop.
Sergeant Tencza spoke to Kimberly, who told him that she and her husband had an argument and she wanted him to leave. Sergeant Tencza walked over to the area where I was standing and spoke with Kelley. He repeated he just wants it to stop. "She can't come in my personai space and put her hands on me." Officer
Estrada went into the home to speak to their 19 year old daughter [ redacted ] about what happened with the incident. [redacted] stated she heard a disagreement but could not tell what was going on and did not see anything.
Kelley explained to me that he needed to go pickup his other daughter from her job at Culver's. Kelley left and I spoke with Kimberly. Kimberly explained that she did put her hands on Kelley but it was only to help guide him out of the house. She never slapped him. I asked Kimberly if she felt safe in the home and she said "I mean he's not crazy." Both Kimberly and Kelley stated they have been together for over 20 years and things have never been physical. Kimberly expressed that she felt Kelley called the police only to hurt her. I did not see any evidence to support an arrest in this incident. Neither Kimberly nor Kelley chose to leave the home for the evening. I provided Kimberly and Kelley with separate Domestic Violence Information sheets. This is the first time the
Flossmoor Police have responded to a domestic call involving Kimberly and Kelley Fox.
Kimberly Foxx' s executive protection unit, stopped at the Flossmoor Police Department. Richard stated if we needed anything we could contact him and he provided his contact number of [redacted] Officer Estrada, Officer Carden, Sergeant Tencza, and I were wearing body worn cameras.