Lagos okadas: Nigeria crushes 2,000 motorcycle taxis after lynching of a passenger
Yusuf Akinpelu - www.bbc.com/news/world-africa - June 03, 2022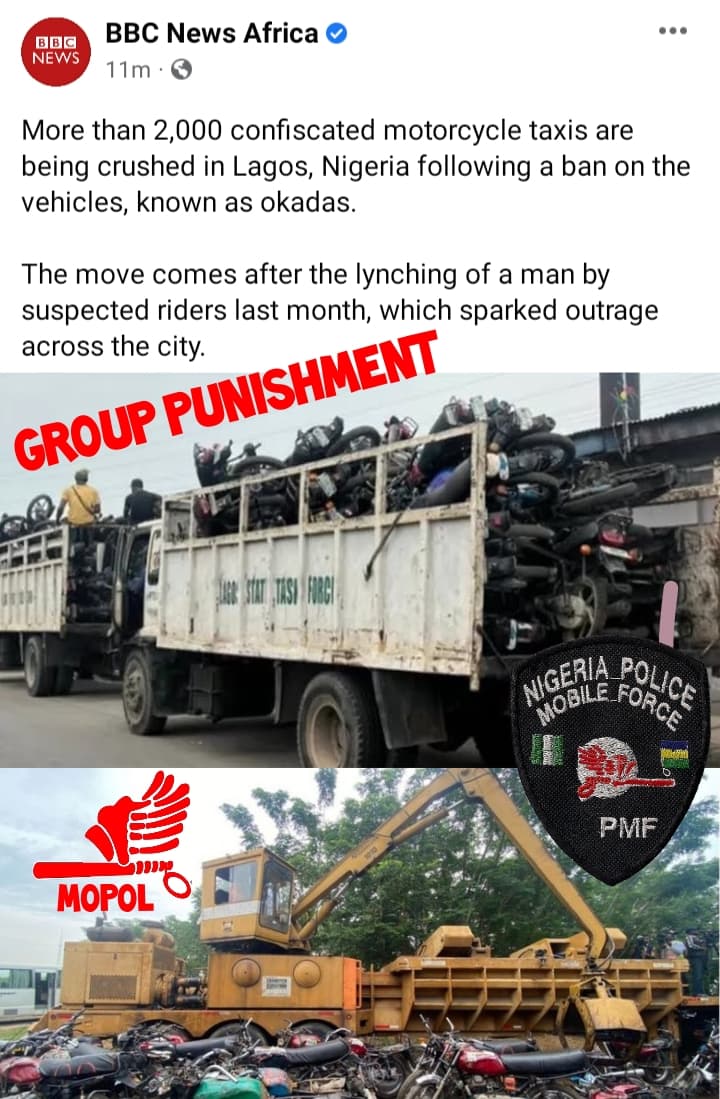 More than 2,000 confiscated motorcycle taxis are being crushed in Nigeria's biggest city, Lagos, following a ban on the vehicles, known as okadas.
By Yusuf Akinpelu - Published 1 hour ago
BBC News, Lagos
https://www.bbc.com/news/world-africa-61680790
The move comes following the lynching of a man by suspected riders last month, which sparked outrage.
Sunday David, a 38-year-old sound engineer, was killed in the upmarket Lekki neighbourhood after a disagreement over fares.
His death sparked outrage and forced authorities to act.
His wife, Grace Bolu, was distraught and left questioning how she will support her two children.
"I'm just a civil servant. My husband does everything. How will I do it? How much is my salary to pay school fees, pay rent?" she told the BBC.
The ban has had a mixed reaction from local residents with some saying the riders drive dangerously, while others say okada riding provides vital work for young people.
An artisan residing in Ikeja, Wasiu Adekoya, bemoaned the highhandedness of the riders.
"They [the motorcyclists] kidnap people. What the government did is fine. We don't want trouble in Lagos state. But let them roll out more buses to augment the shortfall."
Another resident who identified himself simply as Pastor Abraham pleaded for leniency, saying okada riding provided vital income for many.
"There is poverty in the country. Total ban is not realistic," he said. "This is what some people are using to feed themselves. Let the government be mindful."
Since the ban has been put in place, parts of the city that are usually buzzing with okada riders have seemed unusually quiet.
Some have welcomed the ban, but others say okada riding provides vital income for many across the city
It applies to six local government areas - Eti-Osa, Ikeja, Surulere, Lagos Island, Lagos Mainland and Apapa - and came into force on 1 June.
Governor Babajide Sanwo-Olu, who announced the ban last month, said the prohibition would curb the okada menace - they are known for their speed and risk-taking as they weave through the city's notorious traffic jams.
"Lives are being lost on a daily basis, preventable accidents are happening every day and the riders are not respecting any of our traffic laws," he said.
Between 2016 and 2019 okadas were responsible for 10,000 accidents and over 600 deaths recorded in hospitals across Lagos state, according to government figures.
Of the 20,596 vehicles involved in road crashes last year, 4,428 were motorcycles - over 20%.
The current ban is the second time in two years Mr Sanwo-Olu's government has prohibited the bikes.
Every governor of Lagos since 1999 has placed a partial or total ban on the operation of motorbikes.
Each time they did, it was only a matter of time before the motorbikes returned, largely because the police were unable to follow through on implementing the ban.
Enforcement is hard though considering that many riders do not bother to register their vehicles.
Some 42,000 commercial motorcycles number plates were registered in the first quarter of this year, says the federal road safety corps (FRSC), so it will not be easy to remove all of them from the city's streets.
However on the first day of the ban, compliance was near total across the four areas the BBC monitored, although some riders are avoiding the highways and turning to minor roads.
The ban has been met with some stiff resistance from the bikers who threaten to protest.
One of them, Amada Amada, said he hopes the ban will fizzle out as in the past.
"We have no choice but to stay calm for now. It's normal for them to show force but everything will soon go down," he said.
There are also fears that some of the idle bikers could turn to crime, with nothing to do.
Not only do the bikes create jobs for a teeming unemployed population, demand for them is high due to their easy manoeuvrability, speed and ability to travel on poor roads.
The motorcycle transport union of Nigeria has reacted by reportedly filing a suit against the state, urging the court to compel the government to provide alternative jobs for its members and declare the ban illegal.
Lagos State police spokesman Benjamin Hundeyin told the BBC that this time the ban will be implemented for good.
"I can assure you that the commissioner of police has put measures in place to make [sure] the enforcement is sustained and we don't have any relapse," Mr Hundeyin said.
"Whoever boards the bikes will be arrested and prosecuted. There are mobile courts set up everywhere. The mobile courts cite what punishment to give to them," he added.
But whether or not the ban will be effective remains to be seen.
-----------
Lagos okada ban update: Commercial motorcycles go stop work for six LGAs from June 1 - See wetin to know
Andrew Gift
BBC Pidgin
1 June 2022
New Informate 2 June 2022
https://www.bbc.com/pidgin/tori-61657000
Police man ontop okada on day one of ban
Lagos state goment say dem go crush di commercial motorcycles A.K.A okada wey dem seize during di first day of enforcement of di total ban on okada for some parts of di state.
Goment ban on okada for six LGAs of di state come into effect on June 1. Goment Taskforce enforce di ban for Eti-Osa, Ikeja, Surulere, Lagos Mainland, Lagos Island and Apapa.
Di crushing of di bikes wey dem seize go happun on Friday for di state capital Ikeja.
Lagos police tok tok pesin Benjamin Hundeyin tell BBC Pidgin say dem seize about 140 okada on day one of di enforcement.
E say dem also seize one dispatch rider bike sake of say e carri passenger, say dat one na offense too.
Lagos 'okada' ban go affect 15 LGAs
Lagos goment don ban Okada, Keke till further notice - Dis na list of roads wey e affect
Di total ban on commercial motorcycles popularly known as okada for six LGAs of Lagos state southwest Nigeria go start June 1 2022.
Di six local goment wey goment put di total ban na Eti-Osa, Apapa, Surulere, Lagos Mainland, Lagos Island and Ikeja di state capital.
Govnor Babajide Sanwo-Olu announce di ban few weeks ago and direct di state security teams to enforce di ban once e come into effect.
Di govnor for meeting wit security teams say di total ban na first phase of dia plan to ban okada for di state.
Penalty for okada ban offenders
Wen we ask police wetin go be penalty for defaulters of di ban, dem say any bike wey dem seize, di owner go forfeit am completely.
For di riders and passengers wey dem arrest, police say dem go carri dem go mobile court, say na di mobile court go determine dia fate.
Our reporter monitor di enforcement process on day one and confam say total compliance dey for di routes wey im visit wey include Ojodu Berger for Ikeja LGA, CMS and Obalende for Lagos Island, Falomo for Eti-Osa LGA and Surulere.
Reports bin fly upandan say police and bike men bin clash for di Agege axis of di state, but police say no clash happun.
"If you want collect pipo something, dem go try show resistance" na so Mr Hundeyin tok.
Tori be say though Agege no follow for di six LGAs wey goment put total ban on, but e dey among di 600 routes wey goment put okada restrictions on during di first ban.
Why goment ban Okada
Over di years, some okada riders don involve in kasala with residents and motorists in Lagos.
Deme don accuse some Okada riders say dem dey rob pipo wit dia bikes, dem accuse some of rough riding on highways and say dem dey cause plenti accidents and deaths.
Dis na part of why goment bin put restrictions on Okada for di state for February 2020, but some still continue to dey bone di order and still dey ride for restricted areas until di latest ban.
Govnor Sanwo-Olu say di ban follow di masterplan of di state and go helep stop plenti cases of accident and crime related activities wey pipo dey use Okada do for di state.
Di latest ban come afta one incident happun for Lekki axis of di state wey lead to di killing and burning of one Mr David Umahi allegedly by okada men.
Police arrest at least seven pesins ontop di killing of di man wey be music engineer.
How Lagos wan enforce Okada ban
During di announcement of di total ban on Okada, di govnor direct di security teams to arrest any Okada wey dem find for di banned areas.
Lagos police tok-tok pesin for statement also tok say dem go begin arrest passengers wey Okada pipo carri as dem too get case to ansa unto why dem dey ontop Okada for banned route.
Since di announcement, police begin sting operations and capture 115 bikes for Lekki axis.
Dem also seize at least anoda 400 bikes during raids for oda locations.
Since goment announce di first ban, Okada men and security teams don clash plenti times especially wen police go to enforce di ban order.
Wetin be di alternative means of transportation to Okada?
Commissioner for Information Gbenga Omotosho say goment add additional mini buses and taxis for di banned routes to help sort out transportation gaps di ban on okada fit bring.
Di commissioner also say dem add more boats for di waterways.
Afta goment announce restrictions on wia okada fit ply for Lagos for February 2022, dem announce say dem dey introduce more BRT buses.
Dem also introduce mini buses wey go dey ply di routes wey goment remove bikes from.
Also, di private commercial buses wey pipo sabi as danfo and private minibuses also known as korope na also alternatives to okada.
Arewa community for Lagos reaction to okada ban
Within dis period, di joinbodi of pipo from di Arewa community for Lagos direct dia members to obey di state goment directive to ban okada for some areas in di state. Arewa pipo na pipo from di northern part of Nigeria.
Dia members dey spread across Nigeria. Plenti members of di members be okada riders for lagos and di ban dey affect dem.
Afta dia meeting on May 22, dem release nine points agreement say dem go support di goment order to ban okada and oda goment policy wey include how to improve security for di state.
"Di ban on okada no be new law for di state, e don dey exist since ten years, we don resolve say all our members go comply by di law, sake of say dem be law abiding citizens." Na wetin dem write for statement.
Dem also condemn activities of pipo wey dem refer to as 'foreigners' wey dey come from oda kontris dey cause kasala and commit crime in di name of genuine bike riders.
Okada over di years bin dey make transportation easy for Lagos pipo especially sake of di heavy traffic jam wey di city dey witness daily.
But wit dis total ban for some areas, who know how di pipo go fit handle dia transportation mata.
Ahead of di 1st of June, police for Lagos enter street on May 31, to do 'show of force parade' to show how dem dey prepare to enforce di ban.
Police say dem dey ready to handle any protest wey fit threaten di peace of di nation.
Areas wey di old restrictions cover
Apapa LCDA
Apapa Iganmu LCDA
Surulere LCDA
Itire LCDA
Ikate LCDA
Coker-Aguda LCDA
Ikeja LCDA
Onigbongbo LCDA
Ojodu LCDA
Eti-Osa LCDA
Ikoyi Obalende LCDA
Iru LCDA
Victoria Island LCDA
Lagos Island LCDA
-------------------------
Okada Ban: Lagos advises schools on security
The governor said commercial motorcycle operators have since constituted a menace in the state, even as he cited security reports to back the position.
By Mariam Ileyemi June 1, 2022
https://www.premiumtimesng.com/health/health-news/534024-okada-ban-lagos-advises-schools-on-security.html
As the enforcement of ban on commercial motorcycles across six local government areas of the state commences on Wednesday (today), the Lagos State Government has advised schools below tertiary level to be security conscious.
In a statement on Tuesday, the director-general of the Lagos State Office of Education Quality Assurance (OEQA) at the state's ministry of education, Abiola Seriki-Ayeni, said the schools should "ensure compliance with the Safeguarding and Child Protection Policy of the state as prescribed."
"In furtherance with the State Government's Emergency Guidance for Public and Private Schools, schools should be proactive by preparing to address various safety and child protection issues that may arise," the statement reads in part.
She reiterated that the Lagos State Police have assured the public that all necessary human, material and operational resources have been deployed across the state to forestall any breakdown of law and order.
The director-general also advised school authorities, parents and guardians to contact appropriate emergency services and also lodge complaints on the agency's website should the need arise for such.
The Okada ban
In May, Mr Sanwo-Olu imposed a fresh ban on commercial motorcycles, popularly known as 'okada' from operating in six local government areas: Eti-Osa, Ikeja, Lagos Island, Lagos Mainland, Apapa, and Surulere.
READ ALSO: Okada ban: Police deploy officers ahead of enforcement
Following the ban, the police in Lagos deployed officers to different parts of the state to prevent the breakdown of law and order due to a viral Whatsapp message of a planned protest by the riders.
The Lagos State Task Force also seized more than 200 motorcycles in Lekki before the deadline.
The latest ban comes more than two years after the government enforced a ban on the operation of motorcycles and tricycles across the state.
The government had explained that the relaxation of the law was not unconnected with the impact of the coronavirus-induced lockdown on global economies and how many Nigerian families have since continued to struggle to survive even after the lockdown was lifted.
The governor, however, said commercial motorcycle operators have since constituted a menace in the state, even as he cited security reports to back the position.
Okada ban: Operators drag Lagos govt to court, seek cancellation
June 2, 2022
By Olasunkanmi Akoni
https://www.vanguardngr.com/2022/06/okada-ban-operators-drag-lasg-to-court-seek-cancellation/
Following the ban and enforcement, a commercial motorcycle riders' union, popularly called "Okada" has sued the Lagos State Government before the Federal High Court sitting in Lagos.
The union, under the umbrella of the Motorcycle Transport Union of Nigeria, MTUN, and others in the suit are praying for a declaration that the ban on okada "is illegal, unlawful and unconstitutional."
Other applicants in the suit are Comrade Peter Umoh, Pastor Tony Onuoha, David Abiona, Adebayo Oluwasegun, Gambo Muhammed, Yakubu Abubakar, Ayo Boluwade, Amaechi Peter and Nwamiri Monday.
It also includes Abayomi Adegbite, Oluwaseyi Funmi, Mohammed Kadi, Abdullahi Jigla, Nora Usman, Pastor Emmanuel Donatus, Sanni Abubakar and Nwibo Sunday.
Lagos State Governor, Babajide Sanwo-Olu, state Attorney-General and Commissioner for Justice, Moyosore Onigbanjo SAN, Commissioner of Police, Abiodun Alabi, Lagos State Task Force,
Lagos State and Commissioner for Transport, Dr Fredric Oladeinde are the defendants.
In the suit numbered FHC/L/CS/1016/2022, the applicants prayed the court for a declaration that the "purported proposed ban of the commercial motorcycle transportation in Lagos State by the governor, without hearing from the operators whose rights are affected or likely to be affected is a violation of the constitutional rights of the applicants to fear to hear provided for and encapsulated in Section 36 of the Constitution of the Federal Republic of Nigeria, 1999 as amended."
The applicants also sought f declaration that the ban of the business of commercial motorcyclists in Lagos by the government "is a violation of the rights of the applicants guaranteed by Section 33 of the 1999 Constitution as amended who cannot be alive without food and other means of sustenance and whose income is the business of commercial motorcycle transportation.
Alternatively, they prayed the court to grant an order compelling the government to provide jobs for the teeming commercial motorcycle riders in the state.
In the affidavit in support of the application, sworn to by one Pastor Emmanuel Donatus, the deponent stated that he and other operators had no means of sustenance apart from the business of Okada.
They prayed the government to restrict Okada operations on major highways to "approved areas", rather than banning their operations.
He added that during the regime of the former Governor, Babatunde Fashola, SAN, the union was engaged by the government on how to regulate their operation in the state, including issuing identification cards to members and others.
Donatus maintained that by regulating the activities and operations of the riders, motorcycle related crimes will be reduced.
However, the suit was yet to be assigned as of press time.
LASG set to crush seized okada
Meanwhile, the Lagos State Government
has concluded plans to crush the over 140 Okada seized across the metropolis during enforcement since the commencement of the ban on operations.
The state Commissioner for Information and Strategy, Gbenga Omotoso, disclosed this while givinn an update on the enforcement so far.
Omotoso, who commended the cooperation of residents on the ban, urged commuters to patronize small buses, under the First Mile and Last Mile Scheme, which have been rolled out extensively as an alternative mode of transportation to cushion the effects of the ban.
According to the commissioner: "Wishes to put on record the remarkable cooperation of Lagosians on the commercial motorcycles ban, which took effect today in six local governments.
"The compliance was significant in Surulere, Apapa, Eti-Osa, Lagos Island, Lagos Mainland and Ikeja. It is the first phase of the ban, which was announced on May 18 by Governor Babajide Sanwo-Olu, following security and safety concerns.'
Omotoso assured residents and visitors of Governor Sanwo-Olu's administration not to leave them to their own devices; it "will continue to work towards the achievement of an efficient intermodal transportation system (water, rail and road) that will be the pride of all "
He noted that Lagos residents stayed off the motorcycles, as the government rolled out alternatives to cushion the likely effects of the ban in many areas.
According to Omotoso, "Many small buses, under the First Mile and Last Mile Scheme, were rolled out extensively in Surulere, Gbagada, Lekki, Lagos Island and other parts of Lagos.
"Several taxi cabs under the LAGRIDE scheme were deployed in Lagos Island, Ikeja, Surulere, Lekki and other places.
"The waterways were also busy as Lagos Ferry Services (LAGFERRY) put more ferries on their routes.
"Law enforcement agencies seized many motorcycles. They will all be crushed on Friday in the presence of the media."
Also, the enforcement which recorded a high level of compliance on the first day, Wednesday, June 1, was relaxed on Thursday, as Okada riders returned to some roads in the metropolis to resume their operations undisturbed by security agents.
Concerned residents were amazed at the daring return of the Okada riders in the early hours of Thursday in some parts of the state which include: Apapa, Mile-2, Ikeja, Lagos Island, and environs.
Following public outcry, Sanwo-Olu had ban Okada activities in six Local Government Areas, LGA and nine Local Council Development Areas, LCDAs, which are: Lagos Island, Lagos Mainland, Ikeja, Apapa, Eti-Osa and Surulere and nine LCDAs attached to the LGAs.
LASG makes U-turn over Alaba-Rago quit notice order
Meanwhile, Governor Sanwo-Olu was said to have reversed 14 days quit notice ultimatum given to traders at the Alaba-Rago Market, in Ojo Local Government Area, to continue with their legitimate business pending a formal agreement and development plan being considered by the traders.
A joint team of Rapid Response Squad, RRS and Lagos Task Force, had recently issued a 14 Day ultimatum to traders to quit the market to pave way for the proposed redevelopment project.
According to a statement made available to newsmen quoted that the decision was made following the intervention of Fulani traditional leader Dr Mohammed Abubakar Bambado II the Sarkin Fulani of Lagos and Chairman Council of Fulani chiefs South West having met and discussed with Governor Sanwo Olu on behalf of the traders of Alaba-Rago.
Pending further determination, and "Considering the plea, His Excellency Mr Governor on behalf of the Lagos State government reversed its earlier pronouncement and allow the traders in Alaba-Rago to continue their legitimate business," a source told newsmen.
When contacted, Omotoso was yet to respond to calls as well as mmessagessent to his mobile phone for comment as of press time.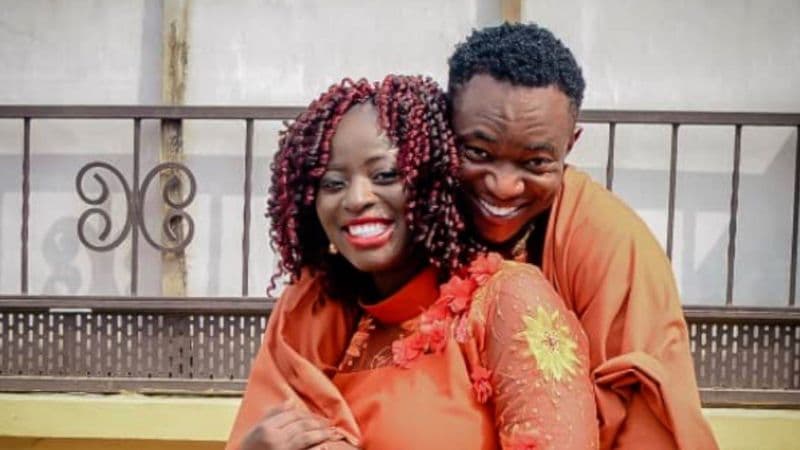 Sunday David's death (pictured right alongside his wife) sparked outrage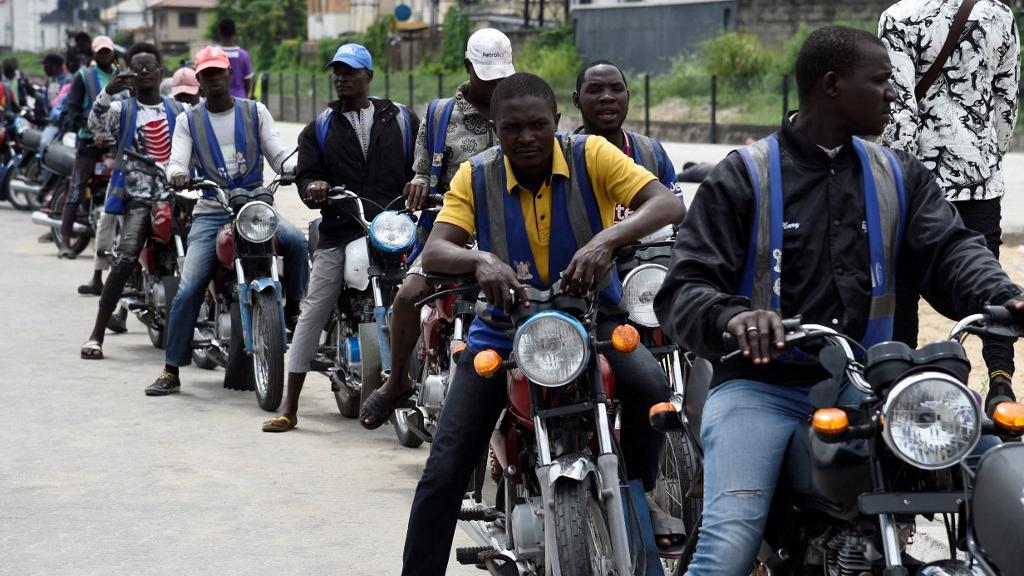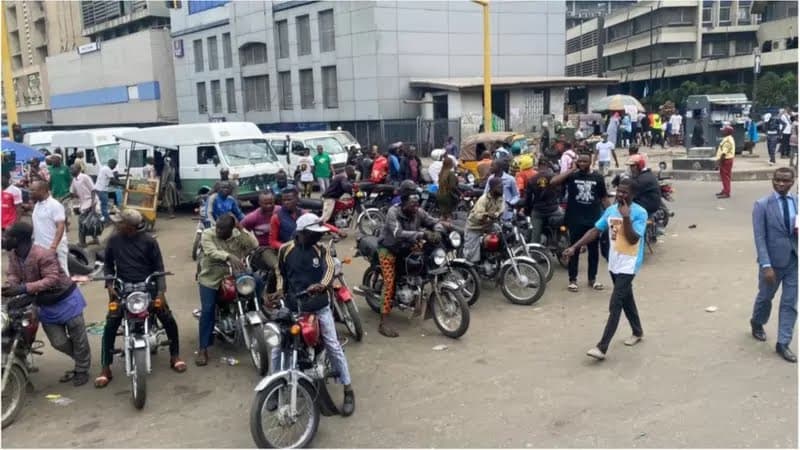 Okada men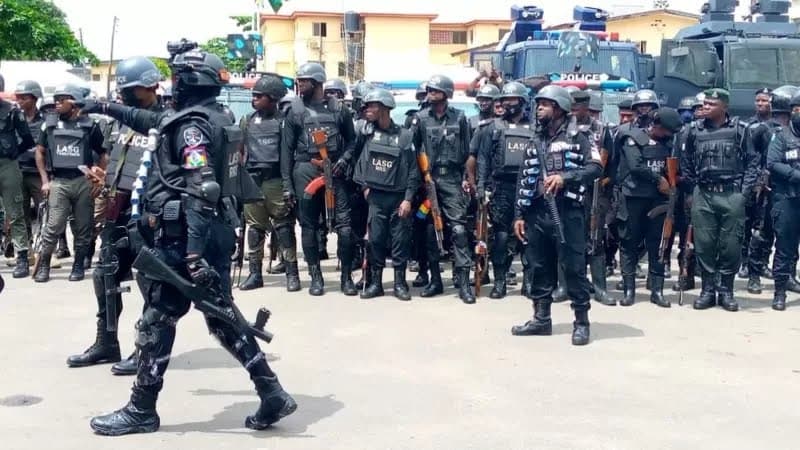 Police do show of force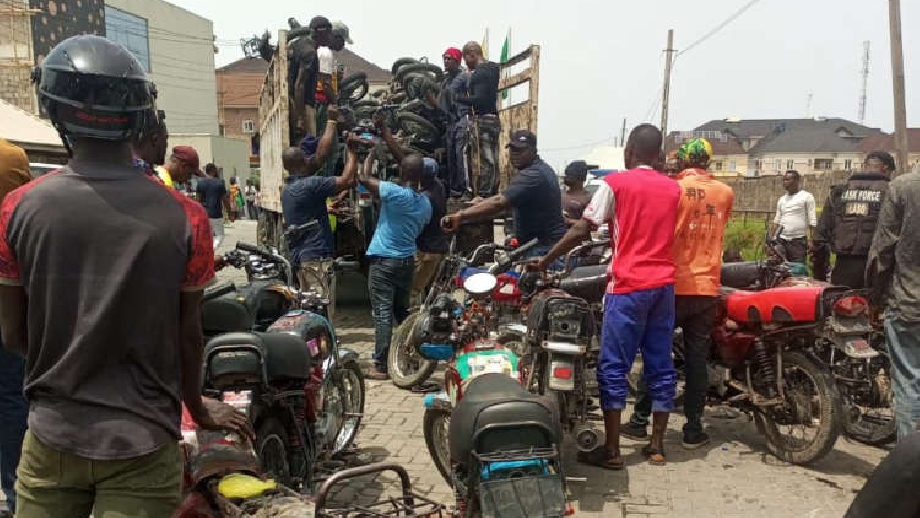 Police cease okada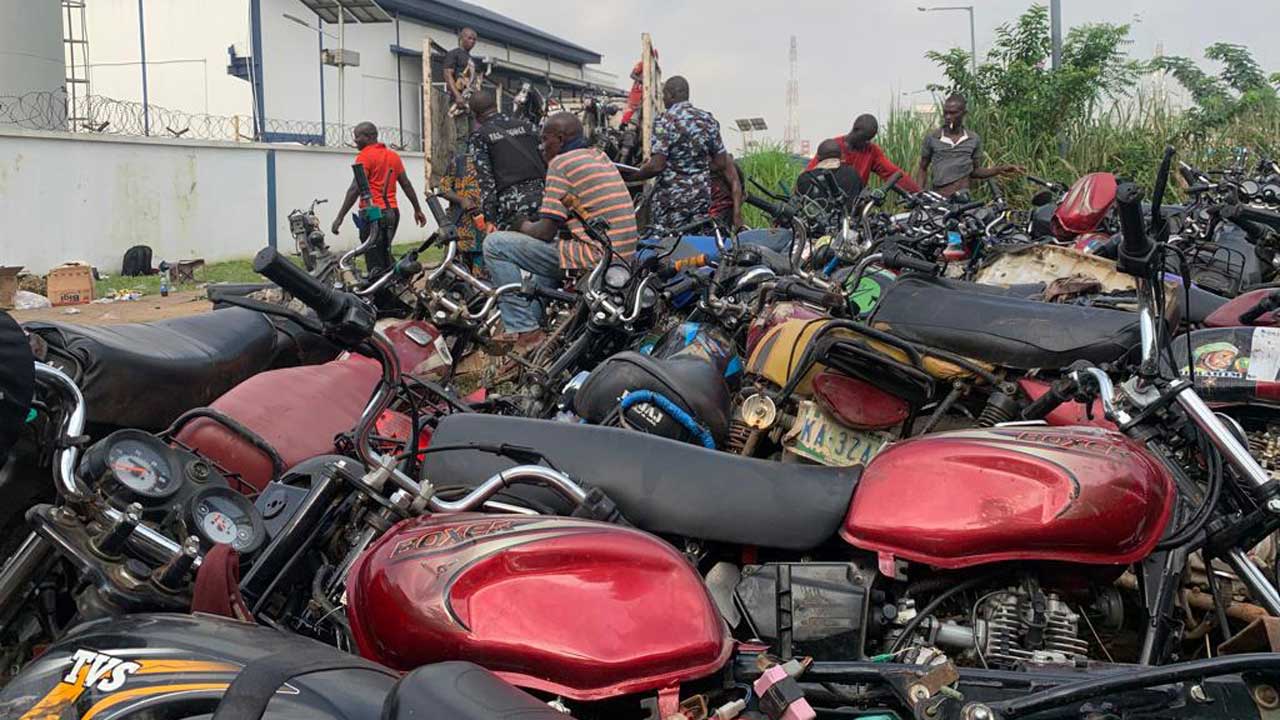 police confiscate motorbikes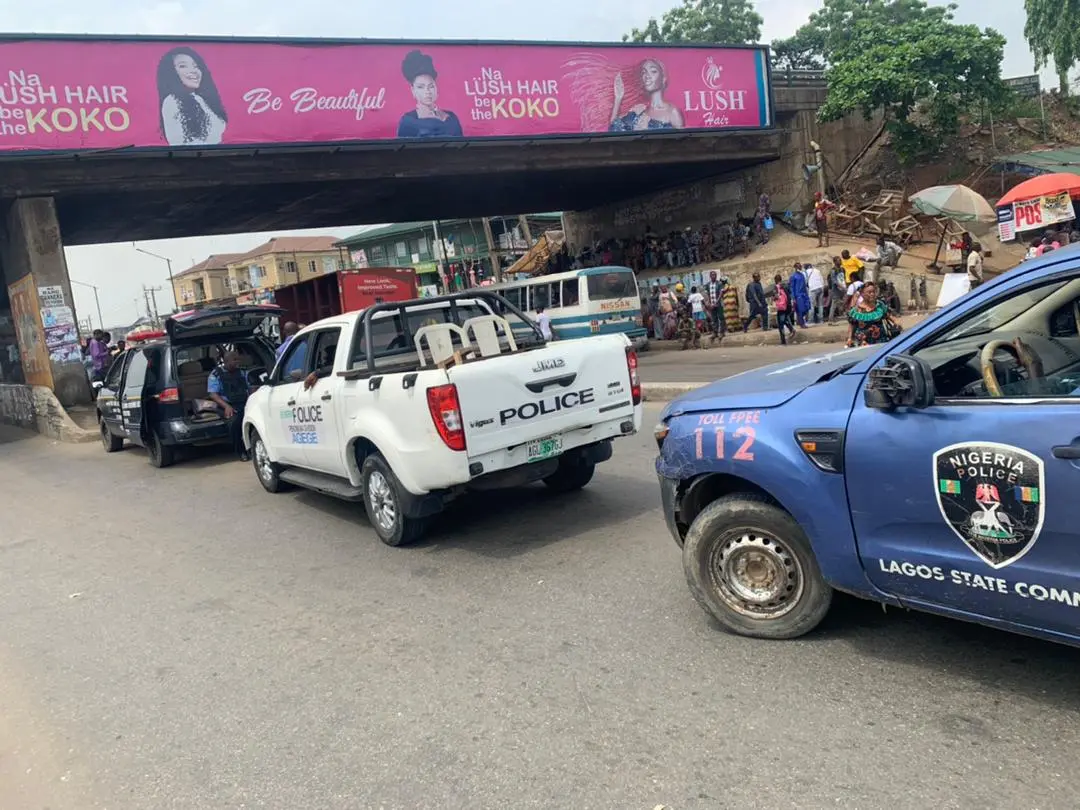 Patrolling vehicles of police enforcing the Okada ban under the lyana-lpaja bridge in Lagos.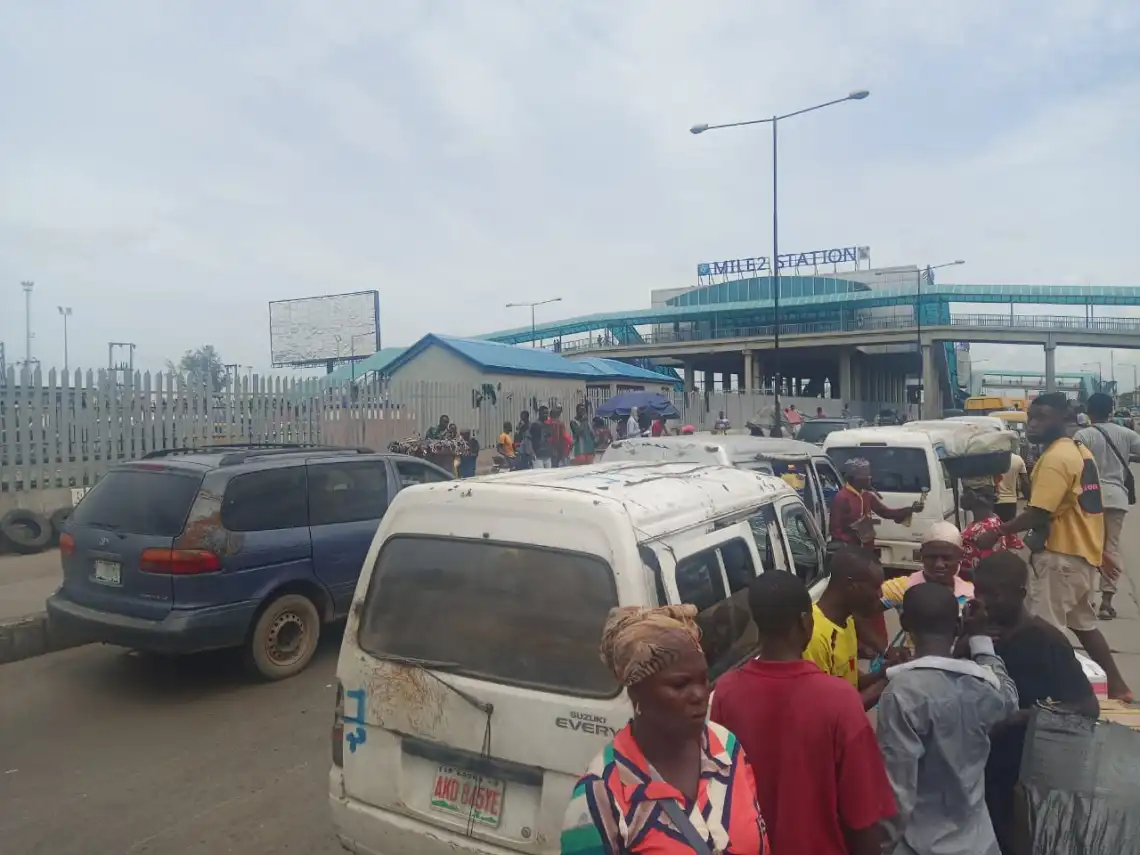 Very few Okada riders standing by the Mile 2 bus station
A scanty gathering of Okada riders after motorcylists operating along Ipaja-Ikeja highway vacate the place.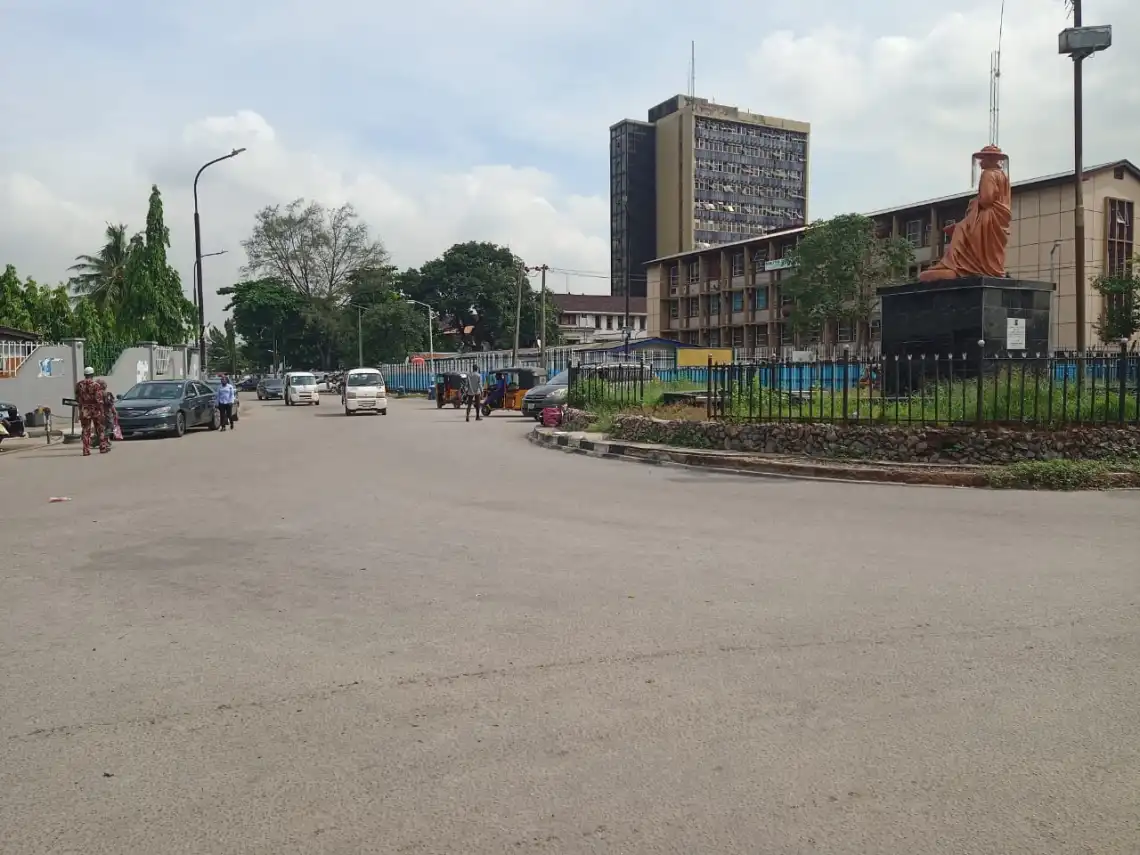 TBS roundabout, Lagos. No Okada riders were sighted.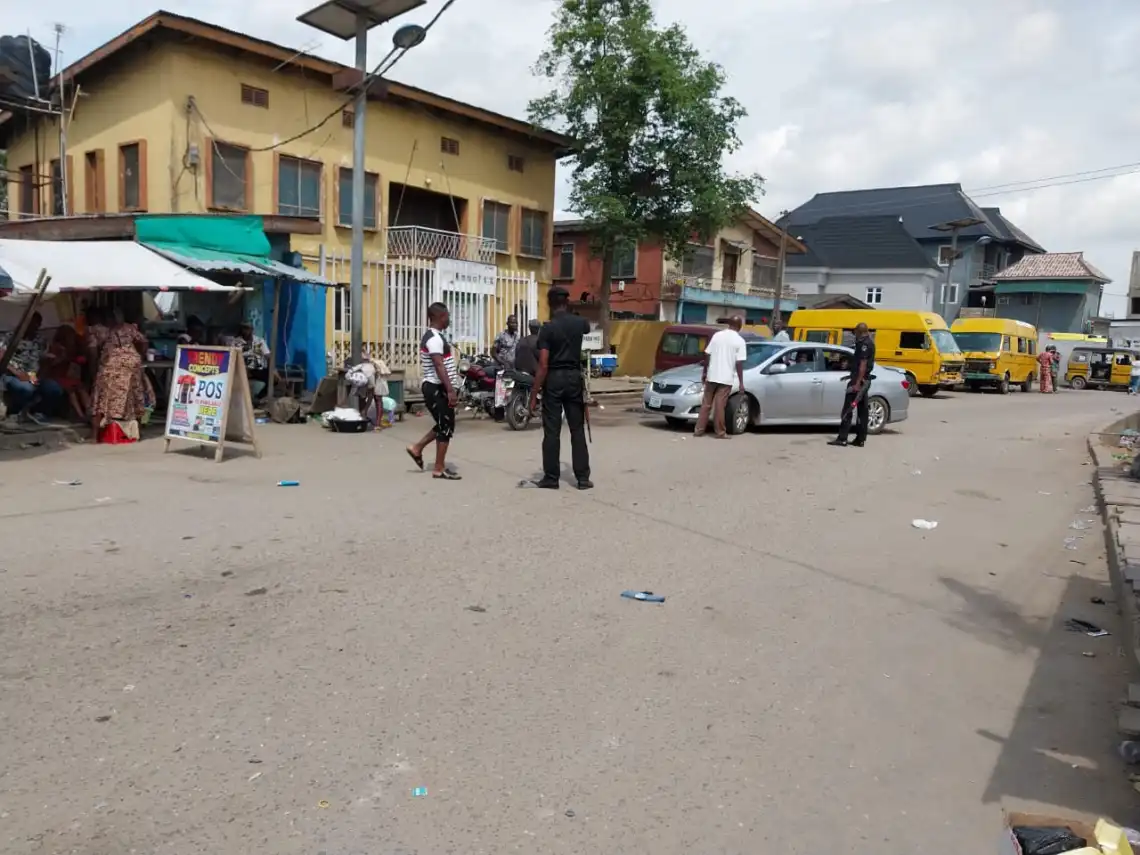 Police enforcing the Okada ban in Oshodi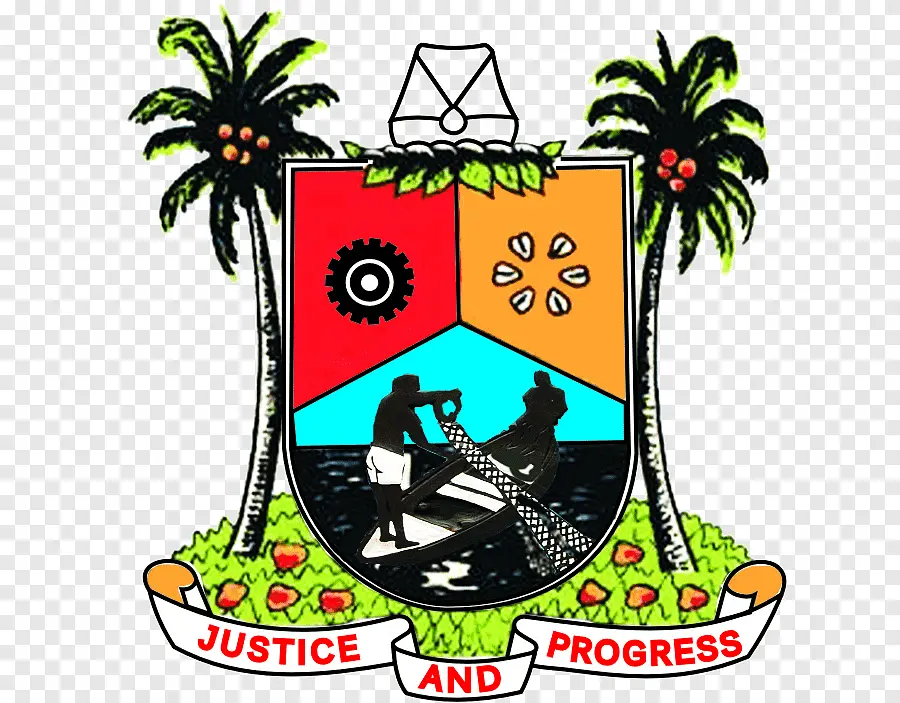 White cap"keremesi" denotes a symbol of authority common to most areas in Lagos State. Akoko leaves are universally used at the installation of Obas and Chiefs in Lagos State and all over Yoruba land to signify longevity. Cowries signify the earliest medium of exchange in Lagos State.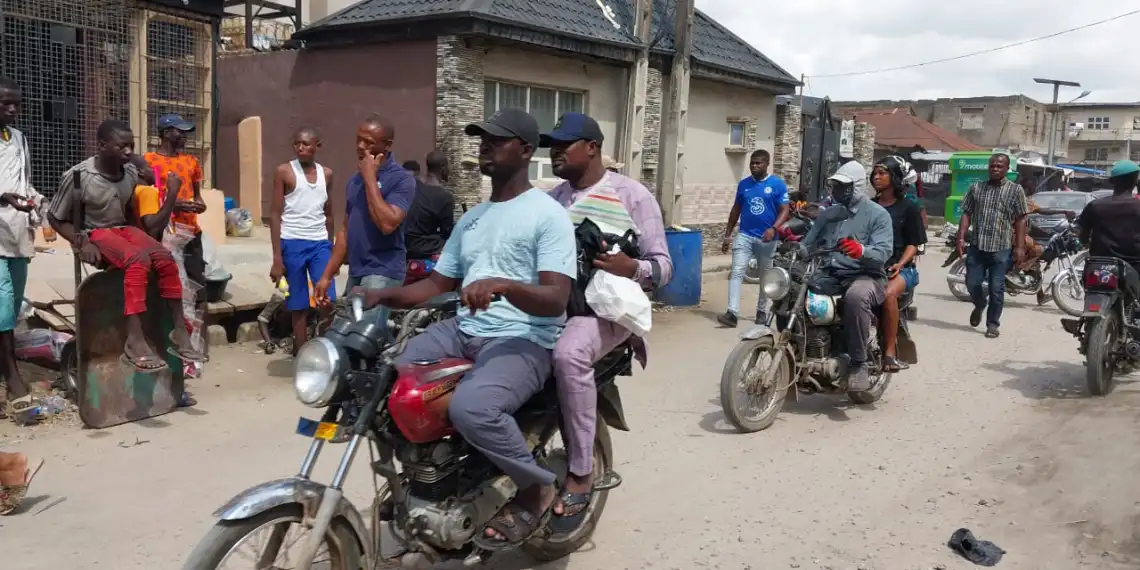 Okada riders switched to inner streets in Oshodi due to the nan enforcement