Fewkes Tower: CTU's Nest Egg $62 million Gone
Therese Boyle - May 01, 2022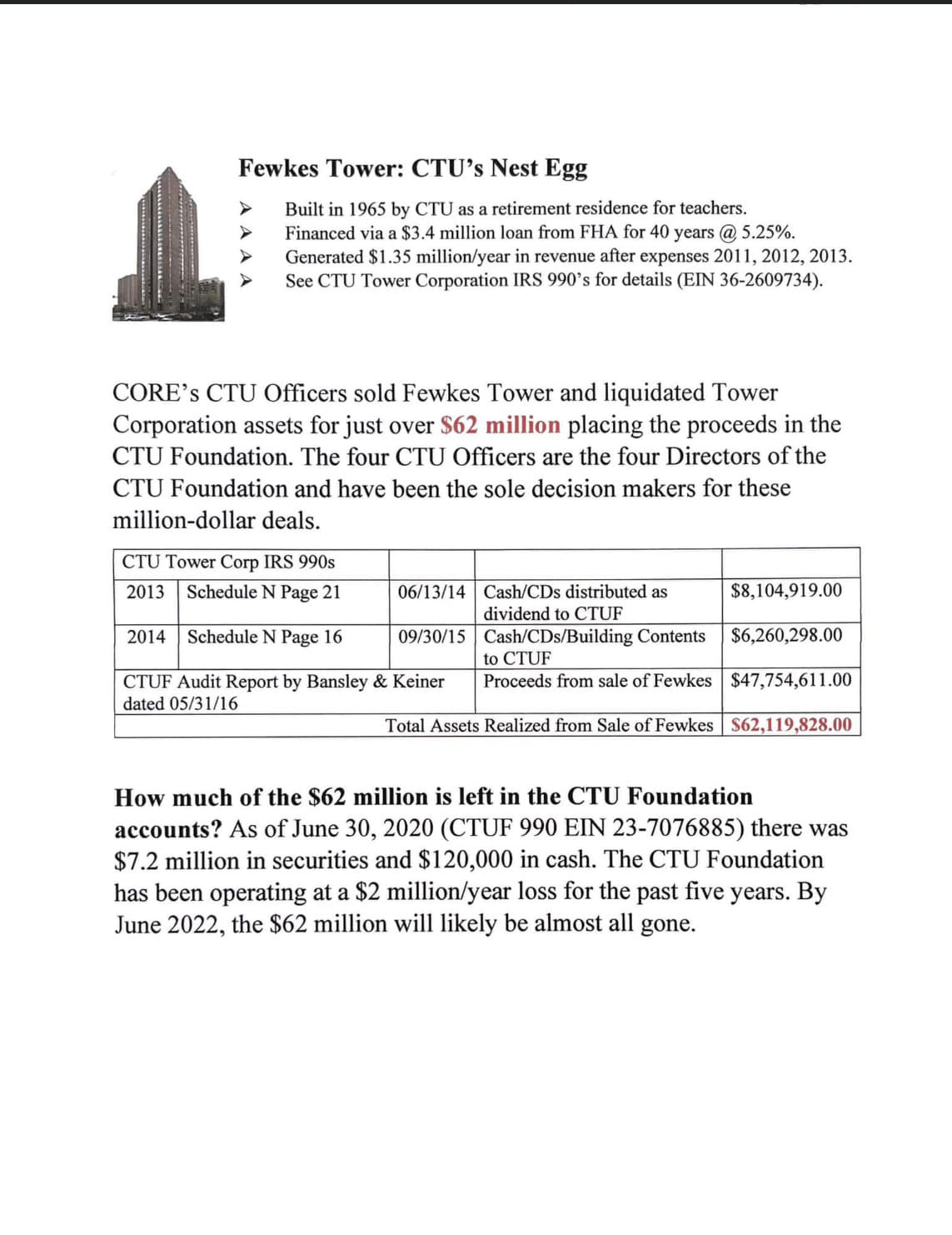 Built in 1965 by CTU as a retirement residence for teachers.
Financed via a $3.4 million loan from FHA for 40 years @ 5.25%
Generated $1.35 million/year in revenue after expenses 2011, 2012, 2013.
See CTU Tower Corporation IRS 990's for details (EIN 36-2609734).
CORE's CTU Officers sold Fewkes Tower and liquidated Tower Corporation assets for just over $62 million placing the proceeds in the CTU Foundation. The four CTU Officers are the four Directors of the CTU Foundation and have been the sole decision makers for these million-dollar deals.
CTU Tower Corp IRS 990s
2013
Schedule N Page 21 06/13/14
Cash/CDs distributed as dividend to CTUF
$8,104,919,00
2014 Schedule N Page 16
09/30/15
Cash/CDs/Building Contents
$6,260,298.00
CTUF Audit Report by Bansley & Keiner dated 05/31/16 CTUF Proceeds from sale of Fewkes
$47,754,611.00
Total Assets Realized from Sale of Fewkes
$62,119,828.00
How much of the S62 million is left in the CTU Foundation accounts? As of June 30, 2020 (CTUF 990 EIN 23-7076885) there was $7.2 million in securities and $120,000 in cash. The CTU Foundation has been operating at a $2 million/year loss for the past five years. By June 2022, the $62 million will likely be almost all gone.