[ US Regulations - Whistleblower Protections ] Elijah E. Cummings Federal Employee Anti-Discrimination Act of 2020
www.federalregister.gov - January 06, 2022
Proposed Rule by the Personnel Management Office on 01/06/2022
"[i]n order to maintain a productive workplace that is fully engaged with the many important missions before the Government, it is essential that the rights of employees, former employees, and applicants for Federal employment, under antidiscrimination and whistleblower protection laws, be steadfastly protected and that agencies that violate these rights be held accountable."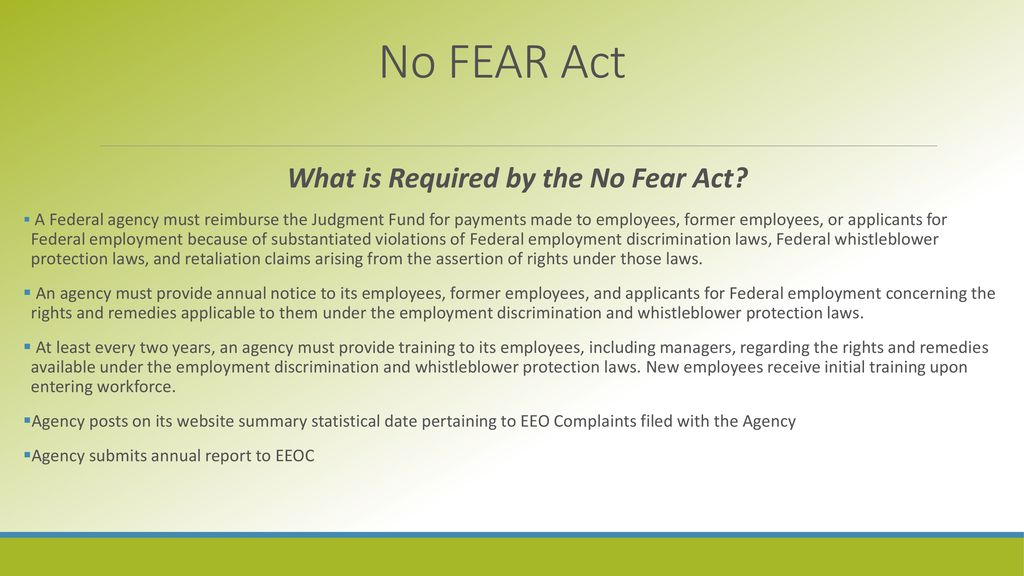 Under the No FEAR Act, agencies must pay for settlements, awards or judgments against them in whistleblower and discrimination cases out of their own budgets. The law also requires that employees be notified of their rights under discrimination laws and the Whistleblower Protection Act (WPA), 5 USC 2302(c). The U.S. Office of Special Counsel (OSC) (www.osc.gov) is responsible for ensuring that agencies meet their obligations to inform and educate their employees regarding the WPA.
A Proposed Rule by the Personnel Management Office on 01/06/2022
SUMMARY:
The Office of Personnel Management (OPM) is issuing proposed regulations that would govern Federal antidiscrimination (including retaliation) and whistleblower protection. The proposed rule would implement statutory changes and amend the regulations to incorporate technical revisions and other changes relating to these subjects to make the rule more efficient and effective.
DATES:
Comments must be received on or before February 7, 2022.
ADDRESSES:
You may submit comments, identified by the docket number or Regulation Identifier Number (RIN) for this proposed rulemaking, by the Federal eRulemaking Portal: http://www.regulations.gov. Follow the instructions for sending comments.
Instructions: All submissions must include the agency name and docket number or RIN for this rulemaking. Please arrange and identify your comments on the regulatory text by subpart and section number; if your comments relate to the supplementary information, please refer to the heading and page number. All comments received will be posted without change, including any personal information provided. Please ensure your comments are submitted within the specified open comment period. Comments received after the close of the comment period will be marked "late," and OPM is not required to consider them in formulating a final decision. Before acting on this proposal, OPM will consider and respond to all comments within the scope of the regulations that we receive on or before the closing date for comments. Changes to this proposal may be made in light of the comments we receive.
FOR FURTHER INFORMATION CONTACT:
Timothy Curry by email at employeeaccountability@opm.gov or by telephone at (202) 606-2930 (voice) and 711 (TTY).
SUPPLEMENTARY INFORMATION:
The Elijah E. Cummings Federal Employee Antidiscrimination Act of 2020 (Cummings Act) became law on January 1, 2021. The law amends the Notification and Federal Employee Antidiscrimination and Retaliation Act of 2002 ("No FEAR Act"), Public Law 107-174. In the No FEAR Act of 2002, Congress entrusted the President with the authority to promulgate rules to carry out Title II of the No FEAR Act and the President, in turn, delegated to OPM the authority to issue regulations to implement these provisions. The regulations at title 5, Code of Federal Regulations, part 724 carry out that authority and, as modified by the proposed rule, will assist agencies in carrying out, consistent with law, these No FEAR Act amendments. First, OPM proposes to rename the title of this part to state the current purpose and content of this part by removing "Implementation of," which was appropriate for the initial regulations established in 2006. We also propose to amend the authority citation to add a reference to the Cummings Act.
The proposed regulations clarify procedures and add new requirements. In particular, they require an agency to:
Provide notice, in an accessible format, of a finding of intentionally committed discriminatory (including retaliatory) [1] acts on the public internet website (linked directly from the home page) of the agency after all appeals have been exhausted; submit the annual report in an accessible, electronic format prescribed by the Director of OPM; submit a disciplinary action report, in an accessible, electronic format, to the Equal Employment Opportunity Commission (EEOC); establish, or leverage, a system to track each complaint of discrimination; and provide a notation of any adverse action taken under section 7512 of title 5, United States Code, for a covered act of discrimination (including retaliation) in the personnel record of an agency employee found to have intentionally committed discriminatory (including retaliatory) acts, after all appeals are exhausted.
The proposed regulations also will update references and language due to statutory changes and clarify procedures and requirements to support agencies in complying with the requirements of the No FEAR Act. OPM will issue revised language for Notice obligations, § 724.202, which includes the model paragraphs for agency No FEAR notices, in a separate rulemaking.
Finally, OPM proposes to remove references to requirements and deadlines that were established when the law was initially implemented and that have been fulfilled. As noted in the original final rule implementing the No FEAR Act, Congress found that, "[i]n order to maintain a productive workplace that is fully engaged with the many important missions before the Government, it is essential that the rights of employees, former employees, and applicants for Federal employment, under antidiscrimination and whistleblower protection laws, be steadfastly protected and that agencies that violate these rights be held accountable." 71 FR 27185 (May 10, 2006). Additionally, through the No FEAR Act amendments, it was the sense of Congress that accountability in the enforcement of the rights of Federal employees is furthered when Federal agencies agree to take appropriate disciplinary action against Federal employees who are found to have intentionally committed discriminatory (including retaliatory) acts, but that accountability is not furthered if Federal agencies react to increased accountability for their lawful responsibility by taking unfounded disciplinary actions against Federal employees or by violating the procedural rights of managers who have been accused of discrimination. Accordingly, disciplinary actions against Federal employees alleged to have intentionally committed discriminatory (including retaliatory) acts should not be taken reflexively, but rather as the result of methodical consideration of all the facts and pursuant to the prescribed processes.
https://www.federalregister.gov/documents/2022/01/06/2021-28019/elijah-e-cummings-federal-employee-anti-discrimination-act-of-2020?fbclid=IwAR0bp93Z2xqO_tnKoGvQ3MTvBG3UOwNwo65Nitszl2TEdUDTFRYk9cLcVJc