Parents 4 Teachers expresses solidarity with CTU in contract fight
Julie Dworkin - September 07, 2019
I spoke at the CTU members meeting and rally on August 20 on behalf of ParentsFor Teachers to express solidarity with teachers in their contract fight. Here is what I said: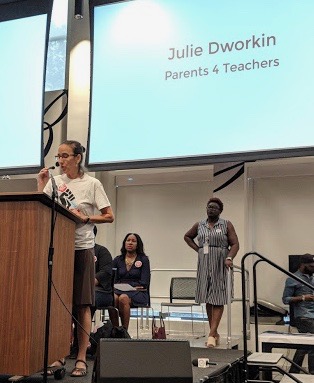 Julie Dworkin speaks at the Aug. 20, 2019, CTU meeting. Community organizer Jay Travis and CTU Recording Secretary Christl Hayes also spoke at the meeting.My name is Julie Dworkin. I am member of Parents4Teachers and a parent at Goethe Elementary and Jones College Prep.
Every year at this time a memory comes up in my Facebook feed showing me and my kids in red t-shirts supporting our teachers at a rally. It's a shame that this is something we are doing so often. That we are fighting this fight year after year. But we do it because you're fighting for the things our children need and deserve, like nurses, social workers, counselors, well paid teachers, small class sizes, Who doesn't want their school to have a nurse every day?
And also because you are fighting for justice for our Black and Brown students, whose schools have been chronically underfunded. Students experience trauma most of us can't even imagine. When kids are experiencing homelessness, there is no way they are coming to school ready to learn, yet teachers are held accountable for their performance when CPS fails to provide adequate social services.
We know you don't WANT to strike, but if that's what you're forced to do, parents will be with you just like we were in 2012. And don't be afraid to talk to the parents in your school. We trust you and know that you love our kids too.
But we think you can avoid a strike. We've launched SUPPORT YOUR TEACHERS TUESDAYS asking people to flood the mayor's office with calls supporting you every TUESDAY until the contract is settled. The number is 312-744-3300. Call today, tell your friends, neighbors, parents, students, anyone who cares about our public schools.
And reach out to Parents 4 Teachers if you'd like to host a parent meeting in your school. We're here to help and support you because there's nothing stronger than parents, teachers and communities standing together fighting for what our children need and deserve.