Chicago Teachers Union charter educators take strike vote at CICS/Civitas/Quest
CTU press release - November 02, 2018
CTU charter teachers and paraprofessionals at four CICS/Civitas/Quest schools voted overwhelmingly to strike this afternoon in their battle for more classroom resources for students and better treatment of educators by the bosses.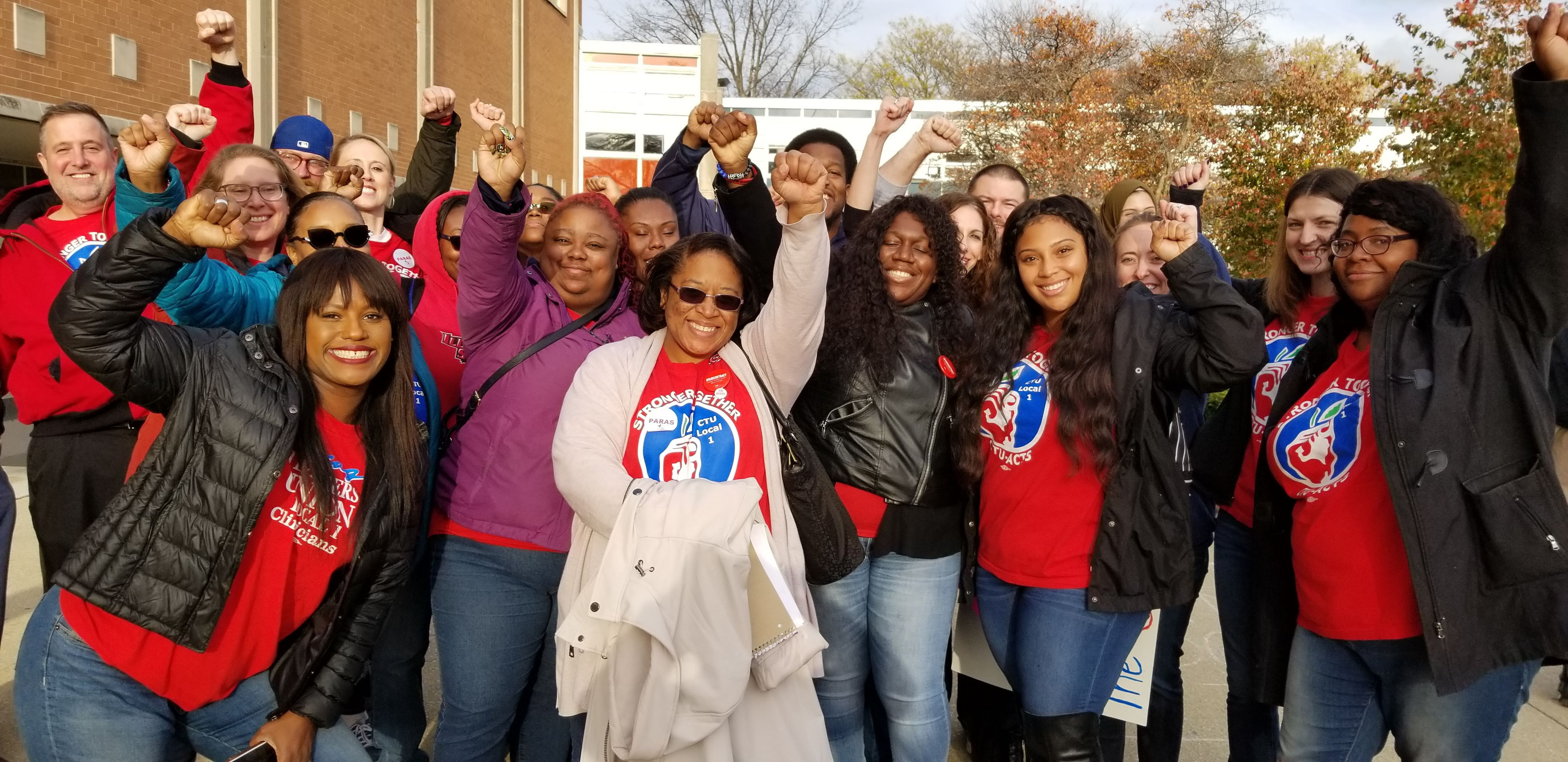 Charter school teachers vote to strike. CTU photoOut of the four-school bargaining unit of roughly 150 union workers, 138 CTU members, more than 90% of the union workforce, voted. 133 CTU members, just over 96% of those who cast ballots, voted to strike. More than 70% of the schools' workforce is female, and over half identify as people of color.
Management has stalled for months at the bargaining table over demands that range from the critical need for more special education teachers to management's scheme to raise class sizes. At the same time, nearly a third of taxpayer dollars never make it to the classroom, instead going to bankroll CEO pay and exorbitant management costs.
Charter managers admitted to teachers today that one school pays over 24% of its public education dollars directly to CICS and its 'manager' Civitas, instead of spending those funds on students in classrooms. CPS takes an additional amount—between 2.3 and 2.8 percent of public education dollars at each school—for its own 'fee'.
"Even after the Illinois' General Assembly passed new educational funding a year ago, there still aren't enough funds going into our schools," said CTU Vice President Stacy Davis Gates.
"That is offensive to our students who need special education and other educational supports, and it is offensive to parents and educators who come out of their own pockets to pay for basic classroom resources that charter operators should be providing. Instead, operators use public education dollars for patronage and six-figure executive salaries. The fact that too much is getting spent on CEO pay and management costs is a slap in the face to all the people who worked desperately to change the state funding formula. Our members are fighting to make these charter operations authentic school communities—and we're demanding that charter operators capitulate."
Teacher Jen Conant, who chairs the educators' council at CICS' three Civitas-managed schools, agreed:
"Right now we have paraprofessionals teaching classes because of severe teacher shortages, and our schools have very high turnover rates as staff leave for less harsh working conditions. We don't want to strike, but we will if that's what it takes to win better educational supports for our students."
The union is demanding full recognition and bargaining rights for roughly 40 Civitas school paraprofessionals who've voted overwhelmingly to join the union; full staffing and smaller class sizes instead of the 14 percent increase in class size that management is demanding; a commitment from CICS to follow all state and federal special education laws, which the charters have rejected; fair compensation—including quality health benefits—to help attract and retain a qualified, experienced, stable workforce; and living wages and dignity for paraprofessionals, who provide vital services to students.
"We're not second class educators, and we don't deserve second class treatment from our bosses," said Chris Baehrend, who heads up the CTU's charter division.
"Our members deserve equal pay for equal work, just as our students deserve real equity and justice in educational funding. Instead, management treats public dollars like a piggy bank for their own profit, robbing our students of millions of dollars a year for trauma supports, special education needs, enrichment programs and the host of other educational resources they need for a well-rounded education. That's got to end."
CTU members at 15 UNO/Acero schools voted overwhelmingly on Tuesday to strike. Both CICS and Acero are among 11 charter operators currently in contract talks with the CTU at more than 30 charter schools.
November 2, morning CTU Press Release
Working conditions are so bad—and teacher shortages are so acute—at charter operator CICS that classes at one school are being taught by paraprofessionals instead of teachers ... for vastly less pay. That is among a range of critical issues that that have pushed CTU educators at CICS/Civitas/Quest schools to take a strike vote today—what would be the first strike of a charter operator in U.S. history.
CTU Vice President Stacy Davis Gates and other officers will join educators from CICS Quest, Northtown, Wrightwood and Ellison campuses as they begin their day with a rally and walk-in at CICS Northtown Academy High School, located at 3900 W. Peterson, where the strike vote will take place. The votes will be tabulated during the day and announced at an afternoon news conference at the school. Friday's schedule:
6:30 a.m.—CTU Vice President Stacy Davis Gates and other officers, joined by CICS teachers and paraprofessionals, will be available for media interviews.
7:30 a.m.—CICS educators will rally outside Northtown HS, stage walk-in, begin taking strike vote, which will take place during an all-staff professional development day.
3 p.m.—Educators begin tabulating votes at school.
3:45 p.m.—Results of vote announced at afternoon rally with educators and CTU officials.
In their struggle for better working conditions for educators and better learning conditions for their students, CICS teachers have been negotiating in good faith for months with charter management, but have seen little movement over key issues, which include:
Full staffing, including more staff for special education and smaller class sizes. CICS instead wants to increase class sizes from 28 to 32 – a 14% increase.
Contract language to require CICS to follow all federal and state special education laws—a demand that CICS management has rejected.
One contract for all four schools, with equal pay for equal work. The demand for fair compensation and benefits includes quality health insurance, to retain and attract the most experienced educators, create stability and consistency that supports student learning, and end the exodus of educators after they start families.
Living wages and dignity for paraprofessionals—including recognizing them as members of the CTU bargaining unit. That heavily Black female workforce has voted overwhelmingly to join the CTU.
Ending teacher turnover/churn and retaining experienced teachers—not losing them to better working conditions in the suburbs or CPS.
Last year, low pay and underfunded classrooms sparked a wave of teacher protests in states across the nation—and now that movement for educational justice is coming home to Chicago's charter industry. Civitas' starting teacher salary is $44,000/year, more than $8,000 less than CPS district schools—and a thousand dollars less than the average teacher salary in West Virginia, where the cost of living is much lower. CICS paraprofessionals make even less.
Nearly one in three public education dollars that the charter operator collects never make it to the classroom. CICS pays huge salaries to its executives—and interconnected 'management' outfits charge astronomical fees that the operator skims from public funds. Educators are demanding that those resources go instead into classrooms and student supports.
Custodians in the CICS central office earn just $12 an hour, while the CEO makes over $230,000 a year, and 13 other executives make over $100,000 per year, with the operator spending $2.5 million each year on executive salaries alone. If CTU educators vote to strike Friday, they will join colleagues at 15 UNO/Acero schools who voted overwhelmingly on Tuesday to strike. Acero and CICS are two of 11 charter operators currently in contract talks with the CTU.