Forrest Claypool gives press conference for lawsuit at Lindblom High, met with student sit-in and challenging questions about CPS finances...
Ed Hershey - February 15, 2017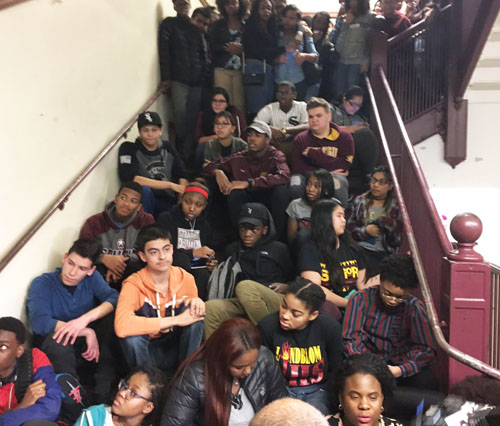 Some of the Lindblom High School students who challenged Forrest Claypool and Janice Jackson at the time of the media event at which Claypool announced that CPS was suing the State of Illinois and Governor Bruce Rauner about Chicago school funding.Chicago Public Schools "Chief Executive Officer" Forrest Claypool, Janice Jackson (the "Chief Education Officer") and Frank Clark (Board of Education President) gave a press conference on Monday, February 13, 2017 to announce the Board of Education's lawsuit against the State of Illinois to demand equal funding for students in the City of Chicago.
Lindblom's library – one of the few school libraries still functioning on the city's South Side – served as the backdrop for the conference. Lindblom parent Wanda Taylor is named as a co-plaintiff on the lawsuit.
Wayne Bevis, Lindblom's principal had presented the Board's latest rounds of cuts –- amounting to $155,000 -- at the previous night's ALSC Meeting. A Lindblom senior, hearing of the press conference, quickly rounded up students from the third floor. Reporters put the number of students sitting in outside the library at about 100 students; they were chanting against Claypool, and calling for money for schools. Lots of press were on hand for the conference, including WBEZ, Fox, the Sun Times and the Chicago Tribune.
Four students, Denise Hernandez, LaNiah Moon, Samuel Owusu and Jahi Parham met with Claypool and Janice Jackson in the counseling suite after the sit-in. These students -- and many of the others –- have experience. Parham and Moon met with Claypool during the walkout that greeted Claypool's visit to Lindblom in December of 2015. Moon and Hernandez had led a student/teacher demonstration at an Englewood Bank of America in November of that year.
The four asked why Claypool and Jackson were not pushing for "progressive taxes." They brought up TIF funds and swap agreements with banks like Bank of America as other possible sources of money.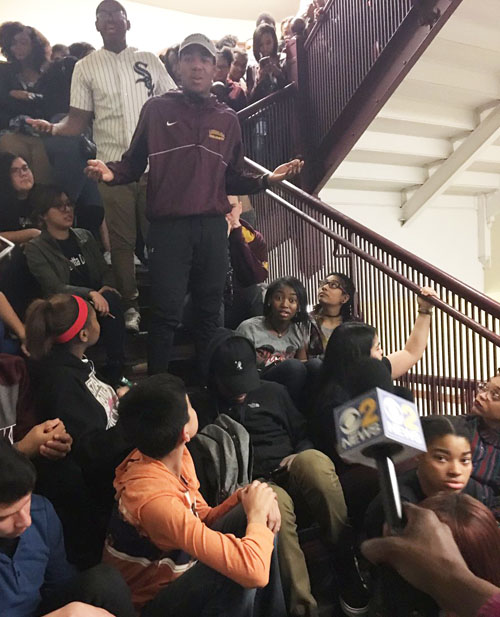 Lindblom students challenged CEO Forrest Claypool and Chief Education Officer Janice Jackson about why the Board of Education did not demand progressive revenue solutions to Chicago's school finance problems.Claypool said he was constrained by the system. They asked about the timing of the lawsuit -– a timing that would seem to factor into the complicated political calculations in Springfield. Claypool said it was a "climax point in Springfield."
Students expressed skepticism that they were "all on the same side" when the heads of CPS don't advocate for moneys in Chicago. When asked, Janice Jackson claimed that taxing big corporations in Chicago would not provide a steady, reliable source of income. She then spoke about not fighting each other.
Students then asked why they weren't informed beforehand that the press conference was to take place. One student noted that Lindblom is "not the only school in Englewood" –- and that the voices of other Englewood High School students, whose circumstances are much less favorable, were not being heard.
Dr. Jackson said they did not want misinformation spreading in the wake of an announcement. They then said time was short and cut off the meeting. In any case, the experience was certainly educational.