CTU WATCH: Leaders of Chicago Teachers Union calling for more 'actions' while failing to explain how they could have agreed to two years of a new contract with no raises... and now because of furloughs a two percent pay cut...
George Schmidt - February 01, 2017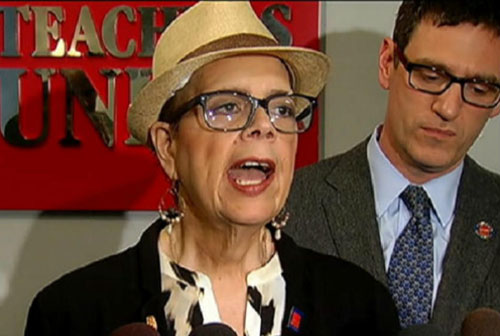 On the eve of the first of four furlough days forced on all Chicago Public Schools workers by the Chicago Board of Education, a growing number of union members are demanding to know why CTU President Karen Lewis and Vice President Jesse Sharkey pushed through the sellout contract now in place hours before a strike was to begin in October 2016. Some now are asking whether the November national election had something to do with the leadership's decision to force through the worst contract in the 50-year history of CTU collective bargaining. The four furlough days amount to a two percent pay cut on top of the pay freeze agreed to in the first two years of the current four year contract. The failure of the CTU leadership to gain additional bargaining rights despite expensive lobbying in Springfield is also an issue that will be escalating in the coming months...The officers of the Chicago Teachers Union are expected to spend a good part of February 1, 2017 rehearsing their lines to present to an increasingly angry group of local school delegates prior to the union's February 1, 2017 House of Delegates meeting. In addition to questions about why the union's officers (the "Table Team" at the recent bargaining for the new contract, which will go until June 30, 2019) pulled a last minute deal before the "Big Bargaining Team" a few hours before a strike deadline, questions are now growing as to whether the union has any response to the attacks on its members beyond the usual protests. The union's leadership has gone all out to build a planned "grade in" at Chicago's City Hall for February 3, 2017 (the day of the first of four "furlough days"), but has so far failed to file a union grievance against the furlough days, leading some union members to suspect that the negotiating record, some of which still remains secret) will reveal that the union's four officers knew that the Board of Education would have the power to implement furlough days and additional de-factor pay cuts when they brought the deal to the "Big Bargaining Team," the House of Delegates, and finally the members.