HIT LIST 2013: New Labor Beat video shows North Side, West Side and South Side unite against closings and the Big Lie about an 'underutilization crisis'
Larry Duncan - March 03, 2013
Three months into the hearings and other activities around what Chicago Public School officials have tried to maintain is an "underutilization crisis," it's more and more clear that Chicago's parents, teaches, community leaders -- and even most aldermen -- are not buying it. The chant could be "North, South, West Sides Unite -- Stop CPS School Closings 2013!" In a new Labor Beat video, the immense protests are highlighted.
View it at: http://www.laborbeat.org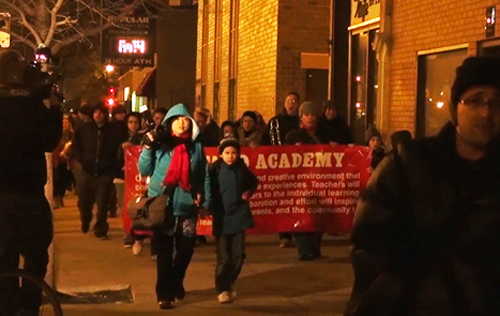 Part of the group of more than 1,000 people who marched from the Logan Square auditorium to the Armitage Baptist Church for the first "Fullerton Network" hearing on the school closings on February 11, 2013. When they arrived at the hearing site, the people were refused entry, then allowed to dribble in ten or fewer at a time while CPS officials inside caucused to figure out how to spin and control the outpouring of democracy. Photo by Labor Beat.Also, archived on YouTube at: http://youtu.be/gSAFj4kyhz4
In Labor Beat's third report on the infamous CPS school closing hearings of 2013, Labor Beat looks at the protests as a city-wide phenomenon. The communities of Chicago's North Side, South Side and West Side are continuing to unite against the Mayor's war on the teachers union and public schools. George Schmidt, Chicago's veteran labor journalist from decades of such battles, provides the commentary. We visit three Network hearings: Feb. 11, 2013 Fullerton Elementary Network; Feb. 20 Skyway Elementary Network; Feb. 27 Garfield Elementary Network.
Schmidt tells us that at "Every single one of these places people are saying, one, we don't want you to close our schools, two, we don't believe a word you're saying, your billion dollar deficit is a lie, your utilization savings are a lie, that's proved by history and by the facts, and then three, we know the schools that are really good right now for our children. We want those schools to stay open and we're not going to let you grab that building and give it to some privatizer." He continues: "the board officials who hosted the hearings gave a report that basically said that there is support for the school closings and the parents and people understand the underutilization crisis and the billion dollar deficit. That's an absolute lie." Scenes from the North, South, and West Side hearings solidly back up Schmidt.
In addition to direct scenes from the hearings, we look at other dimensions to this struggle. A press conference held by Parents 4 Teachers on Feb. 11 demands an inspector general investigation into the way the school closing hearings are being conducted.
George Schmidt also exposes the methods by which Chicago Public Schools choke off public participation in the monthly board meetings, enabling the charter schools and corporate school 'reform' groups to pack the speakers list.
Length - 23:32
Your donation to Labor Beat (Committee for Labor Access) will help rank-and-file tv stay alive. We are regularly schedule on cable-tv in 7 U.S. cities. Please visit the Labor Beat website and make your donation now to keep democratic reporting and analysis alive in Chicago even during the Reign of Rahm.
Produced by Labor Beat. Labor Beat is a CAN TV Community Partner, and member of the Evanston Community Media Center. Labor Beat is a non-profit 501(c)(3) member of IBEW 1220. Views are those of the producer Labor Beat. For info: mail@laborbeat.org, www.laborbeat.org. 312-226-3330. For other Labor Beat videos, visit YouTube and search "Labor Beat". On Chicago CAN TV Channel 19, Thursdays 9:30 pm; Fridays 4:30 pm. Labor Beat has regular cable slots in Chicago, Evanston, Rockford, Urbana, IL; Philadelphia, PA; Princeton, NJ; and Rochester, NY. Visit our Web Site: http://www.laborbeat.org
Labor Beat's YouTube Channel:
http://www.youtube.com/user
/MiloWolf
Labor Beat's facebook page:
http://www.facebook.com/pages/LABOR-BEAT/167503422257
To order this DVD from Labor Beat (Committee for Labor Access), you can purchase it from our Web site.
(Enter title of DVD, "South, West, North Sides Unite" in Description box. Enter $15 in Unit Price box. $20 for Canada, and $25 for other countries outside the U.S.)
