HIT LIST 2013: Begging and demanding, 600 real public school supporters Came to the Skyway Hearing Parking lot over flowed at Park District Country Club on 71st Street... February 20, 2013
David Vance - March 01, 2013
The Skyway "Network" held two hearings in February, the most recent was Feb. 20, 2013. Their first hearing was held in a stuffy crowded church basement 79th and Jeffery (See Feb. 7 report), but the recent hearing at least had more space. On February 20 over 600 packed the spacious Chicago Park District South Shore Country Club (at 71st and South Shore Drive) for the hearing. Every seat was taken.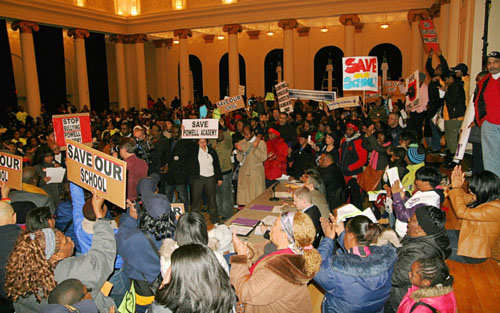 Part of the crowd protesting the school closings at the second "Skyway Network" hearing on February 20, 2013 at the Chicago Park District's country club on South Shore Drive. Substance photo by David Vance.The "Skyway Network" is one of 14 geographically divided sections of the city. Since Rahm Emanuel became mayor in 2011 and appointed a new Board of Education and his first "Chief Executive Officer" for the city's public schools (he's already on his second), the city's public school sub-districts have been divided into "networks." There has been no explanation for the change in terminology, and not one person in the "Skyway Network" had ever thought of themselves as living in a community called "Skyway" (we live in South Shore, South Chicago, the East Side, and smaller units of those longstanding Chicago communities).
In January 2013, CPS had put 330 (of the more than 600 public schools) on what community activists are calling a "Hit List" to be closed. According to CPS officials, the closings are because the schools are "underutilized."
In the second round of hearings, CPS had reduced the number to 129; still a massive number, by removing all charter schools, among others, from the massive list. The announcement of the list of 129 schools was made by Barbara Byrd Bennett on February 13. So by the time of the February 20 hearing, there were still too many schools on the Hit List to be explained by CPS officials.
On February 20th, the ten remaining "Skyway Network" schools on the hit list arrived with their school colors and mascots. At times it looked like the "Hunger Games" as each school, begged and demanded to be removed from the closing list. Remaining open would benefit their students and the neighborhood, each explained. Everyone wanted to keep their children safe and in walking distance to school.
As usual, the structure of the meeting was tightly controlled by CPS officials. (Also as usual, not one of the seven members of the Chicago Board of Education was present, nor was the person who had proclaimed the Hit List and the need for it, Rahm Emanuel's second CPS CEO, Barbara Byrd Bennett).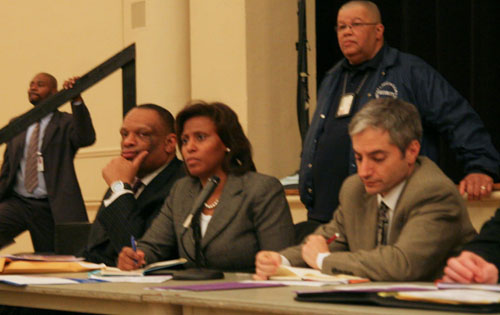 Three of the Board of Education bureaucrats who sit at the head table during hearings. Above, from the "Skyway Network" hearing were "Family & Community Engagement" officer, John Scott; Skyway Network "Chief of Schools", Latanya McDade; and the current CPS "Chief Transformation Officer" Todd Babbitz. Since the hearings began in front of the "Commission" last year, not one member of the Board of Education, nor Barbara Byrd Bennett, has attended one hearing. But many parents and others address those mid-level bureaucrats in front of them as if they were the Board of Education members who will eventually vote on the final Hit List for 2013. Substance photo by David Vance.Each school as they were called up had six minutes in total to give their best reasons for not being closed. Each school questioned why they were on the closing list. Many speakers talked about how CPS had failed. Not one CPS official spoke in response. At the table L to R was Family & Community Engagement, John Scott, Skyway Network Chief of Schools, Latanya McDade, the current CPS "Chief Transformation Officer" Todd Babbitz, and Adam Anderson, who arrived at CPS a little over a year ago from corporate America (which also provided Chicago's schools with Babbitz last summer).
Two "Skyway" aldermen came to speak up. From the 8th Ward was Michelle A. Harris, who strongly supported Arthur Ashe Elementary school. From the 6th Ward was Roderick Sawyer, who came to warn CPS that the process was flawed. He stated that CPS was "pitting one against the other." "You are pitting good schools against good schools."
John Pope from the 10th Ward was a no show. New Sullivan Elementary who brought 150 students, staff and community supporters could have used his words of support.
While many speakers talked about how CPS had failed. No one gave a real good statement to the audience about why CPS was closing schools and using "utilization" as a cover. No one demanded where is the 10 year plan that CPS by law is supposed to show the public. One would think before a massive re-organization plan of public schools, the public has a right to see the plan and have input.
If there is a secret plan, what is it? Parents and school activists who see the big picture are all saying CPS has a real estate plan. Although CPS CEO Barbara Byrd Bennett denies they are closing schools and then reopening them with private operators, no one is convinced she is telling the truth.
What are the rumors? The possible closing of Powell and New Sullivan look very suspicious. Both schools are new and on the lakefront. Why would CPS build a new school, Powell then close it? Why would they also close New Sullivan with over 500 students? Both schools have strong parent and neighborhood support and were probably half of the entire audience at the hearing Feb. 20.
New Sullivan school activists will say they are in the cross hair of a real estate plan. The Bush neighborhood around New Sullivan is very poor. A new condo development, by McCaffery called Lakeside will include hundreds of condos in a gated community. (Almost 100 million in TIF money is being used.) New Sullivan is on this dividing line.
While there are many abandoned homes in the Bush neighborhood, the school gives everyone hope. Their new school is the jewel of the neighborhood. But, keeping New Sullivan open is not the CPS plan.
Could this be the unwritten CPS plan? Close the school, cause hardship on the remaining families, and the result will be to force families to move. Perhaps in five years when condos are being built, New Sullivan will be reopened; they will have a new school for their children. The "riff-raff" poor kids from Bush will be gone.
As for Powell; it is too nice, opened two ago. Close it now and in a few years flip it into a charter school. At New Powell, the new private operator can charge money. Parents will have a choice, the underfunded old CPS school Bradwell Ele. or the new school on the lakefront with better facilities. Powell is connected to Rainbow Beach Park.
In the Skyway Network there are other schools that look modern with a steel framed structure. The other good looking schools are; Arthur Ashe, Paul Revere and Parkside. The parents, teachers and public school supporters need to know the truth about school closings. We need our aldermen to step up and march with all the schools. We need to demand the real truth before any schools are closed.
Here are the ten Skyway schools in order as they were called to their "Hunger Game" six minute speaking time: Ash, Buckingham, Madison, New Sullivan, O'Keefe, Parkside, Powell, Revere, Warren, and Yale.
Lastly, there was a small amount of time for comments from school supporters.
Mrs. Burrell from Bouchet Ele.challenged the audience, "Let's take a stand and not allow CPS to close any more of our schools." She also stated, "We need to put an end to education apartheid in Chicago Public Schools." She ended by encouraging everyone to call "Barbara Byrd Bennett at 773- 593- 1500."
Cee Powell, the Greater Chatham Alliance Education Committee Chairperson, stated "We are not underutilized, we are underfunded." She spoke about student safety, "The reality is unless you have a contingency plan that guarantees safety to and from the school where children are sent, closing is not an option in my opinion."
Frederick Collins from the NAACP Westside Branch made some key remarks from the open mic and afterward he gave an interview with his thoughts. He explained that "privatization is not the way to go. For over 150 years minorities had to deal with privatization. It was called, separate but equal, and it didn't work."
"Public education teaches harmonious values; get along, work as a team, learn to accept others because you are in the same classroom." "When you privatize something [education] it becomes exclusive . . . and we don't want to live in a world that is exclusive to color, race, religion or class."
Frederick Collins also made another point that "Rahm Emanuel is failing our communities and failing our children." And, he predicted that parents will be marching in front of City Hall.