'Save our schools! Save our schools!'... Video of Pilsen - Little Village hearing protests against school closings shows more of outrage against CPS plans
Al Ramirez - February 10, 2013
In addition to the detailed report provided to Substance readers by Sarah Chambers following the hearing on the proposed closings for the "Pilsen - Little Village" Network, we also have now a seven-minute video from the hearing which can add to the understanding of the public about how the hearing took place (at least in its general session). The URL, for those who can't get the link, is: http://www.youtube.com/watch?v=1uY5FwGL8Hk&list=UUiMLrWBQOQTZ0GRm0JDmU9Q&index=1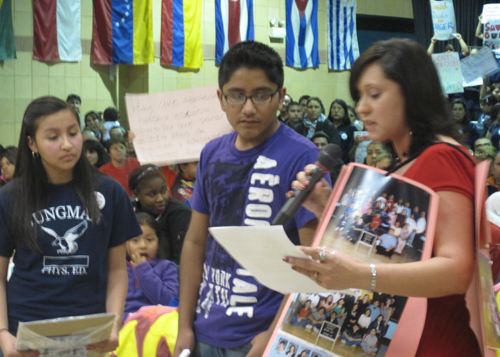 Jungman students were among the more than 1,000 people who turned out against school closings at the hearing for the "Pilsen Little Village" network. Substance photo by Sarah Chambers.The more than 1,000 parents, students, teachers and community people who showed up for the hearing were united, chanting "Save our schools! Save our schools!" and cheering when speaker after speaker demanded that CPS end the proliferation of charter schools.
The video shows what CPS officials are keeping out of the public record in every "Network" across Chicago as the hearings continue and the date approaches for the release of the first "Hit List" being prepared by the current CPS CEO, Barbara Byrd Bennett. At each of the hearings, CPS officials are trying to herd the public away from general testimony against the closings, which are being opposed in every part of the city, and into small "focus group" sessions, which are controlled by hired outside consultants and paid for by the Walton Family Foundation (the Wal-Mart fortune). Substance has also learned that CPS is not keeping any transcript or record of the hearings, so that when the members of the Board of Education meet at the end of February to affirm the Hit List, they will not know anything about what has been said by thousands of people during the hearings.
As of the end of the second week of February, not one member of the Board of Education has attended a hearing. Barbara Byrd Bennett, the latest CEO, has also not been present.