West Side canvassing with Blocks Together challenges Barbara Byrd Bennett's claim that Ryerson Elementary is 'underutilized'
Jean Schwab - January 20, 2013
For 19 parents, teachers and community members, Saturday, January 19, 2013 was just the beginning. They were meeting with Cecile Carroll of Blocks Together and CTU Organizer Norine Gutekanst at Blocks Together, 3455 West North Ave. in the West Humbolt Park neighborhood to save their schools.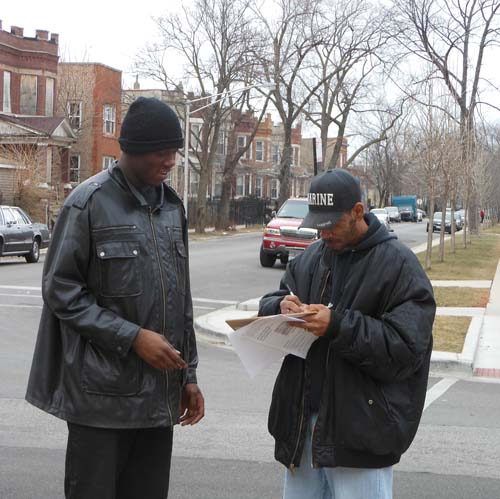 Canvassing against school closings with CTU and Blocks Together. Substance photo by Jean Schwab.Before the group went into the community, they held a small rally. The first speaker was Jerry Skinner, a teacher at Kelvyn High School, who stated that he was there to save the elementary schools that provide students for Kelvyn High School and to "fight for resources that the elementary feeder schools are not receiving from Chicago Public Schools."
Skinner said that the schools need resources and full backing from the Chicago Public Schools central administration," Skinner stated,"The more affluent schools are able to get resources but the schools in poorer neighborhoods are not able to get the needed resources." He used Kelvyn Park as an example of lacking in basic resources such as chalk, toilet paper and text books. Often copies of the first few chapters of text books are photocopied, instead of giving students books. Skinner wants more equitable distribution of resources throughout the city.
Cecile Carroll of Blocks Together stated that one high school (Orr) and 3 elementary schools have been closed in the neighborhood. Carroll explained the flaws of the underutilized system using Ryerson Elementary School as an example. Ryerson was a "Level 1" school, she said, using the CPS classifications, but dropped to "Level 2" last year because it was destabilized when the principal was removed.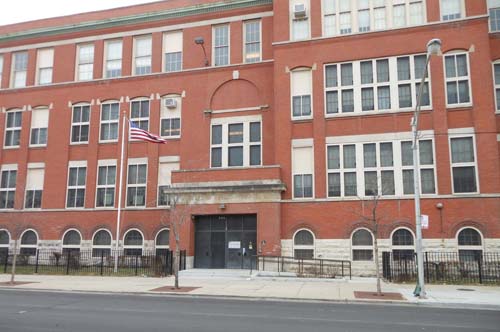 Barbara Byrd Bennett claims that Ryerson Elementary School (above) is "underutilized" and part of what she calls the "underutilization crisis," but parents, teachers, and community leaders at the West Side school note that every classroom and room in the building is being used for classes or other necessary activities. Substance photo by Jean Schwab.Carroll also challenged the claims by CPS CEO Barbara Byrd Bennett that there is a "underutilization crisis", again using the Ryerson example. CPS considers a classroom fully utilized when it has 30 students, she said, but Ryerson has set aside rooms for different programs and three special education classes that have 15 students. Ryerson has two classrooms used as health clinics and three classrooms for recess. Ryerson built its own library and computer lab. Ryerson has an art and music classroom. In all, Ryerson has seven classrooms for special programs, but Barbara Byrd Bennett is portraying the school as "underutilized." There is not one empty classroom, but the school is penalized for every room that does not have 30 students.
Carroll also noted how this year's extension of the deadline for publishing the Hit List has deprived families of the right to try and move their children into selective enrollment CPS schools. The deadline for signing up for selective schools was December 14, 2012, she noted, but the new list of school closing will not be out until March 31, 2013. Parents whose schools got closed will have missed the deadline to apply to selective schools, virtually forcing those who are unhappy to try and get their children into charter schools whether that would be their choice or not.
The new rules for closing and turnaround do not rule out closing level 2 schools which are still good schools.
According to CTU Organizing Coordinator Norine Gutekanst, none of the principals have told CTU that their utilization rate is accurately reported by the Chicago Public Schools.
Torrence Shorter, a Ryerson parent, talked about the excellent programs at Ryerson and Tenisha James, the new principal. He talked about the food pantry that once a month gives food to members of the community and the health clinic in the school. He says that attendance at the school is up to 95% and there have been days when the school has 100% attendance. To Shorter, Ryerson means meals, love, an active parent board that gives love and guidance to students, and a work- out room and video room for the whole community. The kids go to work at school and love and respect their teachers. Ryerson not only gets students ready for high school but college also. The school is currently officially at "58% of capacity" and rising.
A former teacher at Clemente High School , Tom Tulley, talked about its challenges. He said how CPS calculates attendance is that if a student misses just one of his seven classes it is recorded as only a half day of attendance, and if she misses two of the classes it is counted as a zero attendance (or full day absence) even though the student attended five of seven classes (or 70% of the classes). Tulley also said that, if a student is in the hospital or in juvenile detention for a period of time, the seat is held open for that student and during that time, the student is counted absent.
It was also noted that CPS only looks at the number of students on the first days of school and does not look at the numbers in December and January when students transfer in from Charter schools. The canvassers were successful. They came back to Blocks Together with stories of people eager to sign their names to help. In fact ninety-four people signed. This is just the beginning, everyone agreed.
