Job Requirements for Federal Policymakers in Education... Real educators need not apply
Stephen Krashen - January 12, 2013
In a letter published in the Oklahoma Observer (January 9), Iris Lochner asked a very good question. We require candidates for State Attorney General to be licensed attorneys, so why don't we require that candidates for State Superintendent of Schools be certified teachers?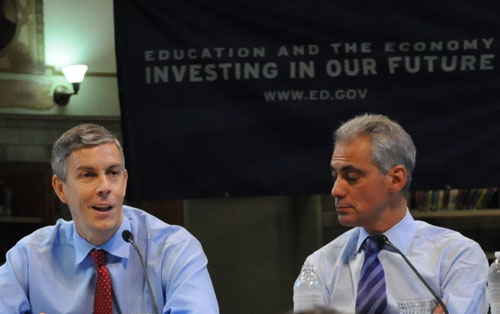 By September 9, 2011, when former Harvard basketball player Arne Duncan (above left) arrived at Chicago's Carl Schurz High School for a school opening event to promote the "Longer School Day" program of Chicago Mayor Rahm Emanuel (above right), Duncan had been U.S. Secretary of Education for two-and-a-half years. Duncan's time in Chicago as "Chief Executive Officer" of Chicago Public Schools was spent dismantling the city's real public schools and replacing them with a privatized system of charter and "contract" schools. Duncan also promoted "turnaround" (a bastardized corporate branded form of "reconstitution" to eliminate veteran teachers -- most of them African American -- from schools with low test scores). After he took office in January 2009 as U.S. Secretary of Education, Duncan expanded the Chicago plan to the nation as "Race To The Top." One of the more ludicrous enhancements to Duncan's flimsy curriculum vitae is his claim that he learned about "education" by hanging around with his mother, who had established an after-school tutoring program at a public elementary school near the Duncan home in Chicago's tony Hyde Park community. Substance photo by George N. Schmidt.At the federal level, there appears to be a requirement that those responsible for policy in education NOT have a background in teaching. The current criteria seem to be something like this:
(1) background in public policy, political science, law, or a related field.
(2) no teaching experience.
(3) no knowledge of or interest in educational theory or research.
(4) Preferable but not required: Educated in elite private schools. Stephen Krashen