'Richie Rich' Billionaire Bruce Rauner has unlimited access to Rich Millionaire Rahm, while citizens are arrested at mayor's office... Video shows Chicago Teachers Union challenging CPS lies about 'underutilization' prior to the December 19 Board meeting
Larry Duncan - January 01, 2013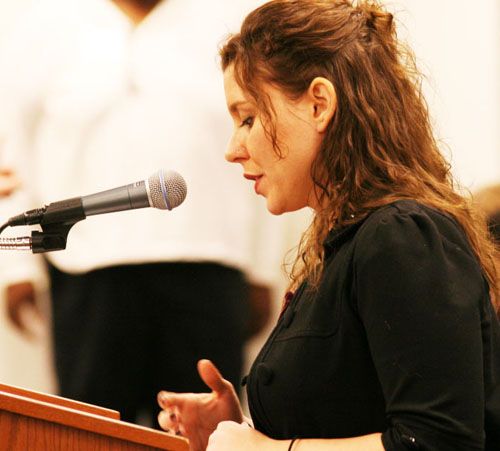 Chicago Teachers Union Financial Secretary Kristine Mayle was finally called on to speak halfway through the public participation at the December 19, 2012. meeting of the Chicago Board of Education. CPS officials have been deliberately changing the rules for public participation at the Board's meeting to exclude as many people as possible, and are no longer following a policy which gave the union's representative the first spot in the speakers' list. Ms. Mayle was about to hold a press conference outside the Board chambers when Board President David Vitale petulantly gave the nod so that she could speak. Substance photo by David Vance.A new Labor Beat video shows community leaders and the Chicago Teachers Union correcting another round of factual errors from Chicago Public Schools officials. Just before the December 1, 2012 meeting of the Chicago Board of Education, a peoples press conference was held in the lobby of the CPS downtown headquarters. Once again the public was reminded of all the reasons there is a community/labor push now to 1) halt school closings schemes; and 2) have an elected school board, not an appointed one. The URL for the six-minute video is available at: http://www.laborbeat.org/
The themes teachers' union financial secretary Kristine Mayle kept in the forefront were that CPS is not being forthright with the public, that it is taking nonsensical positions, and is engaging in practices that have a funny odor. This press conference took place right after the Chicago Tribune had revealed that CPS had secret plans for school closings in place as early as September, even though Mayor Emanuel denied it then and has belittled the reports since.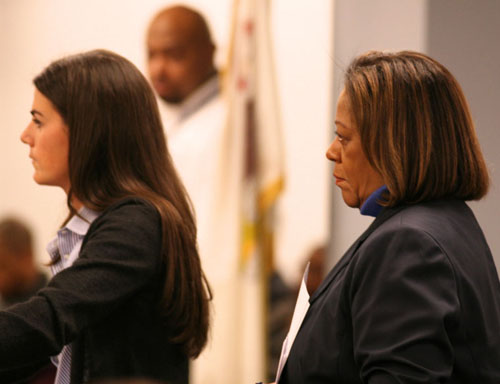 The two highly paid Chicago Public Schools officials who presented the charter schools report to the December 19 Board meeting were both elsewhere one year ago. Carly Bolger (left), who narrated the latest privatization Power Point, was with the New Jersey Department of Education, promoting charter schools there, in December 2011. Barbara Byrd Bennett in December 2011 was helping destroy what remains of Detroit's public schools. Substance photo by David Vance.Tara Stamps, a Chicago teacher, also pointed out that, even though Mayor Emanuel has constantly refused to meet with Chicago citizens to discuss schools policies, "rich fat cats like Bruce 'Richie-Rich' Rauner [a major supporter of the "Noble Network of Charter Schools" and presently head of the "Civic Committee of the Commercial Club"] who lives in Winnetka has had unfettered access to the Mayor."
Chicago School Board Misrepresents Facts. View it at: http://www.laborbeat.org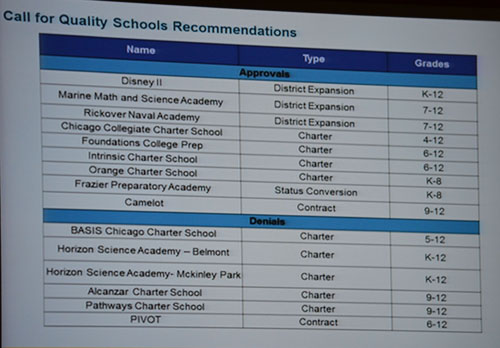 The December 19 CPS Power Point showing another expansion of Chicago charter schools even as the school board claims it has tens of thousands of "underutilized seats" and faces a need to close more than 100 real public schools. Substance photo by George N. Schmidt.Labor Beat wishes our viewers a Happy New Year and, with this new video, gives a heads-up on what 2013 is going to be like in Chicago.
Length - 6:10.