Speakers note chairman Frank Clark has conflict of interest because of his charter school support... Marquette Park 'Commisson' hearing on December 7, 2012 shows widespread opposition to CPS 'Commission' and school closing plans
Joe Linehan - December 10, 2012
Despite a lack of notification and an inconvenient time on Friday night (December 7, 2012), over 100 teachers, parents, students, and community members crowded into the Marquette Park Field House for the second public meeting of the Commission on School Utilization. Obviously, the crowd was more than CPS had expected as there were roughly 80 seats set out to accommodate the crowd.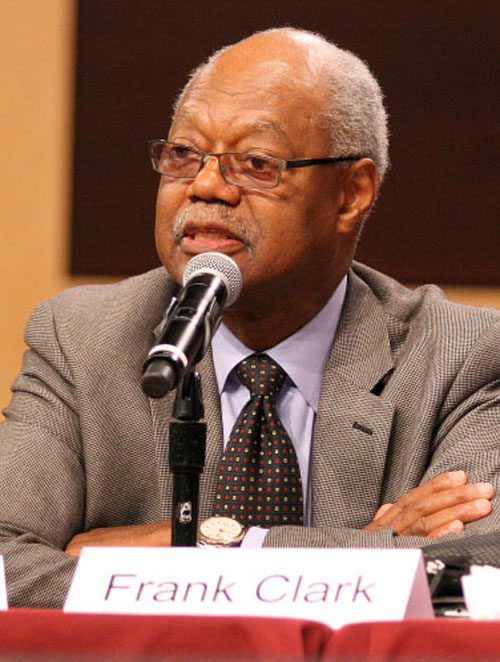 Above (at the December 3 hearing at the House of Hope on school closings) Frank Clark, former chairman of Commonwealth Edison, tries to claim that the closings he will recommend should be divorced from the opening of charter schools. This is despite the fact that the charter schools spread across Chicago's inner city have created most of the "underutilization" of real public schools over the past ten years. Clark himself has been a major promoter of the charter schools attack on the real public schools of Chicago, and because of his financing one of the "campuses" of the Noble Street charter schools is named after him. Substance photo at the House of Hope December 3 by David Vance.The meeting began 12 minutes late with former ComEd CEO Frank Clark pleading for understanding and stating that mistakes may have been made, but they are past and communication may have been poor, but this is a new more open policy and he will do everything he can to prove that things will be more transparent. Clark is chairing the commission, which was appointed by schools Chief Executive Officer Barbara Byrd-Bennett.
One by one, parents, teachers, and community members approached the lone microphone in the center of the field house to state their case, but it wasn't long before community activist Ronald Jackson had his microphone cut after going over his 3 allotted minutes to call the Emanuel administration a weapon of mass destruction and decry CPS for putting "property before a kid's life."
Sherry Parker, who taught at Guggenheim Elementary School before it was closed, complained that many of the very same students who were shut out of Guggenheim this year were now attending Bond Elementary School — and that school is now apparently squarely in CPS's crosshairs.
Chicago teacher Mike Doyle complained that CPS "treats students like cattle."
Things began to get testy as several speakers complained about CPS closing schools because there were empty seats, while at the same time opening new charter schools. However, Frank Clark said he saw no conflict and didn't care whether a school was a neighborhood or charter school as long as it was helping students.
CTU's Michael Brunson pointed out the insanity of closing the demographics department at CPS before this kind of undertaking. He joined several other speakers who criticized CPS for claiming that it was down 140,000 students between 2000 and 2012 when CPS's own public reports showed that the number was around 30,000. Frank Clark told the audience, we know that we've got 100,000 empty seats, but we've got to prove it to you.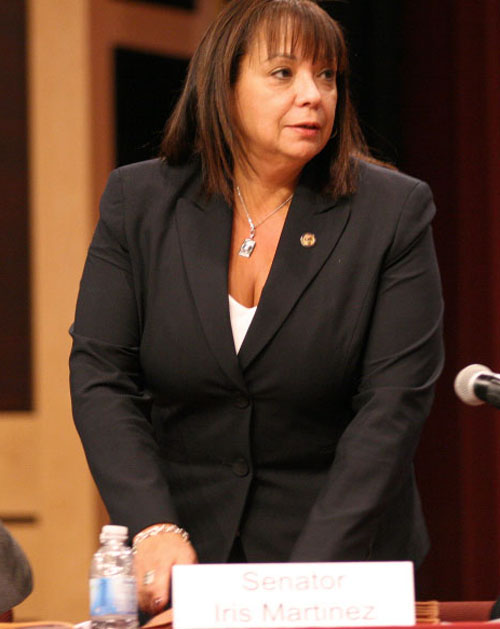 Critics have been speculating as to how much Senator Iris Martinez was paid to undermine the Chicago Facilities legislation (SB 630) which she got through the Illinois Senate two years ago. The main reason CPS was able to violate the law this year and get the deadlines for facilities work extended to March 31 (for the closings list, instead of December 1) and July 1 (for the ten-year facilities master plan) was Martinez's betrayal of her constituents on behalf of the charter school supporters and Mayor Rahm Emanuel. Martinez, above at the December 3 hearing, did not even inform the members of the "Commission" (on which she serves) that there had been a "Facilities Task Force" that had been examining these questions for two years. Substance photo by David Vance.
When CTU organizer Marty Ritter approached the microphone, Frank Clark felt the need to announce that Marty was a great talker and that if he was on stage, they'd have him as their spokesperson. Marty responded that he'd never be on stage because he'd never want to be part of closing schools.
When Marty asked if the commission met on its own and if there were transcripts, Clark refused to answer before finally saying that they weren't bound by the open meetings act and then assuring the audience that all meetings had been recorded and that the recordings would be available. He also announced that the public was welcome at any commission meetings.
15th ward committeeman Raymond Lopez spoke about how schools in his neighborhood are overcrowded. He said his families won't be able to understand the information that CPS is presenting and asked that it be presented in an easier to understand format.
Kelly High School Parent and LSC chair Anita Caballero was in tears as she declared, "I keep hearing about more charters. How about us not closing schools? How about keeping neighborhood schools open and giving them the resources they need, like counselors, nurses, better teachers, after-school programs, reading and math help? You're sitting up there saying you care about our children, yet you are taking away everything from them. How can you not expect empty seats when you're giving away resources that they need? Give them what they need. Let them know they can be somebody...Give them what they need."
It was clear that Frank Clark felt on the defensive as he told the crowd, "I personally do not know why the majority of people here are against charter schools, but at the end of the day, I assure you there's no conspiracy here for charter schools." One of the "campuses" of the Noble Street Charter Schools, the "Rowe Clark" campus, is named after Frank Clark.
Jackson Potter, Chicago Teachers Union staff coordinator, shook the entire crowd when he accused Clark of having a conflict of interest. Potter noted that Clark was not only on the board of a charter school, but that a cahrter school was named after him.
An amusing moment had occurred when Commission member Terry Hilliard asked what the Facilities Task Force was. Senator Iris Martinez, also a member of the Commission, was forced to explain its function to her colleague on the Commission. Senator Martinez was responsible for the passage of the legislation (SB 630) that established the Task Force to regularly investigate the facilities situation at CPS. Under the legislation, CPS was supposed to publish its list of schools to be closed by December 1, and publish a draft ten-year facilities plan by January 1. Legislation that had just passed in Springfield extended the deadline for this year's list until March 31 and allowed Byrd Bennett's "Commission" to begin functioning.
Clark responded, "Sharing bad intent with people who might not share your view is your right."
Jackson questions why students who need the most services and support are given the least, while a small class size is considered perfectly fine for wealthier students.
