Education Summit drew more than 500 teachers, students and community activists
Jean Schwab - December 10, 2012
More than 500 people attended the fourth annual "education summit" co-sponsored by the Chicago Teachers Union and a large number of community groups. The Grassroots Education Movement Summit was held at Marshall High School on Chicago's West Side on Saturday, December 8, 2012, and lasted from 10:00 a.m. until 3:00 p.m.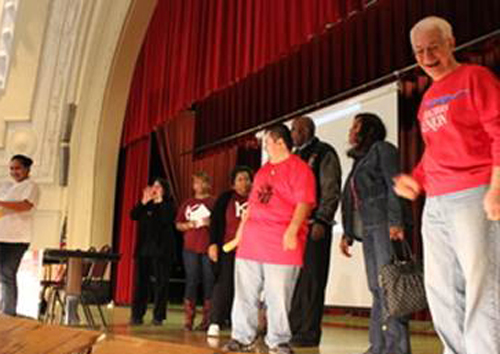 Teachers and community activists on stage at Marshall High School during the Education Summit on December 8, 2012.There was excitement in the air as they met to solve problems and discuss the closing of public schools. Emphasis was on these are "our schools" and "our children" and we must do our best to defend them and protect them. Not only by demonstrating, but by being a good neighbor to each other and helping out with the community, children and in our schools.
The first speaker, CTU Vice President, Jesse Sharkey asked "How have charter schools improved this neighborhood, (around Marshall High School) businesses and restaurants? Chicago Public Schools do not share our vision. Their vision is not to value public education but to replace it. The school closing program has a long history, a decade old. CPS has labeled neighborhood schools "a dumping ground or a culture of failure."
Schools need to be defended not shaken up, he went on. The people chosen by CPS to lead our schools are not defenders of our schools, most of them are not even qualified to substitute in my classroom. Sharkey stated that we must make our struggle and vision loud and clear.
Karen Canales and Hector Rivera, students from Social Justice High School followed Sharkey. They told the audience how the CPS took away an elected principal and replaced her with a principal with no experience in the public schools. This principal took away three AP classes and fired two teachers, one a veteran. On the third day of school the students held a sit-in. Today the removed teachers, principal, and programs have been reinstated.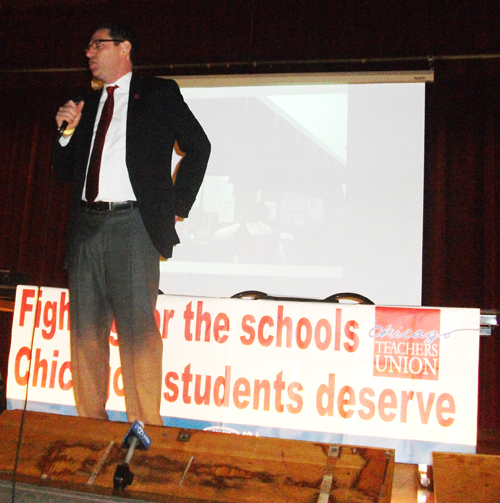 Chicago Teachers Union Vice President Jesse Sharky speaking at the Summit on December 8, 2012. Substance photo by Jean Schwab.Both speakers emphasized that this is proof of the power of community.
The next speaker was Jitu Brown, Kenwood Oakwood Community Organization, who gave a summary of the struggle since KOCO began challenging closings, transformations, and turnarounds in 1998. The schools in Bronzewill targeted by CPS were African American. Community groups started going to the Board of Education meetings to request that closings be stopped. They lost that battle but now people are sleeping overnight in front of the Board of Education, taken over a Board of Education meeting, occupying schools, the first teachers strike and being arrested at City Hall when parents and teachers stated, "I am not leaving! You have to take me out of here."
"We are ordinary people who do extraordinary things. Whereever you live; we should be in control of our own school," Brown continued. "This is not a game. This is not a joke; Chicago Public Schools are not to be trusted."
Ames Middle School parent mentors Deleia Banella, Alivette Alicea, Ana Cepeda, Emma Segura, Gayle Storm and Letticia Barrcra spoke next.
Chicago Public Schools plans to turn Ames Middle School into a military school. The parent mentors and community are opposed to the plan. According to Jitu Brown, the Logan Square School is ahead in planning and running this school. Ames Middle School has many partners in the community and has counseling, after- school programs and 120 parent mentors. As the mentors stated, we don't want a military school. We can't allow our kids to be kicked out because they are special education and bilingual students.
Another parent said her daughter wants to know why they want to take their school away. She begged her mother,"Don't take our school away." The mentors also stated that Parents can discipline their own kids. Discipline does not come from a military school, it comes from home."
OTHER MEDIA REPORTS ALSO COVERED THE STORY. WLS IS FIRST:
Community rallies against school closures. Saturday, December 08, 2012 BY Evelyn Holmes (WLS TV)
December 8, 2012 (CHICAGO) (WLS) -- Two opposing events regarding Chicago Public Schools took place on Saturday. One promoted charter school options in the city, while the other involved instructing teachers about ways to fight back again charter school expansion.
It's a rallying cry as a community comes together to fight against school closures and charter school expansion.
"We are invested in our children, we want to see them succeed," said elementary teacher Monique Redeaux.
The Education Summit on School Closings, hosted by the Chicago Teachers Union comes just after school officials announced during a Friday meeting to decide what schools will close next year the addition of six new charter and contract schools to the nine it's already proposing to open in September 2013.
"We see that pattern solidifying and becoming more of a threat," said CTU Vice President Jesse Sharkey.
So, parents and the concerned packed into classrooms at Marshall High School on the city's West Side in hopes of bringing change.
"When schools close, children lose out," said parent Saria Lofton.
Still, some, like frustrated Doretha Coleman remain frustrated with the city's traditional public education system, sought out options at this year's New School Expo.
"Class size is a real issue for me and students getting what they need, not just a cookie cutter education," Coleman said.
High school junior Thomas Smith is looking to be challenged.
"It's too easy," he said. "I want a school that will give me a challenge."
"Parents are frustrated with CPS what's going on at this time so they are coming to charter schools," said Shatondrig Wade of Chicago International Charter Schools.
The sixth annual school fair featured more than 130 public schools including many charters.
"We do have 19,000 students on the waiting list for charter schools," said New Schools for Chicago CEO Phyllis Lockett. "There's over 32,000 on the list for selective enrollment schools so the demand is out there and parents are voting with their feet."
But not everyone here is convinced.
"Some of the charter schools are not performing as well as the neighborhood schools," said community activist Larry Ligas.
But for the Bahenas, it's about finding the best school for their daughter Sophia's education.
"What's the best school in Chicago right now," Gabriela Bahena said.
Many parents and community groups say they will do what they can to make sure neighborhood schools stay open.
The Chicago Board of Education takes up the issue of new charter schools for approval at its December 19 meeting.
DNA FOLLOWS:
EAST GARFIELD PARK — Education advocates blasted Chicago Public Schools Saturday, saying the department is targeting "apartheid schools" as it mulls closing underutilized buildings, many of which are in African-American areas.
About 200 parents, community activists, union members and students met at Marshall High School on the city's West Side for for an "education summit" hosted by the Chicago Teachers Union. The day included workshops aimed at discussing the impending school closures and other issues facing the city's public school system.
The event kicked off with speeches in the school's auditorium. Jitu Brown, a member of the Kenwood Oakland Community Organization, told the crowd that school closures are "not a game."
"This is not a joke. CPS cannot be trusted," Brown said. "My question to all of you is have you had enough? We want a five-year moratorium on school closings now."
CTU Vice President Jesse Sharkey told the crowd they had to fight for their vision of the Chicago public school system.
"Today is about making that vision a reality," Sharkey said.
CTU members and other community organizations led a number of workshops throughout the day. Union members made the case that underutilized schools were due to the proliferation of charter schools. They also said CPS primarily targets "apartheid schools" — or schools where the vast majority of students are African-American — when deciding which schools to close. Another big topic of conversation was how to continue pushing for an elected school board, something some city residents had a chance to vote on this past November.
Catherine Jones said she came had two sons go through the public school system, and she said she knows first-hand how important it is for parents to get the right information.
"People need to understand exactly what these school closings are and need to understand that they have the power and can speak up," Jones said.
CPS CEO Barbara Bennett-Byrd has called for a five-year moratorium on school closures, beginning next fall. That means some schools could still be closed. Bennett-Byrd has cited the high number of "underutilized" schools — most of which are on the South and West sides, according to a CPS report — as a reason for considering closures.
"When we consolidate underutilized or half-empty schools, we will be better able to invest those resources across the district for every student," Byrd-Bennett said last month.
Students also attended the summit to learn about the issues and talk about how to make their own schools better. While Theodore Roosevelt High School sophomore Dion Bell said he earned community service hours by attending the summit, he said he was concerned about the possibility of his school, located on the Northwest Side, closing.
"Actually yeah, because I might have to transfer to another school outside my district to somewhere dangerous," Bell said.
Also on DNAinfo.com...
Read more: http://www.dnainfo.com/chicago/20121208/chicago-citywide/teachers-union-decries-possible-school-closures-at-education-summit#ixzz2EaK3WcQD