Why You Shouldn't Shop at Walmart Today [Black Friday]
Robert Reich - November 24, 2012
[Editor's Note: The following is reprinted from Robert Reich's blog and does, in our opinion, a good job at outlining the overall economic problems created by the Wal Martization of the USA. We would just add that nobody who cares about workers' rights should shop at Wal Mart, or Sam's Club -- EVER. We have been disappointed over the years to see that many of our union brothers and sisters -- and our brothers and sisters in academe -- still don't get this important part of our class reality. Until ever Wal Mart is organized and every Wal Mart worker is in a union, nobody should be spending a dime at any Wal Mart or Sam's Club. By November 26, some narratives about the day stated that it was a major strike against Walmart (see the bottom article). More is still coming in.].
Why to boycott Walmart on Black Friday
By Robert Reich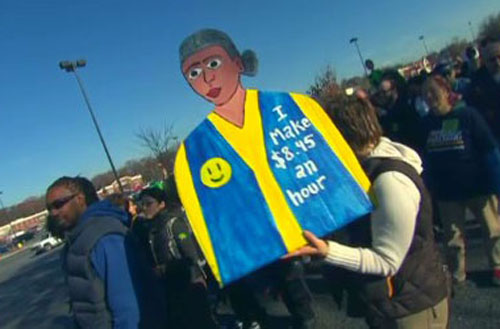 One of the thousands of Walmert protesters on November 24, 2012.A half century ago America's largest private-sector employer was General Motors, whose full-time workers earned an average hourly wage of around $50, in today's dollars, including health and pension benefits.
Today, America's largest employer is Walmart, whose average employee earns $8.81 an hour. A third of Walmart's employees work less than 28 hours per week and don't qualify for benefits.
There are many reasons for the difference — including globalization and technological changes that have shrunk employment in American manufacturing while enlarging it in sectors involving personal services, such as retail.
But one reason, closely related to this seismic shift, is the decline of labor unions in the United States. In the 1950s, over a third of private-sector workers belonged to a union. Today fewer than 7 percent do. As a result, the typical American worker no longer has the bargaining clout to get a sizeable share of corporate profits.
At the peak of its power and influence in the 1950s, the United Auto Workers could claim a significant portion of GM's earnings for its members.
Walmart's employees, by contrast, have no union to represent them. So they've had no means of getting much of the corporation's earnings.
Walmart earned $16 billion last year (it just reported a 9 percent increase in earnings in the third quarter of 2012, to $3.6 billion), much of which went to Walmart's shareholders - including the family of its founder, Sam Walton. The wealth of the Walton family now exceeds the wealth of the bottom 40 percent of American families combined, according to an analysis by the Economic Policy Institute.
Is this about to change? Despite decades of failed unionization attempts, Walmart workers are planning to strike or conduct some other form of protest outside at least 1,000 locations across the United States this Friday - so-called "Black Friday," the biggest shopping day in America when the Christmas holiday buying season begins.
At the very least, the action gives Walmart employees a chance to air their grievances in public - not only lousy wages (as low at $8 an hour) but also unsafe and unsanitary working conditions, excessive hours, and sexual harassment. The result is bad publicity for the company exactly when it wants the public to think of it as Santa Claus. And the threatened strike, the first in 50 years, is gaining steam.
The company is fighting back. It has filed a complaint with the National Labor Relations Board to preemptively ban the Black Friday strikes. The complaint alleges that the pickets are illegal "representational" picketing designed to win recognition for the United Food & Commercial Workers (UFCW) union. Walmart's workers say they're protesting unfair labor practices rather than acting on behalf of the UFCW. If a court sides with Walmart, it could possibly issue an injunction blocking Black Friday's pickets.
What happens at Walmart will have consequences extending far beyond the company. Other big box retailers are watching carefully. Walmart is their major competitor. Its pay scale and working conditions set the standard.
More broadly, the widening inequality reflected in the gap between the pay of Walmart workers and the returns to Walmart investors, including the Walton fammily, haunts the American economy.
Consumer spending is 70 percent of economic activity, but consumers are also workers. And as income and wealth continue to concentrate at the top, and the median wage continues to drop - it's now 8 percent lower than it was in 2000 - a growing portion of the American workforce lacks the purchasing power to get the economy back to speed. Without a vibrant and growing middle class, Walmart itself won't have the customers it needs.
Most new jobs in America are in personal services like retail, with low pay and bad hours. According to the Bureau of Labor and Statistics, the average full-time retail worker earns between $18,000 and $21,000 per year.
But if retail workers got a raise, would consumers have to pay higher prices to make up for it? A new study by the think tank Demos reports that raising the salary of all full-time workers at large retailers to $25,000 per year would lift more than 700,000 people out of poverty, at a cost of only a 1 percent price increase for customers.
And, in the end, retailers would benefit. According to the study, the cost of the wage increases to major retailers would be $20.8 billion - about one percent of the sector's $2.17 trillion in total annual sales. But the study also estimates the increased purchasing power of lower-wage workers as a result of the pay raises would generate $4 billion to $5 billion in additional retail sales.
This seems like a good deal all around.
Robert B. Reich, Chancellor's Professor of Public Policy at the University of California at Berkeley, was Secretary of Labor in the Clinton administration. Time Magazine named him one of the ten most effective cabinet secretaries of the last century. He has written thirteen books, including the best sellers "Aftershock" and "The Work of Nations." His latest is an e-book, "Beyond Outrage." He is also a founding editor of the American Prospect magazine and chairman of Common Cause.
WALMART STRIKE ARTICLES NOVEMBER 25, 2012. The article below was published on line by The Nation and distributed by Agence Global.
Walmart Workers Make History Again, by Josh Eidelson
Hanover and Severn, MD -- For about twenty-four hours, Walmart workers, union members and a slew of other activists pulled off the largest-ever US strike against the largest employer in the world. According to organizers, strikes hit a hundred US cities, with hundreds of retail workers walking off the job (last month's strikes drew 160). Organizers say they also hit their goal of a thousand total protests, with all but four states holding at least one. In the process, they notched a further escalation against the corporation that's done more than any other to frustrate the ambitions and undermine the achievements of organized labor in the United States.
"I'm so happy that this is history, that my grandkids can learn from this to stand up for themselves," Miami striker Elaine Rozier told The Nation Thursday night. Before, "I always used to sit back and not say anything…. I'm proud of myself tonight."
Rozier and her co-workers kicked off the Black Friday strike around 7:30 EST Thursday night; it rolled from Miami through big cities like Chicago and smaller ones like Tulsa, where overnight stocker Christopher Bentley Owen, agitated by an intimidating "captive audience" meeting, decided at the last minute to join the organization and became his store's sole striker. After holding back because he didn't plan to stay in his job for long, said Owen, he recognized that millions of other low-wage workers offer the same reason not to get involved. "Meanwhile," he said, "there are millions of people in those jobs…at some point, people have to get together."
By 9 am Friday, Walmart had already sent out a statement announcing its "best ever Black Friday events," claiming that only fifty workers were on strike, and dismissing the action as a failure. Organizers accused Walmart of making up numbers, and noted that the company's aggressive efforts to discourage participation undermined its supposed indifference.
The Black Friday strike came a year and a half after retail workers announced the founding of the new employee group OUR Walmart, five months after guest workers struck a Walmart seafood supplier and seven weeks after the country's first-ever coordinated Walmart store strikes. Walmart striker Cindy Murray, a veteran of the last decade's unsuccessful union-backed campaign against Walmart, said that after the 2008 election, "I was like, we have to do something different." (Strikes at Walmart certainly qualify.) Murray said OUR Walmart has had greater success because workers saw it "as our organization," as so they "finally said, maybe we can be saved. Maybe we can speak out."
Murray helped lead a Friday morning march of four-hundred some workers and activists to Hanover, Maryland's Capital Plaza Walmart. Chants included "Whose Walmart? Our Walmart!," and "Stand up! Live better!" At the edge of the Walmart-controlled portion of the shopping center's parking lot, leaders from Jobs with Justice asked a manager to commit not to punish the workers striking today; they say he replied that Walmart won't retaliate, said it never does, and denied that a corporate vice president's warning of potential "consequences" constituted a threat.
Asked whether the retaliation would get worse before it gets better, United Food & Commercial Workers union Organizing Director Pat O'Neill called it "a real possibility" and said it "would be a mistake." "I think the workers are showing," added O'Neill, "that they're not going to be silenced."
Retaliation was an ever-present theme of the day: an outrage that drove some workers to strike, a threat that led many more to stay at work, a focus of workers' demands, and a question hanging over next week. Allegations of illegal retaliation provided workers greater potential legal protection to strike; puncturing any sense of safety about striking may have been the motivation for Walmart's Labor Board charge alleging that the strikes were themselves illegal. And Walmart's tactics over the past week may have taken a toll: Organizers said that 100 DC-area Walmart store workers struck this week, but maybe no more than a dozen on Black Friday itself (they chalked this up to workers' desire to cause more disruption earlier in the week while products were still being unloaded). Paramount, California, striker Maria Elena Jefferson said that some of her co-workers wouldn't strike because "they think we'll never win" and "they didn't want to lose their jobs." She said she hoped today's actions -- including a rally of well over 1,000 supporters in Paramount -- would change their minds.
The Paramount rally included the day's only planned civil disobedience, with three Walmart retail workers and six other supporters taking arrest for blocking Lakewood Boulevard. Other tactics were more common across the country, including subversive light shows and mic-checking flash mobs.
The Maryland protesters split up after their rally into two groups: a larger one which leafleted and caroled at a store in Laurel ("I saw Walmart fire Santa Claus", "Deck the aisles with living wages") and a smaller group of community activists that headed to nearby Severn. There, about fifty people walked quickly through the garden section, to the front of the store, and launched a mic check, the crowd echoing an organizer from Jobs with Justice as she read from a prepared script: "We call on Walmart to change. We call on Walmart to stop bullying." After being warned by police, the group turned and left, chanting "We'll be back."
The Maryland rally, like the overall campaign, had close ties to the UFCW; most of the Hanover marchers arrived on a half dozen buses that departed from UFCW Local 400's nearby union hall. Felicia Miller, a UFCW member working at Safeway as a deli clerk, told The Nation that Walmart is driving down standards for new workers at her unionized store. "The young people coming in, pay stinks now because of Walmart…" said Miller. "Because our companies are saying, If Walmart can get away with it, why can't we?" She said the sight of Walmart workers on strike was "awesome. I'm here to support them all the way."
While some observers are already deriding the strike for failing to bring Walmart to its knees, worker activists and staff organizers have long been talking about it as an escalation, not a climax. While on the picket line Thursday and Friday, workers were already talking about striking again, and hoping that their courage this time would embolden more workers to join in the next. "There's going to be more days that we're going to strike," Rozier said last night, "and it's not going to stop. I'm not going to stop until they respect us and give us what we want." That's in line with what the UFCW's Dan Schlademan promised earlier this month: "This is a new permanent reality for Walmart…. Two thousand and twelve is the beginning of the season where retail workers are going to start to stand up."
As he marched towards the Hanover Walmart this morning, former SEIU organizer Stephen Lerner credited the campaign with showing that workers, through strategic use of strikes, "can engage in actions that both make them feel powerful and that impact the company, and they don't need to just spend their life waiting for some [National Labor Relations Board] process to demonstrate they want a union." Lerner, the architect of the Justice for Janitors campaign, added, "What they're really showing is, they're acting like a union." By 9 pm EST Friday, the day's last major action, a picket in San Leandro, California, with a dragon puppet and a "brass liberation band," had come to a close. The three workers who'd been arrested in the afternoon had made it safely home. Saturday, the Walmart strikers would head back to work, with at least one exception: a San Leandro worker who wanted to strike but was scheduled for days off on Thursday and Friday. She'd be striking Saturday.
Josh Eidelson is a contributor to The Nation and was a union organizer for five years. He covers labor for as a contributing writer at Salon and In These Times.
---------------
Released: 26 November 2012
Word Count: 1,297
----------------
For rights and permissions, contact:
rights@agenceglobal.com, 1.336.686.9002 or 1.212.731.0757
Agence Global is the exclusive syndication agency for The Nation and Le Monde diplomatique, as well as expert commentary by Richard Bulliet, Rami G. Khouri, Vadim Nikitin, Patrick Seale and Immanuel Wallerstein.