National Education Association breaks with Duncan, Obama on 'Race to the Top'
George N. Schmidt - August 22, 2009
Less than two months after praising U.S. Secretary of Education Arne Duncan and featuring his visage and words throughout its national convention, the 3 million member National Education Association has broken with Duncan and his boss Barack Obama over the administration's so-called "Race to the Top" program. Although details were still coming in on August 22, the Washington Post reported the beginning of the story in its editions of August 21, 2009. As of August 22, the smaller American Federation of Teachers (AFT), of which the Chicago Teachers Union is one of the largest locals, was still supporting Obama and Duncan.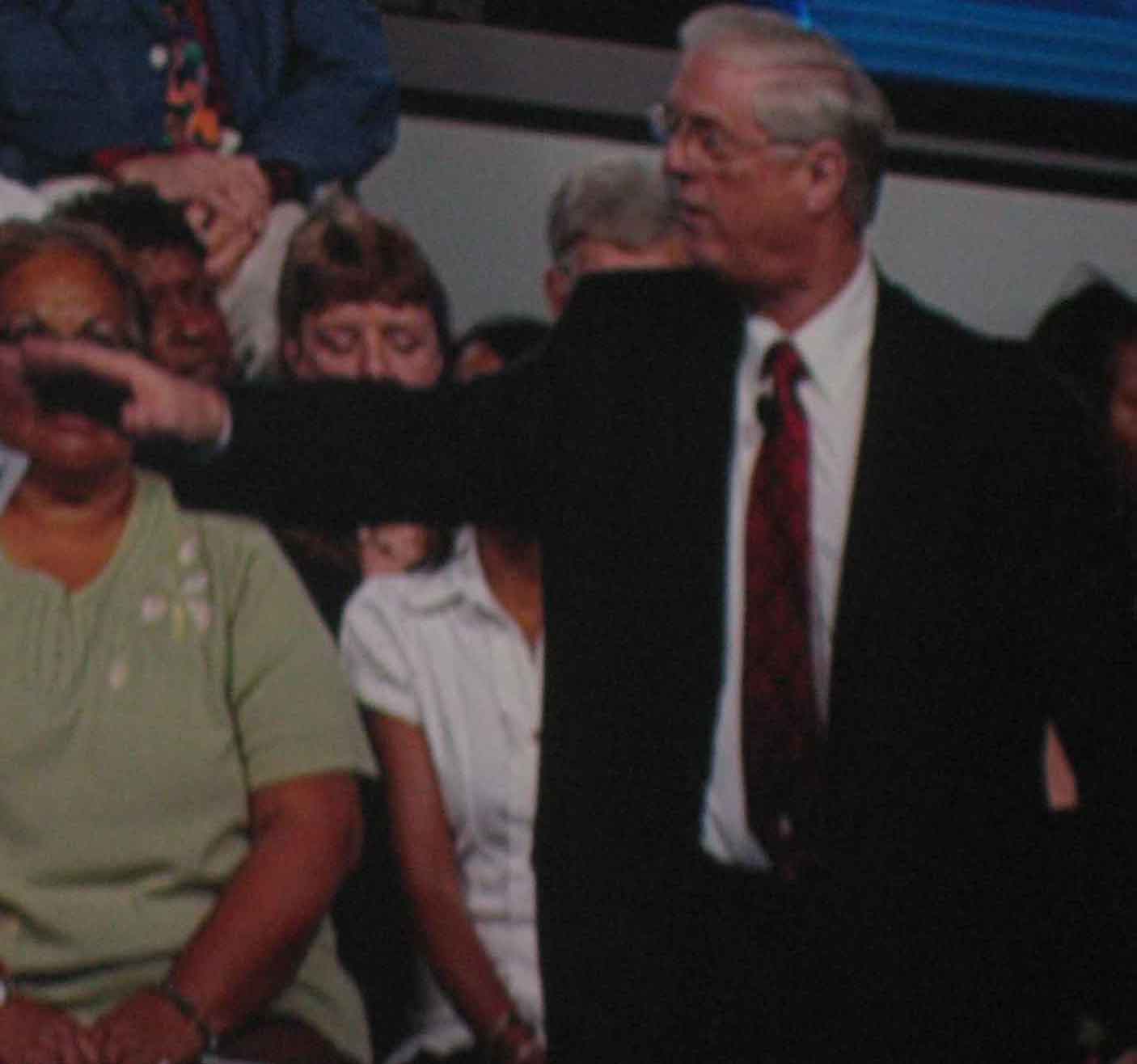 In July 2009, National Education Association (NEA) President Dennis Van Roekl (above with hand outstretched) placed the three million member union in alliance with U.S. Secretary of Education Arne Duncan and President Barack Obama's programs. After mounting pressure from state and local unions, the NEA began to reverse itself and came out critically against Obama and Duncan's 'Race to the Top' in late August 2009. Substance photo from the 2009 NEA convention by Rich Gibson. Below is the Washington Post story that appeared on August 21, 2009.
NEA Attacks Administration's Education Reform Plan
http://voices.washingtonpost.com/44/2009/08/21/nea_breaks_with_administration.html?hpid=news-col-blog
EDUCATION
NEA Attacks Administration's Education Reform Plan
By Nick Anderson
The nation's largest teachers union sharply attacked President Obama's most significant school improvement initiative on Friday evening, saying that it puts too much emphasis on a "narrow agenda" centered on charter schools and echoes the Bush administration's "top-down approach" to reform.
The National Education Association's criticism of Obama's $4.35 billion"Race to the Top" initiative came nearly a month after the presidentunveiled the competitive grant program, meant to spur states to move toward teacher performance pay; lift caps on independently operated, publicly funded charter schools; and take other steps to shake up school systems.
The NEA's statement to the Department of Education came a week before the end of the public-comment period on the administration's proposal, and it reflected deep divisions over the White House's education agenda within a constituency largely loyal to the Democratic Party.
The union, which boasts 3.2 million members, charged that Race to the Top contradicted administration pledges to give states more flexibility in how they improve schools. "We find this top-down approach disturbing; we have been down that road before with the failures of No Child Left Behind," the union wrote in its comments, "and we cannot support yet another layer of federal mandates that have little or no research base of success and that usurp state and local government's responsibilities for public education."
It added: "Despite growing evidence to the contrary, it appears that the administration has decided that charter schools are the only answer to what ails America's public schools -- urban, suburban, exurban and rural -- and all must comply with that silver bullet."
An Education Department spokesman had no immediate comment. Education Secretary Arne Duncan has said repeatedly he wants to work with unions and not foist reforms on teachers without consultation.
When Obama announced the initiative July 24, Dennis Van Roekel, president of the National Education Association, praised the administration's intentions to lift standards, raise teacher quality and turn around low-performing schools.
But he said performance pay, charter schools and links between student and teacher data raise difficult issues for his union.
That last issue prompted an NEA objection earlier this year, after Obama expressed his desire to grade teachers through the test scores of their students.
Van Roekel told the New York Times that his members were unhappy with such comments.
''When he equates teachers with test scores, that's when we part company,'' Mr. Van Roekel told the Times.
=