A message from CHICAGO PUBLIC SCHOOL on Dec 31
cps.edu - January 01, 2022
On Dec 31, 2021 10:42, CHICAGO PUBLIC SCHOOLS wrote:
A message from CHICAGO PUBLIC SCHOOLS
Dear CPS Colleagues, Families, and Supporters, Our return to the classroom is now just a few days away. We are looking forward to welcoming staff and students back to school this Monday, January 3, and as always, our top priority will be their safety and wellbeing.
We know that between the holiday season, the cold weather, and the new Omicron variant, we will need to apply extra resources to keep COVID-19 from disrupting the in-person learning that our students need to thrive. We are encouraged by the number of families who have returned the home test kits provided just before winter break, as it will help us identify positive cases before students return to school. For any children who are quarantined as of Monday, we are working on providing additional tests that can be administered at home so that we know students are healthy when they come back to school later in January. As a reminder, while we strongly encourage our students to get tested before returning from break, it is not mandatory. Thanks to our school nurses and other personnel, we have more than doubled our staff capacity to deal with the increase in COVID-19 cases coming out of the holiday break. Additionally, as part of our preparation for the return to school on Monday, January 3, we have thoroughly cleaned all of our schools. We have also formed a special team that includes experts from our Talent, Facilities, and Health and Wellness departments to address the unique needs of any school that is dealing with cases of COVID-19. This team, along with our expanded contact tracing team and proven safety measures (universal masking, good hand hygiene, COVID-19 testing, and social distancing where possible) will continue to make our schools some of the safest places our students can be during the pandemic.
As parents and guardians, we urge you to help us prepare for a successful return to school by following these important steps:
If traveling, follow directions from CDPH's Travel Advisory (Visit chicago.gov/covid for details)
Follow CPS' self-screening guide at cps.edu/covid
Test your child: Use the free CPS Home Test Kit or visit a test provider (doctor, clinic, pharmacy, city or community site)
Once back, sign your child up for weekly COVID-19 testing at your school. Visit color.com/readycheckgo-cps
We know that families are also looking for information about our procedures for keeping schools safe and the support that we provide to schools and families when there are cases within the school community. Here's a quick guide to our procedures:
When CPS gets a self report of a COVID-19 case: CPS' Contact Tracing Team works with the school to investigate
Close contacts are notified; unvaccinated or partially vaccinated close contacts are directed to quarantine
If necessary, principal can transition a class to remote learning until an investigation is complete
When CPS identifies 3 or more cases in a single group (classroom, cohort, etc.):
Chicago Dept. of Public Health (CDPH) determines if there is evidence of widespread in-school transmission.
If in-school transmission is suspected, CPS provides additional resources:
Extra testing opportunities and/or take home test kits
Extra staff, including substitute teachers & support staff
Enhanced cleaning and disinfecting of the school
Promotion of easily accessible vaccination opportunities
We look forward to seeing our students at school this Monday, January 3. But please, if your child tests positive, please keep them home. If they are showing any symptoms of COVID-19 on Monday, please keep them home and get them tested. Please remember, anyone who is sick must stay home and not report to school.
And as always, the most important thing we can do to protect ourselves, our loved ones, and our school community from COVID-19 is to get vaccinated. I applaud the 91 percent of our staff who have now received the vaccine and thank all those who have also been boosted. I urge everyone who has not done so already - from educators, to families, to students - to take this step as quickly as possible. The science is showing us that while being vaccinated may not prevent all cases of COVID-19, it drastically reduces the likelihood of becoming seriously ill and ending up in the hospital. Visit CPS.edu/vaccines for vaccine opportunities. Thank you for your partnership; we look forward to a healthy and successful start to 2022 when we welcome students back to school on Monday, January 3. Sincerely, Pedro Martinez
Chief Executive Officer
Chicago Public Schools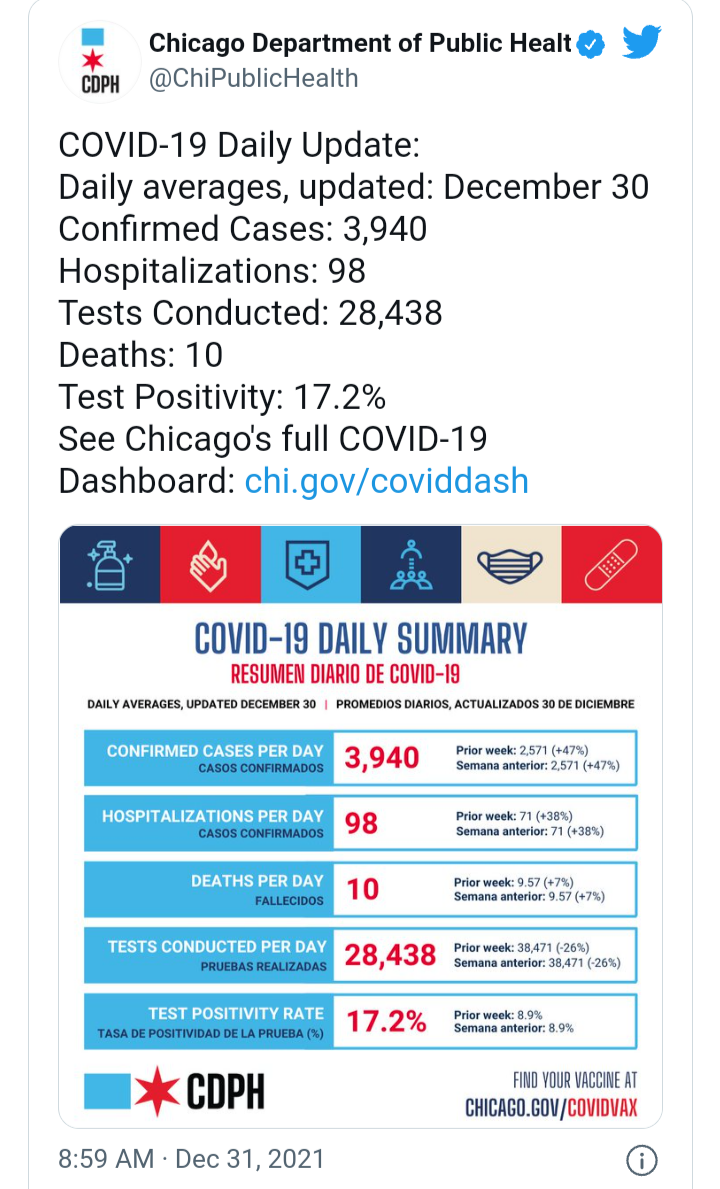 Estimados colegas, familias y seguidores de CPS, El regreso a clases llega en pocos días. Esperamos dar la bienvenida al personal y a los estudiantes a la escuela este lunes, 3 de enero, y como siempre, nuestra principal prioridad será su seguridad y bienestar.
Sabemos que entre la temporada de vacaciones, el clima frío y la nueva variante de Omicron, tendremos que emplear recursos adicionales para evitar que el COVID-19 interrumpa el aprendizaje en persona que nuestros estudiantes necesitan para prosperar. Nos sentimos reconfortados por el número de familias que han devuelto los kits de pruebas de COVID-19 que les enviamos justo antes de las vacaciones de invierno, ya que nos ayudarán a identificar los casos positivos antes de que los estudiantes regresen a la escuela. Para los niños que estén en cuarentena a partir del lunes, estamos trabajando para proporcionar pruebas adicionales que puedan administrarse en casa para que podamos saber que los estudiantes estén sanos cuando regresen a la escuela a finales de enero. Como recordatorio, aunque recomendamos a nuestros estudiantes se sometan a las pruebas antes de regresar a la escuela, no es obligatorio. Gracias a nuestras enfermeras escolares y a otro personal que está ayudando con nuestros esfuerzos, hemos más que duplicado la capacidad de nuestro personal para hacer frente a cualquier aumento de casos que se produzca tras las vacaciones. Además, como parte de nuestra preparación para la vuelta a la escuela el lunes 3 de enero, hemos limpiado a fondo todas nuestras escuelas. También hemos formado un equipo especial que incluye expertos de nuestros departamentos de Talento, Instalaciones y Salud y Bienestar para abordar las necesidades de cualquier escuela que esté lidiando con casos de COVID-19. Este equipo, junto con nuestro equipo de rastreo de contactos y las medidas de seguridad (enmascaramiento universal, buena higiene de las manos, pruebas de COVID-19 y distanciamiento social cuando sea posible) seguirán haciendo de nuestras escuelas uno de los lugares más seguros en los que pueden estar nuestros estudiantes durante la pandemia.
Como padres y tutores, les instamos a que nos ayuden a prepararnos para un regreso exitoso a la escuela siguiendo estos importantes pasos:
Si va a viajar, siga las instrucciones del Aviso de Viaje del Departamento de Salud Pública de Chicago (Visite chicago.gov/covid)
Siga la guía de autoevaluación de CPS en cps.edu/covid
Hágale una prueba a su hijos: Use el kit de prueba gratuito de CPS o visite a un médico, una clínica, una farmacia o un sitio de pruebas de la ciudad o de la comunidad
Cuando regrese de su viaje, inscriba a su hijos a la prueba de COVID-19 semanal de su escuela. Visite color.com/readycheckgo-cps/spanish
Sabemos que las familias también buscan información sobre nuestros procedimientos para mantener la seguridad en las escuelas y el apoyo que ofrecemos a las escuelas y a las familias cuando hay casos dentro de la comunidad escolar. He aquí una guía rápida de nuestros procedimientos:
Cuando CPS recibe un auto reporte de un caso de COVID-19: El equipo de rastreo de contactos de CPS trabaja con la escuela para investigar
Se notifica a los contactos cercanos; los contactos cercanos no vacunados o parcialmente vacunados deben ponerse en cuarentena
Si es necesario, el director puede cambiar la clase al aprendizaje remoto hasta que termine la investigación
Cuando CPS identifica 3 o más casos en un solo grupo (aula, etc.):
El Departamento de Salud Pública de Chicago determina si hay evidencia de transmisión en la escuela.
Si se sospecha de transmisión en la escuela, CPS proporciona recursos adicionales:
Oportunidades de pruebas adicionales y/o kits de pruebas para llevar a casa
Personal adicional, incluyendo maestros reemplazantes y personal de apoyo
Más limpieza y desinfección en la escuela
Se promoverán oportunidades de vacunación de acceso fácil
Esperamos ver a nuestros estudiantes en la escuela este lunes, 3 de enero. Pero, por favor, si su hijo o hija prueba positivo, manténgalos en casa. Si muestra algún síntoma de COVID-19 el lunes, manténgalos en casa y hágales la prueba de COVID-19. Por favor recuerde, cualquier persona que esté enferma se debe quedar en casa y no presentarse en la escuela.
Y como siempre, lo más importante que podemos hacer para protegernos a nosotros mismos, a nuestros seres queridos y a nuestra comunidad escolar de COVID-19 es vacunarnos. Me alegro de que el 91% de nuestro personal haya recibido ya la vacuna y doy las gracias a todos los que también se han vacunado. Pido a todos los que aún no lo han hecho, desde los educadores hasta las familias y los estudiantes, que den este paso lo antes posible. La ciencia nos está mostrando que si bien la vacunación no puede prevenir todos los casos de COVID-19, reduce drásticamente la probabilidad de enfermarse gravemente y de terminar en el hospital. Visite CPS.edu/vaccines para informarse sobre las oportunidades de vacunación. Gracias por su apoyo; deseamos un comienzo saludable y exitoso en 2022.
Cordialmente, Pedro Martínez
Director Ejecutivo
Escuelas Públicas de Chicago