Chicago Teachers Union approves budget after heated debate
George N. Schmidt - June 03, 2009
After more than an hour of heated debate, the Chicago Teachers Union's House of Delegates approved the union's budget for the coming fiscal year by a wide margin. For the first time in union history, the officers, after refusing to do so, provided the delegates with a copy of the master contract presently covering the employment of the union's remaining four officers. The contracts of the officers, which CTU President Marilyn Stewart said she was providing to the delegates after ever increasing demands for more fiscal transparency, show that the officers this year are being paid $120,000 per year.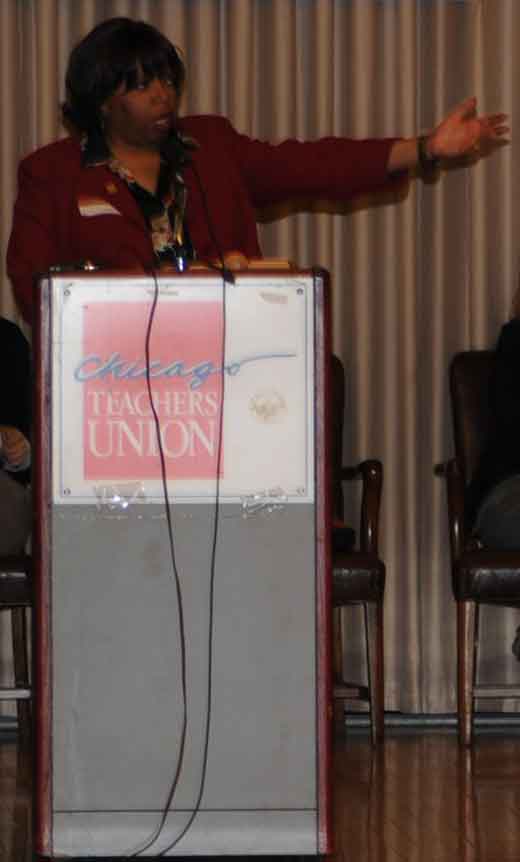 Chicago Teachers Union President Marilyn Stewart at the podium at the union's April 2009 meeting, which she pre-empted to do a media event about union organizing at charter schools. After two fierce debates on union finances, the CTU House of Delegates on June 3, 2009 approved the union's proposed budget. The approval only came after Stewart released the details of the employment contracts of herself and the union's three remaining officers, Recording Secretary Mary McGuire, Financial Secretary Mark Ochoa, and Treasurer Linda Porter. All four are paid $120,000 per year in base salary and receive a number of fringe benefits (including a paid holiday for their "natal day") that are not given to the union's dues-paying teacher and PSRP members. Substance photo by George N. Schmidt.In addition to their base pay, the officers also receive several perks which the members do not. Paid holidays for union officers, for example, include a thing called "Natal Day" (apparently the birthday), Christmas Eve, and New Year's Eve -- holidays which are not paid for regular union members.
The officers also receive a paid annuity equivalent to 14 percent of their salary in addition to the usual payment into the teacher or municipal employee pension plan (which has been traditional for teachers and others on leave from CPS jobs to work at the union). The annuity had been abolished by former CTU president Deborah Lynch (who served from July 2001 through July 2004), but was apparently reinstated by Marilyn Stewart some time after she took office in August 2004.
Delegates also questioned other perks included in the contracts of officers and other CTU staff. Each CTU officer and administrator, for example, receives $240 per month for "cell phone" and $1,000 per month as a "car allowance." The union also pays 85 percent of regular car insurance for officers and most other staff, so the car allowance simply covers either the person's car note or lease costs.
During the meeting there were several confrontations, as Stewart continued to try and silence dissident delegates by using what more and more delegates have been calling "Police State" tactics at the meetings. In addition to appointing sergeants at arms who seem to believe their duty is to shut off microphones when delegates disagree with Ms. Stewart, the union is also paying at least three Chicago police officers who roam the meetings in plain clothes, refusing to identify themselves, but are on call to "eject" any union member who becomes too critical of the Stewart groups.
At one point in the meeting, Stewart ordered her personal "security" detail to eject Thurgood Marshall Middle School delegate Raymond Wohl, who was trying to make a point of order regarding the proper procedures for counting a vote on a division of the house. Three individuals, later identified as Chicago Police Officers, tried to remove Wohl. They were blocked by more than two dozen delegates who insisted that the union stop using unidentified outsiders to enforce the "Police State" rules imposed by Marilyn Stewart over the five years since she was elected CTU president.
When asked to identify themselves by this reporter (who is also an elected delegate representing retired teachers), the three individuals said, "None of your business..." or something even more colorful.
The use of outside "Security" to police Chicago Teachers Union meetings is unprecedented and is part of the changes in the union that have been instituted by Marilyn Stewart.