Reality check from an Chicago high school English teacher who works tirelessly and deserves every penny paid
Neha Patel Jotwani - October 26, 2019
[Editor's note: This excellent piece was originally published on Facebook and is used here with Neha Jotwani's permission. Any other union members are welcome to submit their writing to Substance. Email me at sharongriffinschmidt@gmail.com or message me on Facebook.]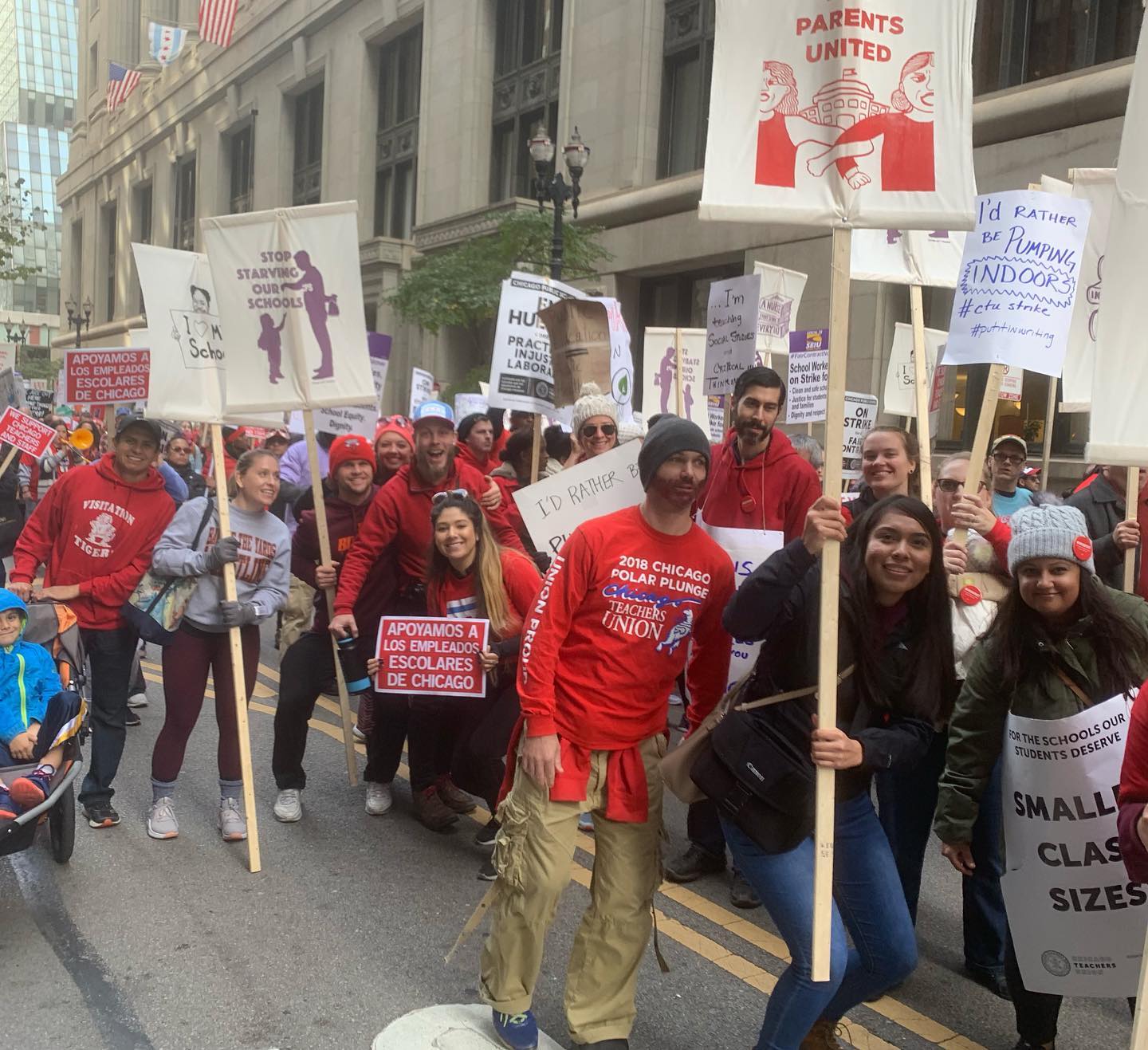 Neha Patel Jotwani (right) with colleagues from Back of the Yards College Prep High School. Facebook photoFB friends, most of you know that I'm a proud teacher in Chicago Public Schools with a career spanning 15 years. I know a lot of people on my FB feed are supportive of the current strike that is happening in Chicago.
But let's be real for a minute. The common talking point that always comes up with teachers is our pay. Please don't believe the numbers that are being put out there. I've been working in CPS for 15 years and have a master's degree and I make nowhere near 100k. If you look up my salary online, it's inflated because it accounts for my pension and benefits.
Also, I'm not going to mince words here. To anyone that thinks I'm under-worked and overpaid, I have two words for you: fuck off. I will not apologize for the wage I earn. I work tirelessly and deserve every penny I'm paid.
Teaching is the only profession in which everyone thinks they know how to do the job since they went to school. Let me tell you something. Teaching is nothing like you think it is. Teaching now is harder than it has ever been. We don't just stand in front of a class and lecture while our students diligently listen and take notes. That's old school, and it doesn't fit with the highly technological world we live in. Anyone who has knowledge of pedagogy and learning theory knows that. We design tasks and activities that are much more hands on and based on problem solving and critical thinking. We think about not just how to teach content, but how to get students to engage cognitively and learn how to be aware of their cognition while they are working through tasks. Designing meaningful curriculum in this day and age takes a copious amount of time and creativity. We don't copy worksheets and simply hand them to students. It's a ton of work, and it takes a ton of time.
Let me take you through what our days are like. In high school we have two preparation periods without students and a lunch during the day to theoretically get our work done. "What are you doing with that time? Why can't you get your work done in school?" you think. I'll tell you why. On most days of the week, I have a meeting during one of my prep periods. I'm meeting with my department, my fellow grade level teachers, or my course planning team, so I can't do the work I have to do to plan my lessons or grade work during that period. I share a lunch period with my students, so I make myself available to my students every day during my lunchtime to help them catch up on work, fill out FAFSA, help them with college applications, etc. That leaves me with one prep.
During this prep, I get 51 minutes to work. By the time I finish up talking to students at the end of class and pack up my things to get out of the way for the other teacher starting her class, I've already lost five minutes. By the time, I walk down to the teacher workspace to work, I've lost another five. I also need to pack up and start walking back to class five minutes before the period ends in order to get back into the classroom to set up for my next class. That leaves me with 36 minutes a day to work indendently. FYI, this sole working period could get eaten up if have to attend an IEP meeting or cover a colleague's class so they can take their students in a field trip.
During those roughly 36 minutes of the day, I can get through a handful of papers or make copies. Yes, 36 minutes to make copies. I'm actually lucky because my present school has a real copier. For 13 years I worked in a building that didn't have a copier, but a risograph. Most teachers in CPS will have these archaic machines. They don't copy two sides, they don't collate, and they don't staple. We have to copy every side manually, collate manually after we are done copying, and staple every copy manually. For 150 copies, that could take the whole period.
I don't have any other time to lesson plan or grade because I'm in the classroom the rest of the day. Most teachers will start class with a bell ringer or "do now" activity to get students thinking about the activity and objectives for that day. After that, I will go through material and/or instructions for the day. After this, I take attendance, catch students up who have been absent, and circulate the room reiterating directions, checking progress, answering questions, etc. In any given class, I'll have about 30 students and about 8-12 students with special needs. I have to make sure I've modified the lesson and outcomes for each of these special needs students according to their IEPs. I also have to keep an eye on my high level students to make sure they have enrichment activities. In addition, I have to be take into account all my students' individual learning styles and be prepared to break down material in different modes of instruction. I may stop to draw a diagram for a visual learner, repeat directions for auditory learners, etc. Before class ends, I give an exit ticket to students to assess them on our objectives for that day. So, that ends up being two assignments per student (the bell ringer activity and the exit slip). For 150 students in all five of my classes, that ends up being 300 assignments. But, we'll talk about grading and assignments later.
The above scenario is if the class goes perfectly. I haven't even begun talking about the constant redirection to stay on task with students. I haven't dealt with any teenaged attitude yet about how "this is fucking boring." I haven't told a single kid yet to put away their phone.
Neha Patel Jotwani (second from left) with Steinmetz High School colleagues in 2012. Substance photo by Sharon SchmidtI haven't even looked at the social and emotional needs of my students. I haven't yet talked to the kid who can't stay awake to save his life today. And because I'm an experienced teacher, I'm aware of the traumas my students undergo, so I have to approach the subject delicately. I have to approach him with compassion because I don't know why he's so sleepy. It could be that he was up all night because of parents violently arguing, because of a parent who was being loud partying and doing drugs all night, because his family was evicted and is living in a shelter and the cots are uncomfortable to sleep on, or because the kid works 2nd or 3rd shift and is exhausted. I haven't dealt with the girl who looks to be on the verge of tears. It could be something trivial, or it could be something as horrific as physical or sexual abuse. I'm going to have to try to find time during class to address both of these kids' needs. I may have to try to find out if the social worker is available, but she is only there a couple of days a week. The counselors are also overworked, and at any given time, may be in a meeting with admin, at a high school fair, meeting with another parent or student, setting up standardized testing schedules, etc. For those of you that think the above scenarios are out of the norm, wake up and break out of your bubble because this is the reality of the students in CPS.
In my old school (and most CPS schools) a couple of times a week during class time, there may be a fight in the hall or in another class that will cause my students to get up and run out of the room to watch. During this time, I call for security and go out in the hall to do what I can. Some of my colleagues are very brave and physically start pulling the fighting kids apart. I can't because I'm 5'1, so I do my best to keep other students out of harm's way and redirect students back to class and to stop filming on their phones.
On a really bad day, there could be a fight in my class.
All this in one class period.
When the bell rings, I usually leave right away unlike most of my colleagues who are sponsoring clubs, coaching sports, or catching up on lesson planning, paperwork, emails, and calls. I leave after the bell rings for the day because I pick up my 6-year-old who I've dropped off to school at 7 a.m. that morning so that I can get to work by 7:30, a half hour before I'm supposed to be on the clock, in order to get prepped for the day. By the time I pick her up, she's been in school for 9 hours already. When we get home, I do what I've been doing all day at work—teaching.
We spend about 45 minutes practicing reading, writing, math and all the other skills her teachers have diligently been working on with her. I've also made about 1500 decisions during the course of my day at work and have repeated and redirected hundreds of times, so if my daughter is not listening or cooperating, I really start losing my patience. My daughter, unfortunately, gets the short end of the stick because I've saved all my patience for other people's children, and I have none left for my own child.
After this, I spend the next few hours doing what every mom across America does. By the time this is all done, it's about 8:30.
Remember those 300 assignments from earlier today? I haven't even looked at those yet, nor have I reviewed my lessons for tomorrow. Let's do some math on how long all the grading is going to take me. If I do a bell ringer and exit slip every day in every class all week (5 classes a day and 30 students per class), there will be 1500 assignments I need to look at for the week (150 students, 2 assignments=300X5). If I take a minute to look at each of these, it'll take me 25 hours, but I'll half-ass it and take 10 seconds to read both. That will take roughly 4.5 hours.
This is not considering any assignments that I'll collect during the week. Let's say I collect 3 assignments per student that week and spend 5 minutes grading each assignment. That's another 37.5 hours of grading. But I'll half ass it again, and spend only 2.5 minutes grading each assignment. That's roughly 19 hours of grading. In total, that is 23.5 hours of grading each week, but that's if I completely half ass it on everything.
If I collect an essay for each student, and spend 10 minutes reading each essay and making meaningful comments on each, that will take me 25 hours to grade the essays.
But I still need to lesson plan for the rest of my unit. Depending on what's more important, I might put off grading for the weekend and focus on my lesson plans or vice versa. Lesson planning time is hard to quantify because it will vary depending on the tasks. However, it's at the very least a few more hours of work every week.
I also haven't returned any emails or called any parents to let them know about attendance, academic, or behavior issues yet.
So yes, I earn every penny that I make. It's infuriating to us when people call us lazy bums that have it sweet and only work part time.
"But you guys don't work during the summer." WE LITERALLY FIT IN A WHOLE YEAR'S WORTH OF WORK INTO 10 MONTHS. Most of my colleagues are also taking classes, getting additional certifications, etc. I choose not to work during the summer. Having the summer off is not why I'm a teacher, but if I didn't have the summers off I could do not this job. I would be too drained to continue doing this work without a recovery period.
If all this sounds like easy money to you, please become a teacher. I'm serious. My colleagues are leaving the profession in droves to pursue other careers. Hardly anyone makes it to retirement anymore. The teacher education programs in colleges and universities have a fraction of the students they used to have. Once upon a time, it was impossible to find a teaching job. Not so anymore. We need qualified and dedicated people in the classroom, especially those willing to teach special needs students.
The current strike is not about money—it's about adding an adequate number of support staff like social workers, nurses, and counselors for our students. However, salaries are always a talking point when people are anti-union. I've earned the salary that I make and will not kowtow to anyone because I'm a "public servant." I earned a bachelor's degree from the best public university in Illinois. I invested three years of my life in earning a master's degree. I've been teaching 15 years. And if you think I deserve anything less, you can go kick rocks.