CTU sets strike date – Oct. 17
CTU press release - October 02, 2019
RESOLVED, a strike by members of the Chicago Teachers Union shall commence at 12:01 a.m. on October 17, 2019, if no tentative agreement has then been achieved. The strike shall be limited to all unresolved contract issues that are mandatory subjects of bargaining under the Illinois Educational Labor Relations Act. The strike shall continue until suspended by vote of this body.
— From the Oct. 2, 2019, House of Delegates:
CPS proposals don't address key issues
Sept. 27, 2019, CTU Press Release
Nine months after contract negotiations began and after a 94% strike authorization vote, the
bargaining team for Chicago Public Schools finally came to the table with their own offer. Unfortunately, the proposal fails to address the key issues that members of the Chicago Teachers Union have said must be addressed in order to provide the schools that Chicago's students deserve.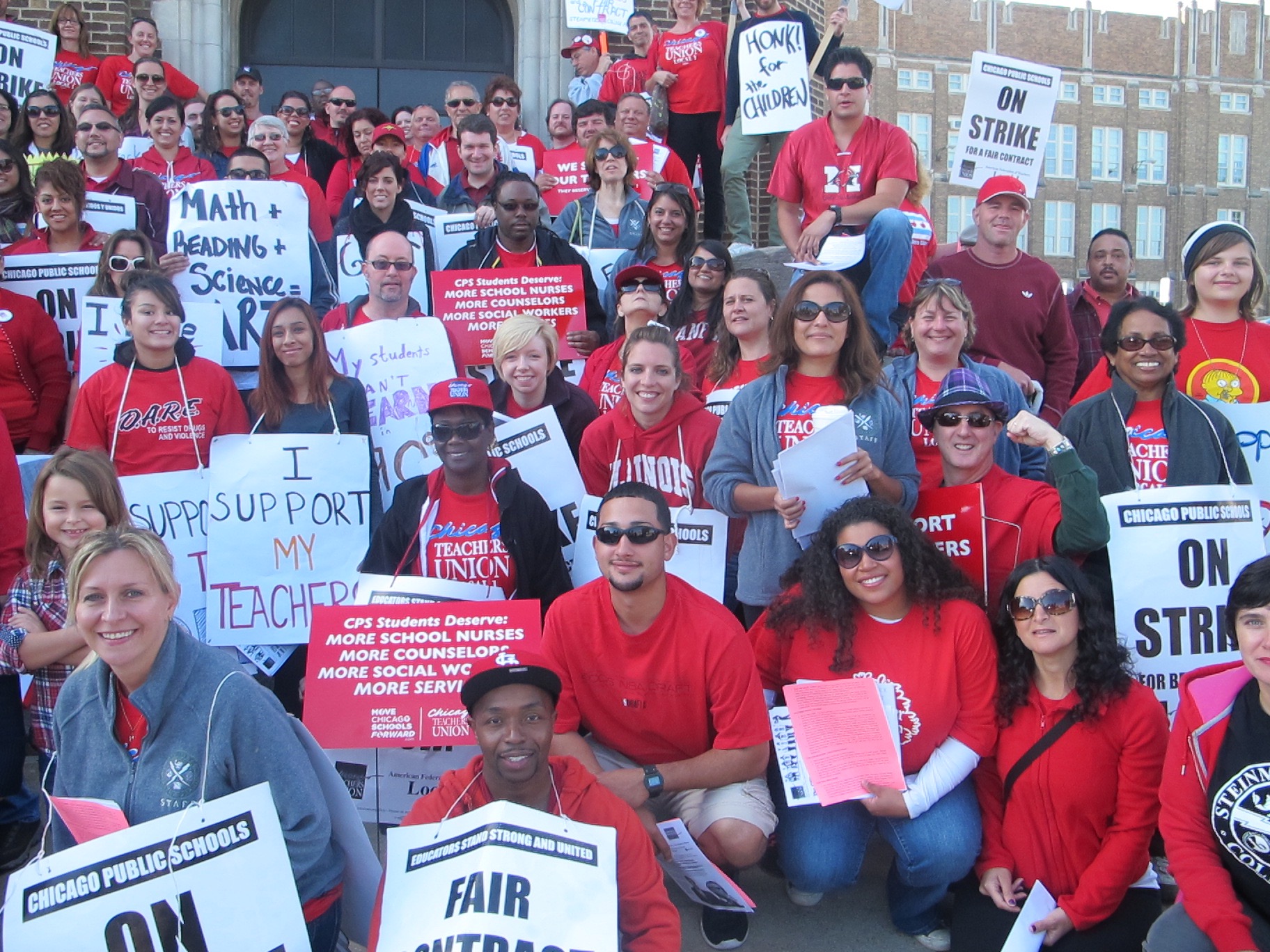 Steinmetz High School CTU members on strike in 2012. In September 2019, at Steinmetz and throughout the Chicago public schools, active union members voted overwhelmingly to authorize another strike.It's truly disappointing that CPS wasn't willing to begin negotiations in earnest until 94% of CTU members voted to authorize a strike. But it's not surprising.
It's also disappointing that the proposal from CPS is silent on the key issues of equity and justice in school communities. For example, the proposal doesn't address the 75% of schools without a library and a librarian. It doesn't address the needs of schools that have a nurse only one day a week. And it doesn't address the critical shortages of social workers, counselors, and special education teachers.
"I'm fully disgusted that they would not even consider putting a cap on class size," said Robin Blake Boose, a teacher at Ashe Elementary on the South Side. "Last year in my class in second grade, I had 40 students. This year, the kindergarten classroom at my school has 39 kindergartners. The fourth and fifth grade teachers have 37 kids. When are we going to talk about class size? We talk about equity, but what about justice? Class size matters."
"When I look at the conditions that my students face, I almost feel as if the board is daring me to go on strike," said Kirstin Roberts, an early childhood teacher at Brentano Elementary. "They want to talk about compensation and little else. CPS and the mayor say that they are finally hearing us after we took a strike vote, but I don't feel heard."
"If they are really listening, they will believe us when we say that the learning conditions we are seeing in schools — the lack of substitute teachers, the lack of clinicians for children who are diverse learners — that's what our fight is about," Roberts continued.
With more than $1 billion in additional annual revenue, CPS has the resources to deliver on the justice and equity demands that educators, parents, and students alike are demanding. But instead, a CPS negotiator said in bargaining today that they will not address class size and staffing issues because these are not issues that the CTU can legally strike over. This is beyond disappointing from a mayor and a Board of Education who say they are committed to quality schools for all. If that's the case, it's simple: put it in writing.
"I find the board's proposals offensive to the families in our communities," said teacher Paula Barajas. "With one side of their mouth, they're talking about what they want to do to help families, but they bring none of it to the bargaining table."