The Whole World is Watching!: Surviving and Remembering 1968...
Susan Gaspar Hickey - January 17, 2018
I am amazed that I lived long enough to see the 50th anniversary of a remarkable year: 1968. I am sure those that were too young to remember or were not born yet are tired of us 'baby boomers' and our talking about what it was like. I remember feeling that way about those who were older than me fifty years ago. Some of us coined the phrase; 'never trust anyone over 30!'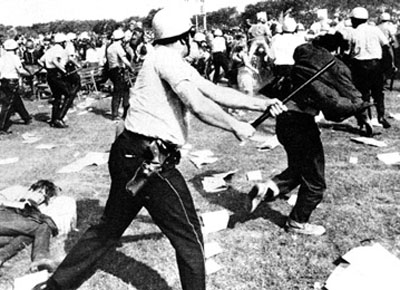 Government attacks on reporters are not an invention of the Trump administration, as everyone who participated in protests in 1968 can attest. Above, police attacking unarmed anti-war protesters during the 1968 Democratic National Convention in Chicago.I have given lessons in elementary school replete with video and music of my experiences in '68. The students have a number of questions and enjoy hearing about such an exotic time! What needs to be said first is that most members of our generation were not part of the anti-war or civil rights movements.
I was a college student; just turning 19 in December 1967. I was going to a commuter teachers' college on a full ride scholarship and was in my sophomore year. I came from a blue collar family on the west side of Chicago where guys enlisted to serve in Viet Nam and girls mainly got married the summer they graduated. There was a distinct view that if you go to college, you will become a Commie or at least that is what my parents would say. To say the least, we did not agree and I left home in order to get my college education.
The school, Illinois Teachers' College-North (Northeastern Illinois University is its present name) was made up of people like me; first generation college bound from mainly blue collar families. The student population was conservative and there was a thriving Young Americans for Freedom chapter there.
Early in 1968, a student came up to me and six others to form a local chapter of Students of a Democratic Society (SDS). What is interesting is about that the student was a police plant in the school! Years afterwards when he revealed himself as such, I wondered what did I do before that which would give the Chicago Police Department reason to entrap me!
He was William Frapolly who would become a news item when he testified in the Conspiracy 8 trial. It was during his testimony that Bobby Seale got angry and had to be physically restrained. Frapolly attached himself to me as his 'girlfriend' even though he was engaged to someone else. He had to keep appearances. The SDS meetings were held off campus and were mainly led by the men as women were considered to take a secondary role in the 'movement'. I was involved in the Student Senate and remained involved as I firmly believed to use all means to get points across. I was involved in a number of committees that had both students and faculty on them and held leadership positions.
Probably the event that had the biggest impact on me was the 1968 Democratic Convention and my participation in the protest.
I did not go down to Grant Park on Wednesday, August 28th even though I was supposed to be a marshal. My boyfriend begged me not to go and I reluctantly agreed.
A friend of ours came over in tears and said for me to turn on the television. We watched in horror of what the police were doing to the demonstrators and agreed that we should go to Grant Park the next day. We went and there were a number of us in the park. We listened to speakers such as Jean Genet, Eugene McCarthy and sang along with Phil Ochs (I Ain't Marching Anymore) and Peter, Paul and Mary (Blowing' In the Wind, Times Are A'Changin').
There was a ring of National Guard that surrounded us but at some point in the afternoon, we started to march toward the Amphitheater. We headed down South Sate Street when we were stopped by more National Guard but also by a full sized military tank! What was chilling about this is that only days before, Prague had Russian tanks stopping protesters there. We were allowed to turn around and go back to Grant Park but after sitting down in the street.
At some point in the late afternoon, Dick Gregory talked to us and announced that we were going to march past the International Amphitheater (site of the Democratic Convention and far south from the Loop) to go to his house 'for coffee'.
At this point my friend decided to go home but I was determined to march. It was negotiated for us to go to 18th and Michigan. At that point, there would be further negotiations to continue. When we got to that point, the police and National Guard said we were not going to be able to go forward. Jeeps with metal screens in front with barbed wire were positioned in front of us. [Protesters had nicknamed those Jeeps "Daley Dozers" after the mayor of Chicago, Richard J. Daley].
The National Guardsmen put gas masks on and fixed bayonets on their guns. We had a number of delegates from the convention that were in the march. I pushed my way to the front and saw a male delegate in a wheelchair thrown in a police wagon.
I felt physically threatened and decided I would cross 18th street and be arrested. Two police officers picked me up and I was tossed into the wagon that was for women. We had about eleven of us arrested. I was able to see the carnage with the Guardsmen using their rifle butts to hit demonstrators. The last woman put into our wagon was a reporter (whose cousin was the Governor of Massachusetts). She suffered an injury from a rifle butt to the face. We were all scared so I began singing 'We Shall Overcome'. We all sang all the way to 11th and State and when we were escorted into the police station.
We were put into two cells which made for crowding but we did not mind. I was strip searched twice but the reporter was stripped search seven times (they did that because she was loudly complaining about the conditions). Years later the ACLU won a case in the Supreme Court about those strip searches.
I remember watching the story on CBS. I chuckled as they used my being thrown into the police wagon as film footage. At some point around 3 am the morning of Friday, August 30th, the women were brought down and put into a room adjacent to the arraignment court set up to hear our fate. I was the last female in the room. The Cook County sheriff took pity on me and let me sit on a bench near his desk alongside of Dick Gregory! He was the last male to be arraigned and he was going to go to Cook County Jail and begin one of his famous hunger strikes.
I do not recall what we discussed but I had an hour of being with him and the sheriff. I remember he was more interested in hearing why I was involved in the anti-war movement than trying to impress us. I got word that my boyfriend and his parents were downstairs and sent up $25 to me to make bail. When I got up in front of the judge, they set bail at $50 which I did not have so I was allowed to be out on recognizance; in other words, I had to stay out of trouble until my court date. It was 6:30 am and when I went outside, I was greeted by the New York delegation which cheered me and my release. I let them know I was the last one arraigned. My boyfriend's parents were upset that their son did not go down with me.
What a different stance than my parents!
My court date proved to be exciting. I had to go to Cook County Criminal Court located at 26th and California on Tuesday, September 10th. There were at least 150 of us there and I came with my boyfriend. I got enraged when I went up to the bench. A police officer who I did not recognized said I resisted arrest and the charge was added to the original one of failure to disperse from a rioting crowd'.
I stormed back to my seat and was told by a bailiff to be quiet. When my boyfriend and I went to leave, I was grabbed by my arm by another bailiff. I said 'get your hands off of me, you bastard!' and hit him with the door as I was leaving. My boyfriend punched him in the stomach. Needless to say, the two us were grabbed, and brought in front of the judge for contempt.
The judge offered five days in Cook County Jail or a fine of $100 (a lot of money from a student then!). We said we would pay the fine, he then offered two days in jail and got the same reply. Then he said if we bring our parents to court the next day, he would determine our sentence. Of course, I was not going to do that but my boyfriend's father came. He loved the attention and actually said it was a police riot. My boyfriend got a $25 fine, I was fined $50 because 'ladies do not swear'. That did not end the harassment by the Chicago Police. A few weeks later, three of them broke down my apartment door and threatened to arrest me for doing drugs. Luckily, I had two friends there and was bold enough to roll up my sleeved to say where are the needle marks (They planted a syringe. I had a police car stationed outside my apartment for about six months and my phone was tapped. I was arrested once but was let go. I was arrested along with some high school students and overheard a police officer telling one parent that I was a paid Communist agitator. Two years later, I ran into a detective from the local station who apologized to me for all of the harassment I went through. I was interviewed by the FBI and later testified at the Dan Walker Commission looking into the fiasco of the Democratic Convention.