Will CTU hold a new retiree delegate election? Union's financial office has made several mistakes in this important mail-ballot election...
Susan Hickey - January 01, 2018
Members of the Chicago Teachers Union's Rules and Electisn Committee received a text on the morning of December 31, 2017. It said: 'The latest retiree election process has turned into quite a mess. I believe we need an emergency meeting of R & E to address a course of action....declaring an invalid election should be on the table & how/why did this happen?' with a chance to vote on it.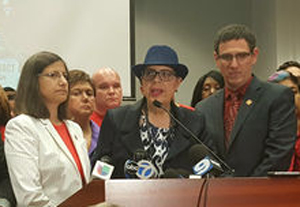 Chicago Teachers Union Financial Secretary Maria Moreno (above left, with union president Karen Lewis and Vice President Jesse Sharkey) failed to follow the union's own rules and elections procedures when ordering the retiree delegate election held for 33 delegates when the retirees are now only entitled to 31 delegates. Moreno also failed to warn the voters, who must vote by mail, of how much postage to put on the envelope returning their ballots to the union's office. She also failed to tell voters when the ballots had to be returned.Two major screwups have tainted the retiree election since election materials were mailed to all eligible voters (Chicago Teachers Union retiree members) two weeks ago. A third even larger problem hasn't even been mentioned widely until now.
The first is that the mailing failed to tell voters when their ballots should be returned to the union office. Retirees live across the USA (and in some foreign countries) and need to know precisely the time lines for voting.
The second screwup came when retirees were not told how much postage was required on the unusual envelopes that had to be mailed in with the official ballots. Some retirees thought their ballots could be mailed using only one First Class (or "Forever") stamp, because the mailing weighed about one ounce. Others believe that two First Class stamps would do the job,but several who went to the Post Office were told that an odd postage was required.
There has also been no explanation to date from the Chicago Teachers Union as to why retiree members were electing 33 delegates, when they were only supposed to be electing 31. Under CTU rules, retirees elect one delegate for every 100 members. And the number of retiree members has always been determined by the number of retiree members listed on the union's official statement of membership as of December 1. But the December 1 membership report (ironically delivered by Maria Moreno, whose office has been responsible for the mistakes) stated that the union has a bit fewer than 3,100 members -- NOT the 3,300 members that would have been required to justify electing 33 delegates.
More and more retirees are demanding that a new election should happen. Others are asking whether this a power play by CORE to only get their 'anointed' members elected...